New Kit: The 808 Formula 3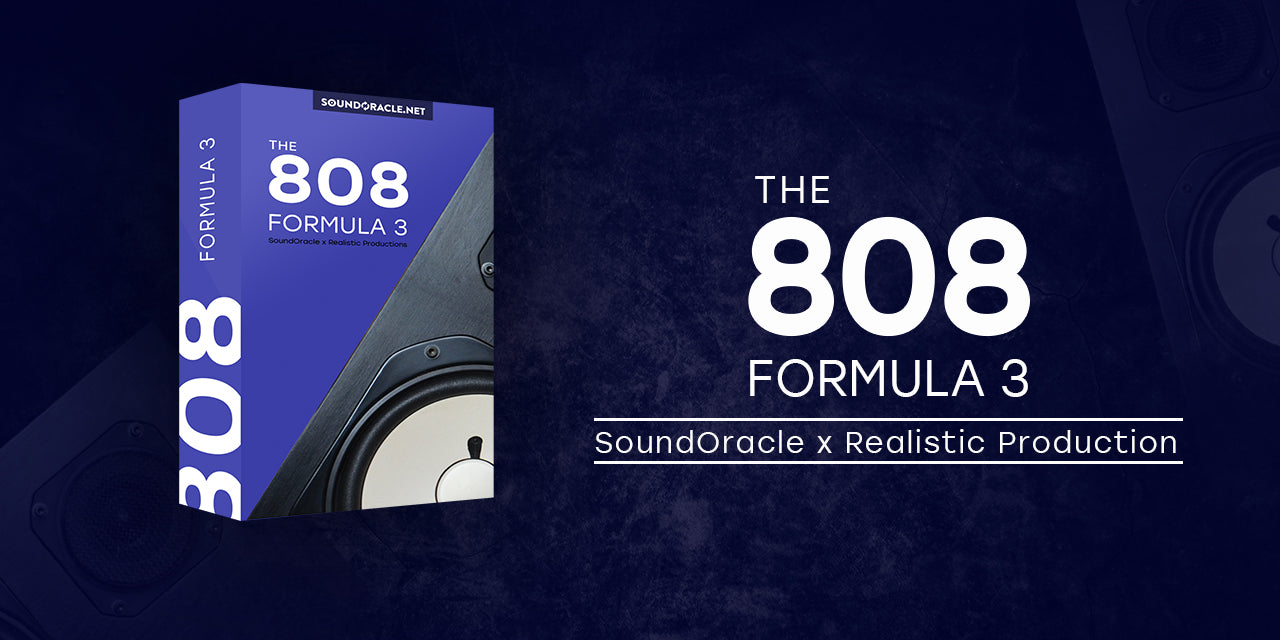 The 808 Formula 3
808 One-Shots + 808 Audio Loops + 808 Midi Loops
SHOP NOW
808s are a must for any producer's library. As a producer, you probably have several different styles, vibes, & mood selections in your beat catalog. Different beats can call for different types of 808s. With 808 Formula 3, you'll have a MASSIVE selection of high-quality 808s to choose from. This kit features 88 808s! Whether you need 808s that are hard-hitting, punchy, distorted, classic, unique, wide, long, short or just a deep sub, this sample pack has it all! 808 Formula 3 will fit your workflow perfectly & works with all types of modern production types: Trap, Boom Bap, Hip-Hip, Pop, R&B, EDM, etc.

These 808s are designed to be heard on the smallest of speakers - such as laptops & smartphones - while still maintaining a rich & smooth low end that can shake any block to the max. Each 808 is conveniently tuned to the note "C Natural" for an easy & simple way to match the key of your song. Just load it up in any sampler & play the 808s like you would any instrument & you'll be in the same key as your song!

808 Formula 3 also includes 20 808 audio loops, 20 MIDI loops, & 20 chord progressions. All of the audio loops are labelled with the key & BPM, taking all of the guesswork out of creating tracks around these loops.

Not only do you get MIDI files for your 808 loops, but you get an additional chord progression for each loop that plays along perfectly with the 808 patterns. This 808 pack gives you a colossal amount of 808s along with loops & chords to start building brand new beats & arrangements instantly! We made sure that these chord progressions sound modern too. These chords are some of the same styles that artists like LilBaby, Gunna, Roddy Ricch, Migos, DaBaby, Travis Scott, & Drake use.

Since the sample pack is compatible with all DAWs (Ableton, FL Studio, Logic, Maschine, etc), it's perfect for any producer no matter which platform you use. They'll even work in your hardware samplers with no problems!

With 808 Formula 3, you'll have the assurance of having the perfect 808 for any style or genre and the confidence of knowing that you have the highest quality 808s available. Each 808 is professionally mixed & mastered and ready to go for all of your productions & beats!

WATCH OVERVIEW VIDEO
Created By:
SoundOracle (Sound designer for Timbaland).


Sounds used by artists like Drake, Jay Z, Gucci Mane, Lil Wayne, Chris Brown, and more


Realistic Productions: Certified mixing engineer and producer located in The Twin Cities.

Timbaland
Legendary Producer
"I saw his technique on how he really pays attention. He really digs for the sound and the sonics."
Instantly create fully arranged songs with the stems and MIDI chord progressions.
Key, BPM, and Instrument labeled to help you find and reference files quickly.
Overcome beat-block by creating tracks around theses loops in just a few clicks
Mixed by a professional and certified mix engineer with no need for additional processing to sound industry quality
DETAILS
Instant download

88 808 One Shots

20 808 loops

20 Midi loops (Midi loop for each 808 loop)

Tempo & Key information included in each loop

High-quality WAV files, mixed to perfection

Every loop was professionally mixed and mastered by a certified mixing engineer

Compatible with all DAWs (Ableton, FL Studio, Logic, Reason, and more)

Compatible with all Hardware and Software Samplers (Maschine, MPC, etc)

Royalty-Free
About SoundOracle
SoundOracle (Chief Sound Designer for Timbaland, whose sounds have been heard in over 20 Grammy award-winning songs by artists like Drake, Jay Z, Beyoncé, Justin Timberlake, Chris Brown, and more)

Connect with Oracle:

Instagram: SoundOracle
Twitter: SoundOracle
Youtube: SoundOracle

About Realistic
Realistic is a Music Producer and Engineer located in the Twin Cities. He has been producing music for Hip-Hop & Pop music since 2004. In 2017 he graduated with an AAS in Music Production & Engineering. Real is the chief mixing engineer for SoundOracle.net where he mixes all loops & sounds found on the site & also provides mixing & mastering services on the site to artists & producers.

CONNECT WITH REALISTIC
Website: www.realisticproductions.net
IG: @RealisticProductions
Twitter: @Realistic_Pro
FB: @RealisticProductionsLLC
Apple Music, Spotify, SoundCloud, etc. - https://fanlink.to/bwW5
WHAT ARE OTHER PRODUCERS SAYING?
Busy Works Beats
Producer/YouTube Inflyencer
Best sounds period. Always know it's going to be quality with any Sound Oracle release. I love the new Moon Rocks sounds
Mayj C
Verified Customer
From the moment I used @SoundOracle's drums, I've had #1 after #1 on the charts. Whats even more insain is that I'm using drums from the same sound designer as my producer icon @Timbaland. Authenticity of the purcussion loops, music loops and over-all quality is unmatched.
Soull
Verified Customer
This site always gives me inspiration when I need it. The loops are some of the best I've heard, and the drum samples are really high quality. Whenever I am stuck creatively, I almost always turn to these sounds.
Wonder Kidd
Verified Customer
Super clean and professional. Every sound is unique and can take productions to another level whether it's the drums or samples