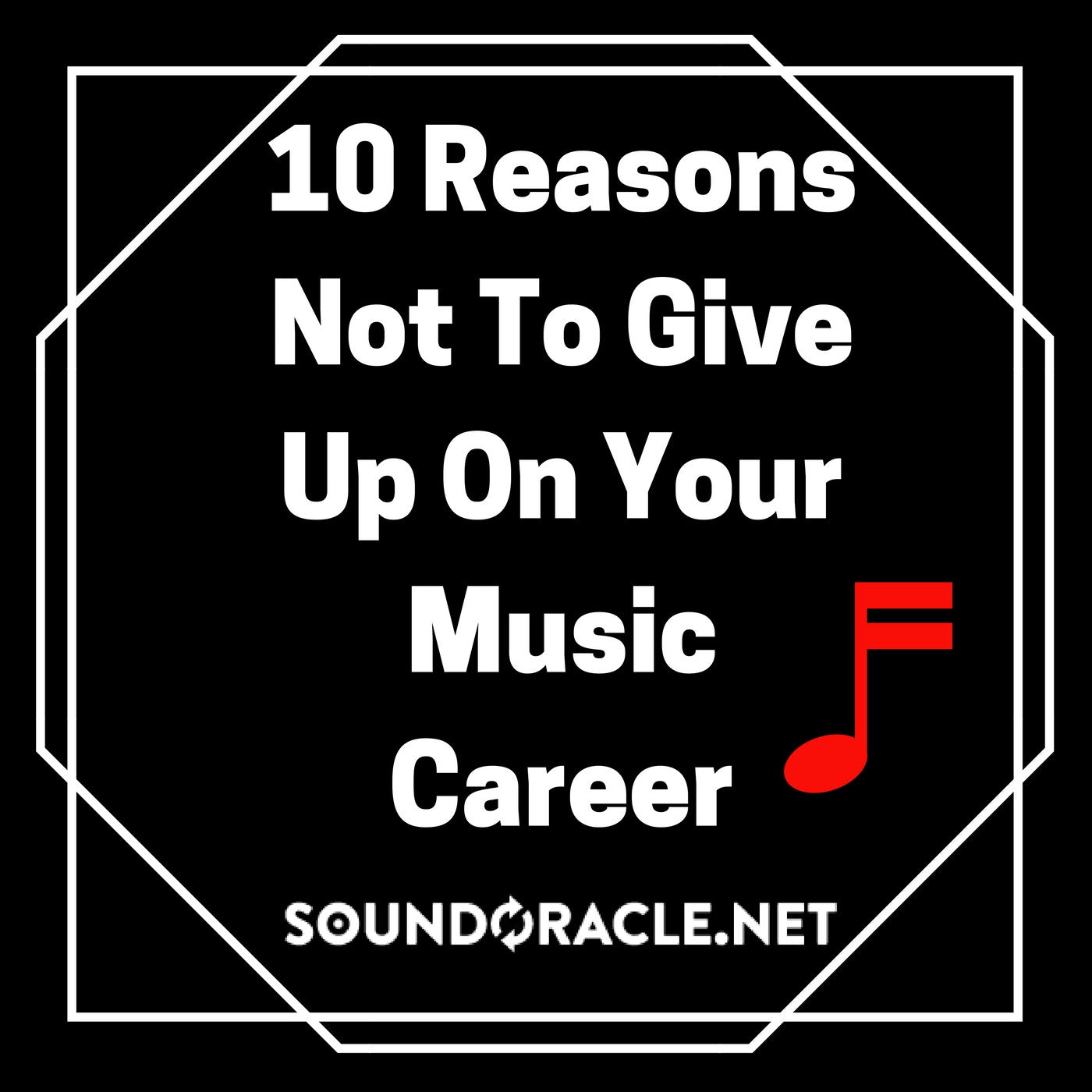 10 REASONS NOT TO GIVE UP ON YOUR MUSIC CAREER
When you're committed in the face of conflict, it always produces character.  As a producer and sound designer, we all know we all face struggles and obstacles.  We think we are on the right path in our lives. But your perception of what is right for you may be wrong. Sometimes, I get enthusiastic about other projects I have worked on.  But sometimes, I get discouraged when I get hit a snag. When you felt you were making progress. It sucks as when it happens.  No matter how resolute as we may be, we all experience breaking points. This separates us from doing your best shot. And what is your best reality? Here are ten quotes that helped me not to throw in the towel.  Enjoy!
IGNORE THE HATE, EMBRACE THE LOVE
Treat your haters uniquely. First, find out who they are. And lavishly shower them with love. Look at them as little trophies as a token of your appreciation. Because of them hating, you aspired to do good and worked hard for what you want. Remember, when they hate, give them love.
HARD WORK BEATS TALENT
Life itself is challenging.  You must keep in mind that 100% of hard work will always beat talent. But at some point, this too will meet and come together. Hard work is earned through your efforts and perseverance.  Talent is something innate within you. And all you need to do is find it and hone it. Then, you ask yourself. Can't you gain quality through hard work? You can. If you need to hire a consultant to help you, I offer one-on-one consultation services.  Just remember, there is a subtle difference between a talented man and a hard worker. Once you get the habit of working hard and become good at what you do. Then, people will tag you as a talented man.
THE PATH TO SUCCESS IS NOT A STRAIGHT LINE
Just because the path of success is not a straight line.  It does not mean for you to stop working towards a goal. It is often experienced that every failure and lessons provide valuable experience. It is important that we do not allow our failures to discourage us from achieving our dreams; and from pushing forward to a brighter future. Remember temptations to give up will be great just before you achieve success.
WINNERS NEVER QUIT AND QUITTERS NEVER WIN
I keep this quote by American Football player, Vince Lombardi in mind. This is my mental attitude to keep my determination and focus in order not to stop trying. Remember when you get this feeling when you want something. And you persevere and keep on pushing on, no matter what the outcome is.  One needs to struggle, whatever comes your way until you get what you want in your life.
NO ONE KNOWS MY STRUGGLE, THEY ONLY SEE THE TROUBLE
This quote by Tupac Shakur from the THUGZ MANSION Lyrics talks about when hope dies and when you give up. We all go to the Strug Mansion.  It is a place for failures of all types. We must fight our demons and work to get out of the negative zone.  Never give up on the dream just because of the time it will take to do it.  The struggles you will face along the way.  Time is not open-ended. Time will pass anyway. People at the end only see the success, not the struggles that headed their success. Never once told about how many times they persevered.
PRESSURE MAKES DIAMONDS
Ask yourself, what do you do when you are under pressure? Do you crack or fold? Do you avoid facing the problem or hide from the world? Or, are you the type that stands up, gets stronger and pushes harder to persist and face the pressure? This quote by General George S. Patton can make diamonds out of pressure.  But it can also crush people. The stresses in our lives will not go away. It does not matter what stage you are in life, does not mean that your stress levels change. And you must learn to manage it.
IMPOSSIBLE IS A WORD TO BE FOUND ONLY IN THE DICTIONARY OF FOOLS.
We all should gain lessons more than Napoleon Bonaparte. Who commanded the entire French army when he was only 26 years old. He is an intelligent, ambitious, and a skilled military genius who ruled much of Europe. The lesson we can learn from this is to maximize our own lives. And take advantage of what the world offers.
What I learned in life is how the impact of my attitude places a great important role in my successes. Your attitude can make or break you.  The remarkable thing about life is that all have choices. Although, we cannot change the past or the inevitable. But what you can do is play on the strings you have. And that is your attitude.  I so believe life is 10% of what happens. And the rest of the 90% is how I react to it. Nothing is impossible. According to Charles R. Swindoll, we are in charge of our attitude.
YOU NEVER KNOW HOW STRONG, YOU ARE UNTIL BEING STRONG IS THE ONLY CHOICE YOU HAVE
Bob Marley continues to inspire and enlighten me with his words. Our personal strengths make us unique. We become part of the value we offer in the world. We don't always use our personal strengths to the fullest.  And we missed out on true fulfillment in our lives and careers. This is inspirational as this quote encourages me to keep on fighting whatever battles I am in big and small. Remember, battles come in all shapes and forms. And we stop fighting and give in.  This saying just tells you not to be passive in your endeavors for your rights or your dreams.
I FAILED MY WAY TO SUCCESS
Why is failure good for every success? You know when you won gold is actually the hardest and most difficult.  The thing that made you reach down deep inside.  Fighting with everything and allowing you to open yourself on the battlefield. You don't know whether you will make it or not.  You persevere until the do or die moment.  Not sure whether your heroic and gutsy efforts will take you to the top.  In reality, society is not the defeat. And mostly, you won't find much documentation on failures. With the exceptions for those failures. That became stepping stones to later successes like Thomas Edison whose most coveted invention was the light bulb.
BE FEARLESS IN THE PURSUIT OF WHAT SETS YOUR SOUL ON FIRE
I save this quote for last since this holds a special place in my heart. I was never afraid to be fearless in my pursuit of what sets my soul on fire.  I was never afraid, despite being introvert.  It was my dream sketched in my youthful imagination. Despite the shortage of music mentors and influencer's within the DMV area. I proved that bringing my childhood aspirations into reality. It is as simple as setting small challenges to test. I threaded confines of my ability to overcome them. I was fearless from the sheer passion of designing music.  I motivated myself from the fear of dying in obscurity. And set out on a mission to manipulate sound to its colorful transient noise into the aesthetic realm of music.
***
***
Congrats to @DJLETTUS for winning to #SoundOracle #ProducerChallenge and #NewYear's Giveaway!!!! pic.twitter.com/TOehawfiaS

— SoundOracle (@SoundOracle) January 11, 2017

{"one"=>"{{ count }} comment", "other"=>"{{ count }} comments"}