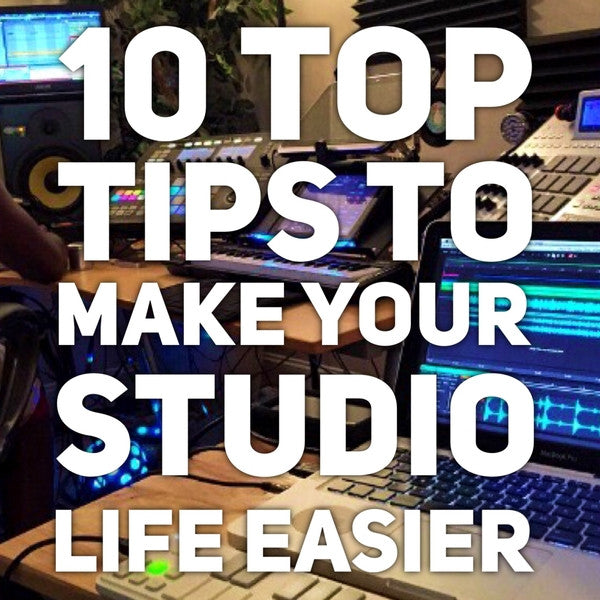 10 Top Tips to Make Your Studio Life Easier
Making music is the most satisfying activity one can engage in their spare time. However, there is much footwork involved, which I as a producer always dread. This week's blog post will tackle on improving your productivity that will save you time.
Here are tips to make your studio life more enjoyable and easier:
 1) Build a Catalog of Sounds
This first task can sound daunting and time-consuming, but it truly isn't.  It is easy. As a music producer, I have collected lots of samples over the years.  And most of the time, I have forgotten that I had them. But with AudioFinder, you will not have to worry about spending so much time in restructuring your library. It will create a catalog of all your sounds. Save them automatically. And can search instantly when you need them. You can also use AutoFinder to create custom sets for all the sound categories including your private projects. It can browse, organize, and analyze the library. Process your sounds and do the conversion. It can move or copy the samples; to add Metadata to make the search easier.  It can create sounds instantly with the waveform feature overview. Preview via MIDI at any pitch. Or, via the built-in keyboard all in real-time. Your sounds can even be screened through your favorite AudioUnits. It has an integrated Plug-In manager. And, an advance added necessities that will make your workflow flow efficiently.
Another choice is the RyAudio Sample Librarian. The tool for handling all of your samples in an organized manner. This tool is intended for the purpose of sample management. Once you have searched the perfect match for your song. Just merely drag and drop into your DAW.
 2) Use Basic Templates
In music producing, we have processes we commonly use. It's worth taking the time to create a basic template with busses and routing that works best for you. This will help get the best of your mixes or start a new project. Taking the time to get your basic template setup will mean you can always start with a similar mixing environment to achieve consistency. You consider that your mixes play a vital role in your music production.  
To get a good mix, you must break your project down by using the mixer and FX for each when needed. If you are not familiar with routing, read the help guide of the software or hardware as this is important. The key is that this process will help clean your mix. Bussing is particularly important when your sessions involve a lot of music tracks. Let's look at this way. Just think you have to set the levels of each of your vocal tracks. However, the tracks need to be quiet within the mix. The simplest strategy is to send your vocal tracks in a bussed folder from which it will give you more control to make any group adjustments you require.
 3) Backup for the Unexpected
Living in a digital world, we all must remind ourselves that hard drives crash. So better be ready by keeping a backup of your system drive which holds your operating system. Recording drive where all your audio streams go, and the backup drive where your drumrolls and files are saved.
For Apple users, AirPort Time Capsule and iCloud Solutions have it built into the OS. While on your PC, keep the HDD separate as your physical backup, while having an additional cloud option. Automate your backup software, which will monitor files and do updates while you are away. Gobbler specializes in audio projects. While there is Backblaze in which it will back up your connected external drives.
Your backup can be a huge life saver; nor doesn't it need to be anything fancy. Although options are many, the dropbox is my favorite way to back things up to the cloud.
4) Clean it Up
We all want to make our home music studio functional. Yet, it should also be a space where it inspires creativity. The biggest challenge as a home studio owner is that we let the clutter of our home life mixed with our home space. We all need to take the time and clean out the junk that hinders you from making that perfect sound. We all have the time, even for one hour or two hours a week. Trust me it works.
GET 50% OFF ALL BUNDLES.
PROMO ENDS ON SUNDAY OCT 24,2016 AT MIDNIGHT
LIMITED TIME ONLY!
(BUY IT HERE OR CLICK IMAGE ABOVE)
 5) Studio Acoustics
You want to get the best result from your studio monitors.  You will definitely need to consider the acoustic elements of your home studio. If you are mixing your music in a non-resonant chamber; then, your reflections will have a major impact on what you hear. You might think your choice of desk, ceiling, floor, and walls have nothing to do with reflections. Well, you are wrong. It can have a major impact on the results of your sound. There are costs effective solutions available for all kinds of budget requirement. However, whatever type of room you have; a non-acoustic room will cause poorly well-adjusted mixes.  If you have the cash to spare, it is advisable to use acoustic foam for your walls and bass-traps for the corners. Always remember, your workspace space will determine how your result will be. With proper bass trapping, diffusion, and speaker placements are a must for every functional home music studio.
6) Labeling Your Hardware
Much of the music production is done internally. There are fixes you have to do with your hardware. However, it will make your life so much easier if you label your hardware. Let's take your transport controls which will help you with your arrangements. Have your keyboard customize so all of your major shortcuts are visible. A helpful tip for labeling cables and patch-bays are to labeling both ends. Then, distance the labels about 4 inches apart. And, away from the jack which makes it difficult to read. This is especially the cables behind the server. Or, use a color scheme for labeling servers to patch and vice versa; from the switch to workstation switches and your hubs, and your router to the switch.
7) Using Track Names and Colors
This is how I distinguish between the different elements of my sessions. With Pro Tools, there are several features which help me track names by using colors. The first order of the session, I always follow the same Track Order. They are the common practices I used in all my studio sessions. In the mixing window, they start from left to right. Then, right to left and is mirrored from top to bottom. The left-most tracks are the top track in the edit window. For drums, I would categorize them as kicks, snares, hats, toms, high to low, and overheads. You are free on how to organize your elements from your drums, percussion, bass, guitars, virtual instruments, keys, vocals, BVs, masters, and returns. It's all up to you on how you want to arrange them. There are no strict rules.  But these are all common practices by producers. To make it simple, just stick to naming and color conventions for all your similar projects.
8) Archiving Track Elements
Once I am done with the track. I make folders and categories in my DAW's browser. You can create a folder on any drive specifically for this purpose. Just make sure it's categorized. And the sounds are named properly. It is advisable to upload this to Dropbox or any other cloud service.
9) Master Your Shortcuts and Macros
The first tip is to read the DAW's manual. And mastered the keyboard shortcuts for all the commands I most commonly use. Note that some DAW's has a feature to record sequences of macros. The can recall as the need arises. Saving time is the key. A simple Macro to open your DAW and to load your template will help your workflow. Choosing a more complex Macro that will automatically export various combinations of stems could additionally save you a lot of time.
10) Managing your Studio Life
We all suffer as a producer when we get distracted with the onset of social media and email.  And for workflow productivity, this is not a good mix. So it is best to unplug from the world wide web and aim to remain more focus. Freedom is the internet, social media, and app blocker. Freedom works on all platforms. You know when you're trying to get work done, but end up wasting time on Facebook and Twitter? The Anti-Social is another app blocker that solves that problem too. As a producer, I also revisit my previous goals and plan on how to improve my music production skills. I create a list via my planners. My planners are my outlines for projects. I'd like to use Slack as a great tool as I find I need less project management and more on communication.  This is a great place to share and discuss.  And best of all, it is free for the basic level indefinitely. This is definitely a tool worth to experiment with. I also use Google Drive to manage and collaborate on content and ideas. Here I can easily backup, organize; create folders, access Google Doc, and sheets.