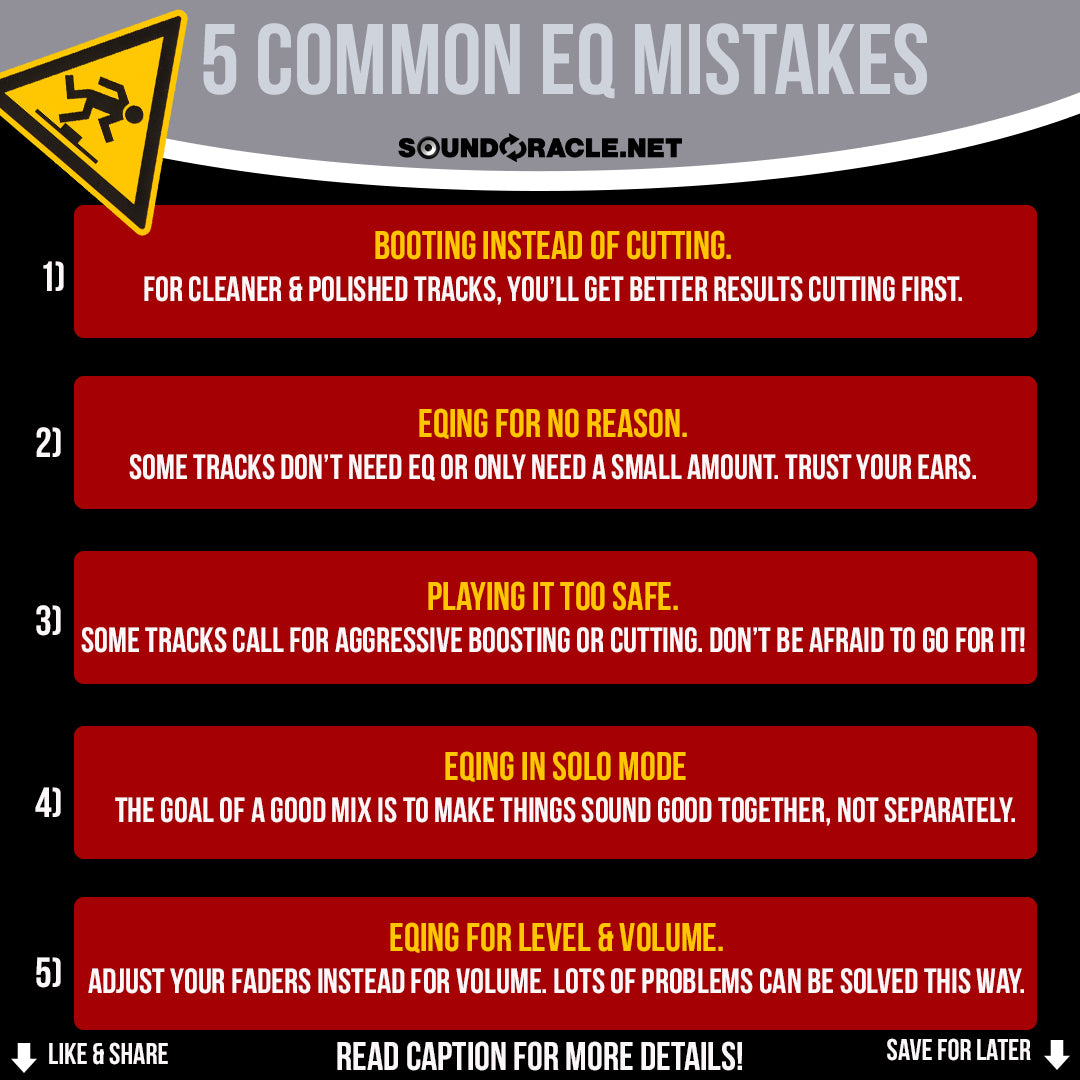 These quick production tips will definitely save you time in the studio and improve your workflow.
When it comes to mixing, EQ is the most common tool that you will use.

It's handy & allows you to make the necessary changes to each track.

There are a few things to look out for though & this list goes over some common mistakes that are made when it comes to using EQs.

1) Cut before you boost - When you cut frequencies out first you get rid of things like harshness & muddiness. Often times this will give you a cleaner & brighter sound more than boosting will.

2) EQing for no reason - There are some tracks that need little to no EQ. Maybe a synth patch or a well-recorded violin track for example. There are cases when all you need to do is maybe filter out some lows & the rest of the instrument is already sounding great. An EQ may do more bad than good.

3) Playing it too safe - It's easy to mix with your eyes & let the numbers influence you, but trust your ears. If a kick sounds good boosted at 85Hz by 10dB, then do it!

4) EQing in solo mode - When you solo a track, it's easy to get it to sound good by itself, but the true art of mixing comes down to making every track sound good together. You won't be able to fix clashes when you're in solo mode. There may also be frequencies that you need to cut out, that you wouldn't think to when you're in solo mode.

5) EQing for volume - EQ should be used for cleaning things up or enhancing sounds. Use your faders & gain controls to raise the volume of your tracks instead.

THE ART OF BEAT MIXING VIDEO COURSE
Producers have eagerly been awaiting this groundbreaking video course & it's finally available to access.Giving your beats a professional mix is a standard that's expected from major labels & publishing companies when trying to get your beats placed.Our brand new coursework will teach you everything you need to know to ensure your beats have an outstanding mix & loud clean master.Save thousands of dollars by not having to enroll in school & save hundreds of hours from watching the wrong the tutorials.

What's included?

* Over 5 hours of expert techniques
* Mixing cheat sheets in PDF form
* An easy to understand, concise layout
* Small, digestible chapters with quick access to the info you need
* Everything you need to know to mix your beats professionally