5 Things Producers Can Do During Quarantine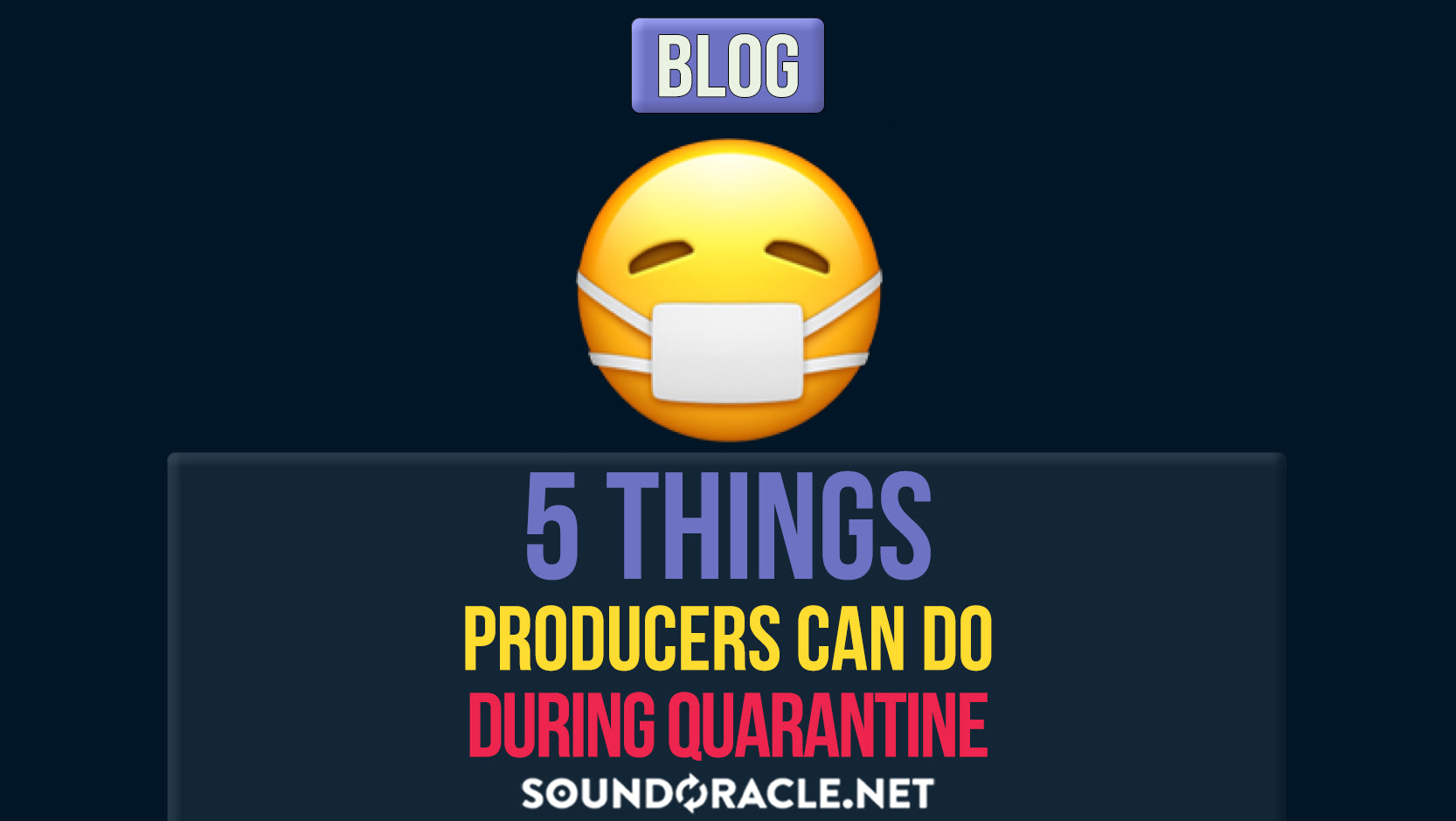 5 THINGS PRODUCERS CAN DO DURING QUARANTINE

Written By: Eric "Realistic" Michael & Maia Lor

For many of us, COVID-19 has impacted us in some way or another. You may find yourself on a temporary break from work or school right now. Though this can bring on some financial concerns, this also puts a lot of us in a situation where we have some extra time. This may be the perfect time to work on starting your own business, creating a flood of content, working on a skill you want to get better at or learn something new. This blog is filled with gems on what producers can do to make the most of their time & set themselves up for success.

1. Research Sync Licensing & Submit Tracks To Publishing Companies
Working with publishing companies is one of the best ways to make money off of your music. It's great for producers because a lot of sync placements are looking for instrumentals more than they are full songs. Think about when you watch shows on Netflix, or commercials, or highlight reels on ESPN. Most of the time they're just instrumentals playing in the background. Even cooking shows or interior design series have music playing in the background.

When it comes to sync, metadata is incredibly important, as it enables music supervisors—those whose job it is to zero in on it and select suitable songs for visual-media projects—to quickly find and identify your work.

Depending on the platform you use, carefully and accurately selected, descriptive, and creative metadata such as genre, mood, and theme, assist with your music's discoverability. You will want to properly tag your tracks with the appropriate moods & genres. Lots of companies will want you to write a short 1-2 sentence description of each track as well mentioning what the track is intended for (I.e fight scene in a movie or smooth ride during a car commercial). You will usually want to include the BPM & key as well.

Tracks:

It's always a good idea to record instrumental versions of your songs for sync licensing purposes. Even if your vocals "make" a track, the reality is that many projects — and, in turn, many music supervisors — call for instrumental-only files.

4 questions to ask yourself when submitting music to a library:

1. Can being associated with them damage my "brand"?
2. Do they require exclusivity for the tracks I give them?
3. Are they worth my time?
4. Is the contract in my best interest & is it a good deal to sign?

I license it.

That means that in exchange for the right to use your music in a project, people and companies give you money. We recommend licensing your tracks as non-exclusive deals. That will let you continue to sell your beats in your beat store & license this track to other companies or publishing libraries.

A sync license can help breathe new life into music that has been out for a while. A video, television show, or commercial can bring new attention to an older piece, bringing in new royalty payments and fresh attention.

Benefits:

For independent artists or up-and-coming professionals, sync licensing can be a major source of revenue and an effective way to find new fans. Music included in a popular video may be heard by people who previously were unfamiliar with the artist. When they hear it, they may love it, share it with their friends, or purchase the material. It can be a great way to build a following and get exposed to a larger audience.

While most artists focus their business plans on streaming platforms, beat stores, and downloads and on booking live shows, sync licenses create opportunities for artists & producers to earn passive income through continued royalties or usage fees. One of the greatest benefits of sync licensing is that it can lead to "passive income" or "residual income." In other words, once the music has been written and produced, sync licensing can continue generating revenue for artists.

2. Watch Online Courses & Tutorials

It's true that you can sit around, eat, and binge Netflix all day, however, you can do the same with mixing and production tutorials, and don't be afraid to test your knowledge with a course. Our new online video course - The Art Of Beatmaking - could be a great start providing you access to inside industry secrets. After all, who doesn't like a few tips and tricks? We also have plenty of mixing, mastering, & production available for free on our YouTube channel. Learning a new skill or technique can improve your music drastically!

3. Plan & Schedule Releases

While you have more free time, why not finish up that beat or song you've been pushing back? Perhaps you weren't "in the moment" at the time, but now you may have that chance. Plus it gives you content to plan and schedule your creative mind, so here's some resources that can help do that for you: Sprout Social, CoSchedule, Feedly, Airtable, Tweetdeck, Planable, Sked Social, Post Planner, Facebook Creator Studios, and our personal go-to; Later. The time is now to flood your platforms with content!

4. Live Stream Your Process

Going live on social media can be nerve-racking, especially for people like us who are more behind the scenes, but you're overthinking! Most of us have a great camera right in our hands and it doesn't have to be fancy. Plus, your audience will enjoy a behind the scenes insight to the creative process. Going live will also give you the opportunity to connect personally with your fans & followers.

5. Learn The Business Side Of Things

Most of us got into this business because we came to love music, but little did we know that the business side would be the side that was most valuable to make a living out of it. Some of the valuable things to learn are contract law, copyright management, and starting your own LLC. Quarantine could be that opportunity you've been waiting on to quit your job & take a leap of faith by working for yourself full time.

We have a full blog all ready to help you better understand how to do your tax write-offs. We also recommend going to SBA.gov to do some research. There are lots of resources on that site that help small businesses & you can even find mentors there that will give you advice & guidance.


Producers have eagerly been awaiting this groundbreaking video course & it's finally available to access.Giving your beats a professional mix is a standard that's expected from major labels & publishing companies when trying to get your beats placed.Our brand new coursework will teach you everything you need to know to ensure your beats have an outstanding mix & loud clean master.Save thousands of dollars by not having to enroll in school & save hundreds of hours from watching the wrong the tutorials.

What's included?

* Over 5 hours of expert techniques
* Mixing cheat sheets in PDF form
* An easy to understand, concise layout
* Small, digestible chapters with quick access to the info you need
* Everything you need to know to mix your beats professionally

Our 808 Formula series is one of our most popular & the much demanded third installment is finally here!

808 Formula 3 is a mega library of high quality 808s & you'll be sure to find the 808 that you need for any production style or genre.

Whether you need 808s that are hard hitting, punchy, distorted, classic, unique, wide, long, short, or just a deep sub, 808 Formula 3 has every kind of 808 you can imagine!

This 808 kit will fit your workflow perfectly & works with all types of modern production types: Trap, Boom Bap, Hip Hip, Pop, R&B, EDM, etc.


ERIC MICHAEL
REALISTIC PRODUCTIONS
(Engineer)


Realistic is a Music Producer and Engineer located in the Twin Cities. He has been producing music for Hip-Hop & Pop music since 2004. In 2017 he graduated with an AAS in Music Production & Engineering. Real is the chief mixing engineer for SoundOracle.net where mixes all loops & sounds on the site & also provides mixing & mastering services on the site to artists & producers.


CONNECT WITH ERIC