5 Tips for Better Reverb!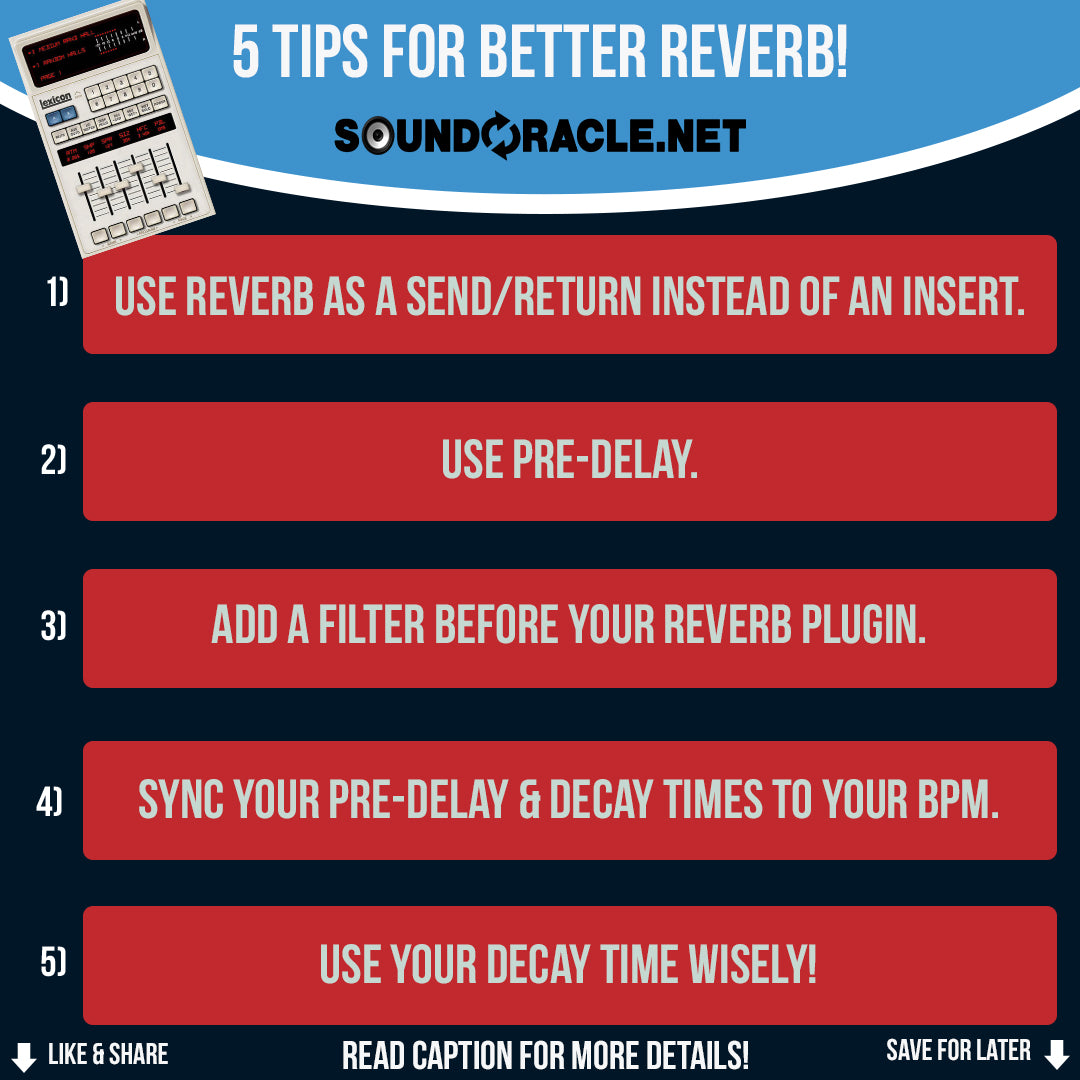 These quick production tips will definitely save you time in the studio and improve your workflow.
1. Use reverb as a send/return instead of an insert. This keeps the original signal intact. When it's placed as an insert, you lose the original sound as you increase the wet/dry. As a send/return you'll be able to blend the original sound with the wet sound.

2. Use pre-delay. Pre-delay adds separation between the original sound & the reverb tail.

3. Add a filter before your reverb plugin. Filtering out the low end rumble before the reverb means the rumble never makes it to the reverb! Low-end can make reverb muddy pretty quickly.

4. Sync your pre-delay & decay times to your bpm. If the reverb starts & stops in sync of your tempo, it will sound more cohesive. We have TONS of post on how to do just that too! Just scroll through our feed, or watch one of our reverb videos on YouTube!

5. Use your decay time wisely! Usually short decay times work best for fast paced songs. Longer decay times sound great with slower pace & space between vocal phrases!

THE ART OF BEAT MIXING VIDEO COURSE
Producers have eagerly been awaiting this groundbreaking video course & it's finally available to access.Giving your beats a professional mix is a standard that's expected from major labels & publishing companies when trying to get your beats placed.Our brand new coursework will teach you everything you need to know to ensure your beats have an outstanding mix & loud clean master.Save thousands of dollars by not having to enroll in school & save hundreds of hours from watching the wrong the tutorials.

What's included?

* Over 5 hours of expert techniques
* Mixing cheat sheets in PDF form
* An easy to understand, concise layout
* Small, digestible chapters with quick access to the info you need
* Everything you need to know to mix your beats professionally