5 Ways To Become A More Efficient Engineer!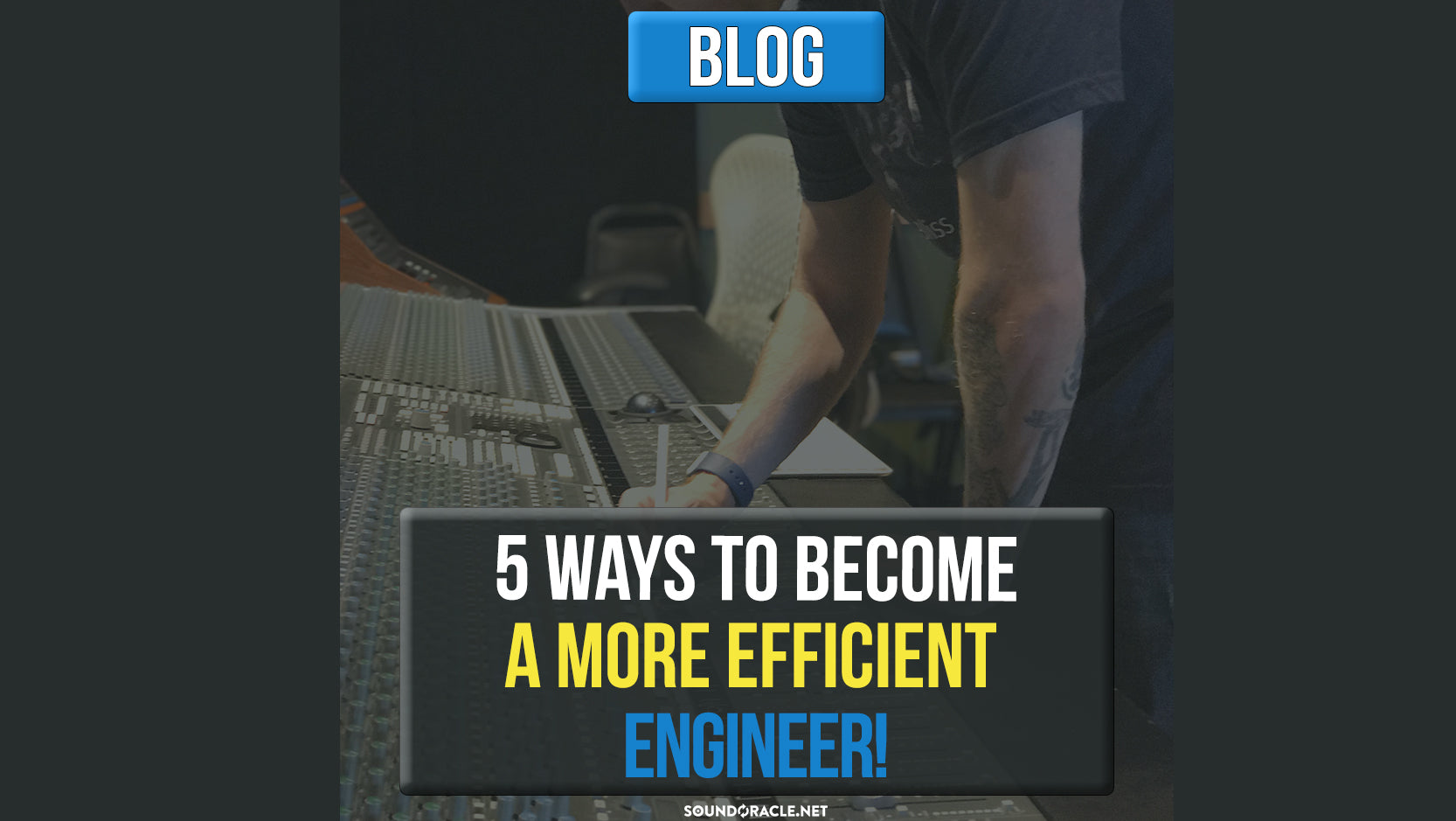 5 WAYS TO BECOME A MORE EFFICIENT ENGINEER!
Written By: Eric "Realistic" Michael

If there's one thing I've learned working full time in this industry, it's that it takes more than just talent to be successful in the music industry. In fact, talent is only a small fraction of what it takes to go far in this business. There's lots of talent in this world & there's tons of high level competition out there, but what can separate you from everyone else is a good work ethic, great communication, being reliable, & of course being highly efficient. Lot's of times people will choose someone with those traits over someone else that has more talent.

Being highly efficient will help you stand out. You'll get hired for more gigs, keep clients coming back, & impress the people you're working with or you want to get noticed by. So let's get into some things that can help heighten your efficiency. Obviously, I could list over a hundred things, but for this read I narrowed it down to my top 5 that can help you improve instantly. I totally get it that you may not always be able to do these every session & that life doesn't always give you the perfect situation, but I encourage you to still apply these when you can & have these options ready to go.

1. Prep Your Session In Advanced. This is one of the biggest time savers & will make life easier for the people you're working with. This is also where templates come in handy & it's good to have a few different templates for different situations. If I'm recording an artist, I will prepare the session the day before. Of course, I have templates on hand that if I absolutely need to do something on the fly in the studio I can, but if I have the capability to, prepping in advance is huge! Besides importing my template with all the audio tracks, FX sends, & headphone sends, I try my best to have the artist send over any important files I need for the session ahead of time. That way I can figure out the BPM, key, & get the volumes/clip gain figured out, do fade outs, etc. I know, I know figuring out some of that stuff only takes a few seconds, but anything I can do ahead of time & give more time to record, I will.

This allows us to focus entirely on creating music & recording awesome takes. If I've worked with the artist before, I'll set up FX, reverbs, & the Auto-Tune the way they like it. That way as soon as they step in the booth, they're hearing the sound they love!

There are of course times where the artist doesn't send you the beat files ahead of time or they find beats while they're in the studio, so this is why having your templates ready to go are very handy. Templates will help a lot with efficiency. I always suggest having a few different templates saved on your external hard drive so you have them ready to go no matter where you are. It's good to have a few to choose from. I have templates for artists recording to beats with stems, two track beats, Hip Hop vocals, singing vocals, artists that prefer Auto-Tune in the headphones, & several others. I even have templates created for artists that I work with on the regular with all their favorite FX routed & ready to go.

2. Show Up To The Studio Early. Getting to the studio early before the artist does is something I've always done & it helps a lot. This gives me time to turn everything on, transfer files from my hard drive, load up Pro Tools, pull up the session I prepared, set up their mic, route all the gear we're using, & set up their headphone mix. I'll also run a few tests to make sure everything is working. I'll do a test recording, play the music & check it out in the artists headphones, & make sure their mic can be heard in their headphones. Even if it's a studio that I have a lot of experience in, I still always run these tests before they get there, just to make sure everything is ready to go the moment they step into the studio. Most of the time every works perfectly & it only takes a minute or so, but if for some reason something is not working or acting weird, I can fix it right there without wasting the artist's time.


3. Keep Your Hard Drives & Files Organized. It can be a headache for everyone involved if a session needs to be located & you're not able to find it or it takes you a while to be able to find the files. Keeping your hard drives & computers organized will save tons of time & make life so much easier in the long run. I suggest starting by giving macro items separate folders such as separate folders for beats, sessions, videos, pictures, etc. Then setup smaller folders in each macro folder. For instance inside of my "sessions folder", I'll have folders for mixing, mastering, templates, etc. Then of course we'll have more folders inside these folders. So inside the mixing folder I'll have separate folders for each client. Inside their folders I'll have folders for different years (2018, 2019, 2020, etc.) Inside those folders I'll have folders for albums, EPs, & singles. This level of organization will make it very easy to find files & make your workflow very fluid.

4. Watch Tutorials & Courses. One thing I love about having a career in engineering is there's always something new to learn & always ways/reasons to keep getting better. The sound of music is always changing & there's always a new technique, trend, plugin, software, or technology to learn. Luckily we have tons of useful tutorials on our YouTube page & we even have full in-depth courses for mixing your beats professionally & everything you need to know when it comes to mixing vocals. Watching tutorials & courses like these can help give you new ideas, show you better/more efficient ways to do things, or even just show you a cool FX.

5. Learn Quick Commands. No matter what DAW you use, there are quick commands available & they are huge time savers! They'll not only make your life easier, but your clients' lives easier as well, especially if they're in the studio with you. You'll save them time & allow them to have more time creating/recording in the studio if you're efficient with your quick commands. Trust me, if you can find ways to constantly save your clients time & money, they'll keep coming back! If you happen to use Pro Tools or work in a studio that uses Pro Tools primarily, we have a tutorial video of some of our most used quick commands.

I'm sure these tips will improve your efficiency right away & you'll see instant improvements in your workflow! Like I mentioned before, there's probably a hundred other things that can be listed for efficiency, but these are 5 that I think will help you out right away.

Don't forget, communication is key!


JOIN MY UNQUANTIZED PODCAST COMMUNITY
Don't miss out Unquantized Podcast Live & Interactive by @soundoracle + @triza starting at 4 pm every Friday @IG !!!
YouTube `
Instagram

THE ART OF BEAT MIXING VIDEO COURSE
Producers have eagerly been awaiting this groundbreaking video course & it's finally available to access. Giving your beats a professional mix is a standard that's expected from major labels & publishing companies when trying to get your beats placed. Our brand new coursework will teach you everything you need to know to ensure your beats have an outstanding mix & loud clean master. Save thousands of dollars by not having to enroll in school & save hundreds of hours from watching the wrong the tutorials.

What's included?


Over 5 hours of expert techniques
Mixing cheat sheets in PDF form
An easy to understand, concise layout
Small, digestible chapters with quick access to the info you need
Everything you need to know to mix your beats professionally