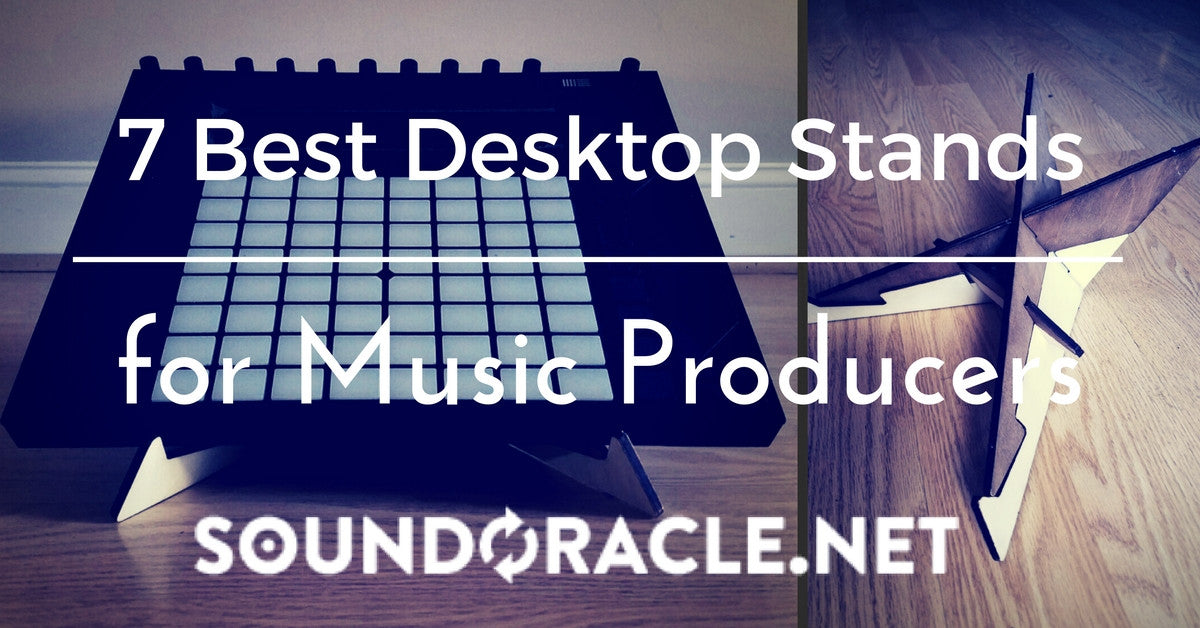 Music producers will spend hours and hours making music so it is advisable to get yourself a laptop stand. This will definitely fix your posture; thus, reducing neck, back and arm strain. From years of producing, I found seven best desktops stands for music producers. The Cremacaffe stands will be the top two. My favorite is the KOSMO Double Tabletop Synth Stand. All of my picks are sturdy, adjustable for a variety of equipment's, and it looks aesthetically nice. 
1) Cremacaffè Design Stands
These two music equipment stands from Cremacaffè are my favorites, because they are made specifically for producers. They are designed specifically to improve the ergonomics of your music devices. They are double angle, light, and compact wooden stands. According to BBoy Tech Report, it is like a little wooden origami for synths. It holds various machines as per Sonic Talk. It accommodates laptops as well. And for smaller drum machines and micro synthesizers. This is a plus since most of the other stands in the list are only for laptops. It is fully collapsible. Most stands in the list do not collapse or phone down, made from all-natural, recyclable material. It comes with a convenient carrying bag that lays flat and is small. The stands are so lightweight that they weigh almost nothing. This is especially important for your gear to be properly elevated. This will help your neck and back from feeling like an oldie. But it also helps your wrists when music programming. It is especially great for live performers and finger drummers.
Image Source: Cremacaffè Design Stands
A. KOSMO Double Tabletop Synth Stand
KOSMO is a swish and functional double tabletop synth stand. The Kosmo fits various synths. And if you are not sure on which stand to choose, check their stands compatibility list. It includes the details of the plywood dual stand to help assist you in your choice. This stand was enthused by SPIKE synth stand, specifically designed for your music gear. This is also great for a laptop just in case you need it. This will help raise up the screen which will also save you neck problems. This was a lesson learned from my experience in the past. KOSMO consist of two separable tabletops stands. It is made of intertwining plywood pieces. That is easy to assemble. Its features are its durability, lightweight, anti-skid and ergonomic stand. KOSMO can be packed in seconds ready for busy music producers.
Specs:
●Dimensions:
W 285 x D 260 x H 170 mm
●
Made in Italy by Andrea & Elisa
Image Source: Cremacaffè Design Stands
B. SPIKE Tabletop Synth Stand
The Spike is the first design tabletop stand from the Finnish design house Cremacaffè. The Spike fits various synths and drum machines. And if you are not sure on which stand to choose, check their stands compatible list. I am a sound designer who loves the practical and aesthetic features of this stand. Its weight, compactness, and flatness when you disassembled it, makes it the perfect friend in the studio and on the go especially made for music makers like me. The configuration is also designed to improve your posture while playing in comfort. This makes it ideal for the creative mind during sleepless nights. It is also best when sitting at your desk, or while performing in front of a crowd. This product was the outcome of hard work by using natural wood. While laser-cutting, staining and sanded made by hand.
●Weight: 135g      
●Dimensions: W 285 x D 260 x H 170 mm      
●Made in Italy by Andrea & Elisa

IMAGE SOURCE: COOLER MASTER
2) Cooler Master: NOTEPAL U2 PLUS
This clean and sleek "Cooler Master NotePal U2 PLUS" is designed to compliment your laptop. It targets the warmest areas using the two movable configured and high powered 80mm fans. It is thin and buoyant aluminum design that will match your Apple MacBook Pro, MacBook Air, and Ultrabook. It can also be used as a laptop carrying case that includes a safety strap. It is a stylish sandblasted sturdy surface. And two fans that provide a cool mat for your notebook. The design is ergonomic for optimal viewing and to guide you with typing. It supports various sizes from 15 inches to 17 inch laptops. The fan swirls to 2000 RPM, with 31 CFM airflow which includes an aluminum outer structure for added durability.
Specs:
| | |
| --- | --- |
| ●Model | R9-NBC-U2PK-GP (Black), R9-NBC-U2PS-GP, (Sliver), and  R9-NBC-U2PT-GP (Titanium) |
| ●Color | Black / Silver / Titanium |
| ●Materials | Aluminum, metal mesh, plastic, rubber |
| ●Weight | 0.65 kg (1.43 lbs) |
| ●Dimension | 346 x 282 x 60mm (13.6 X 11.1 x 2.4 inch) (W x H x D) |
| ●Fan Dimension | 80 x 80 x 10mm (3.2 x 3.2 x 0.4 inch) (W / H / D) |
| ●Fan Speed | 2000 ± 10% RPM |
| ●Fan Airflow | 31 CFM (each fan) |
| ●Fan Noise Level | 21 dBA |
| ●Power | USB 5V DC |
| ●USB | USB 2.0/1.1 x 1 (for power input) |
| ●Power Consumption | 0.36A, 1.8W |
| ●Compatibility | Supports up to 17" laptops |

IMAGE SOURCE: IKEA
3) BRÄDA Laptop Support (Black) from IKEA
Ikea Laptop Support is a stand which has a rubberized grip on the underside that holds the laptop steadily in place. It sits restfully to the laptop screen at eye level that provides a slight slope to the keyboard which makes it easier for you to type. I used my laptop most of the time.  And this stand is perfect for two reasons. First, the computer runs cooler and quieter because there was no ventilation for the fan on the bottom whenever I lay my laptop on the stand. Second, my laptop is at a comfortable angle to use where wrist is less twisted. While looking at the screen, my neck is in a better position. I have a large 17 inch laptop. And this stand is the perfect size for what I need.
Specs:
| | |
| --- | --- |
| ●Brand Name | IKEA |
| ●Item Weight | 1.4 pounds |
| ●Product Dimensions | 12.2 x 3.2 x 12.2 inches |
| ●Item model number | 1419-601-501-76-1 |
| ●Color | Black |
| ●Material Type | rubber |
| ●Manufacturer Part Number | 601.501.76 |
IMAGE SOURCE: RELOOP
4) RELOOP MODULAR STAND PERFORMANCE CONTROLLER
The Reloop Modular Stand was designed for modular pad controllers to exactly fit the Reloop Neon, assuring solid base with ideal working height. This is best to be positioned near a turntable. This will allow comfortable access to the samples, cues, loops, and effects. It has a convenient snap-in knobs, setting this up was quick and easy. It is sturdy which absorbs just about anything I do. It is a highly modular stand recommended as it gives me more room to play around. It gives me the freedom to put a small mixer under it. This controller is an add-on for Serato music software for DJ's ad midi programs. It is compatible with other models of modular controllers, effect devices, and even the iPad. It can also be used in your music studio. This will assist your desktop synthesizer or drum machine at an ideal working height. It is a great stand that folds up flat for transport and gets the job done.
Specs:
●Dimensions (folded):
261 x 22 x 184 mm
●
Dimensions (when set up):
261 x 185 x 184 mm
IMAGE SOURCE: NATIVE INSTRUMENT
5) Native Instruments Maschine DJ Gear Stand
Native Instruments Maschine DJ Gear Stand is the perfect solution that fits perfectly on the Roland stand I have. Great for stability with the right angles for any job you put it through. The pegs hold the Machine in place while the two little holes in the back of the 2 posts that sticks out which is designed to hold the Native Instrument. Aesthetically, it is cool. The design is off minimalist that includes a logo at the back. Let me say, the NI Maschine puts out a great quality gear stand. The cost can be expensive, but you truly know, you are getting a quality product.
Specs:
●For use with: New MASCHINE MK2 hardware, black or white edition, original MASCHINE controller (Not compatible with MASCHINE MIKRO or MASCHINE STUDIO)
●Product includes: MASCHINE STAND and Mounting Adapter
●Material: Aluminum with black anodized finish
●Measurements: 32 x 29.3 x 6.5 cm
●Weight Stand: 971g, Mounting Adaptor: 165g
●Compatibility with drum hardware: Pearl OPT0910 Optimount Holder, Roland PDS-10 Pad Stand, Millenium MTS89 Double Tom stand, Millenium Multi-Clamp, Pearl ADP 20 Multi Clamp, Dixon PAKL264-SP Multiclamp perc, Pearl UX-80 Universal Clamp, and other standard 7/8" drum clamps
IMAGE SOURCE: AKAI PROFESSIONAL
6) Akai Professional Laptop Stand
The Akai Professional Laptop Stand is a stylish, rugged, and low-weight stand design for producers, DJs, performers or anyone who is in need of a raised computer and audio stand. The Akai is easy to assemble and collapsible in seconds. It has a zippered and comes with a protective case for easy portability. It includes a top, underside, and inner rubber grips for added stability placement. You can put your MPC Studio or Maschine MK2 you're your keyboard with no problems. It can be mounted on the wall for use in music studios and DJ booths with a handy carrying case.
Specs:
●Package Weight 4.4 lb
●Box Dimensions (LxWxH) 16.4 x 12.1 x 3.4"
I am sure that somewhere out there lays the perfect computer, and audio stand for your music studio. This is it for now unless you have something to add in the comments below.
{"one"=>"{{ count }} comment", "other"=>"{{ count }} comments"}