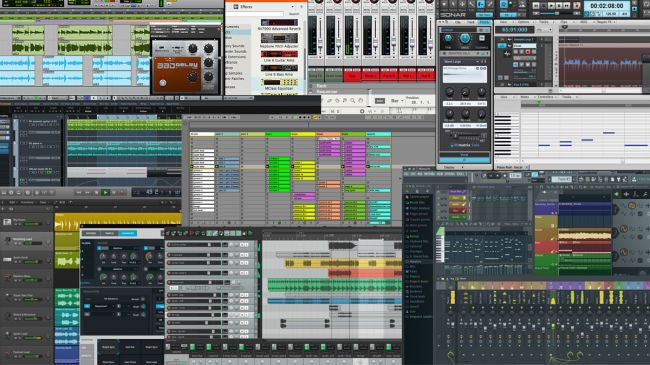 What is the best music software (DAW) this year?
Every year this question arises much discussion on electronic music forums and social networks. Opinions are divided…some producers even says that this top is pointless anyway because any producer will use the program that already used…or…that did not matter what music software you use, a good producer can make music using any DAW. BUT, you'll notice the same names year after year in the top positions of the charts on music production websites, forums, blogs, etc..
Somewhere is a grain of truth because the best music software is also the most popular software used and loved by the majority. When you are looking to buy something, always ask yourself what others in your guild use? What is the most popular product? Then depending on your needs and budget, you will choose the product that suits you best.
Let's get to the main topic…
To find out which is the best DAW of 2015, we created a poll that was shared on our social networks and sent to our subscribers. More than 5000 people voted and here are the results:
1. Ableton Live 9
Undoubtedly Ableton Live 9 is the best DAW of 2015, voted by most readers. Ableton Live 9 is a clip-based sequencer that can be used for both studio-inside music production and live performances. With a better audio warping engine, a great creative workflow, and MIDI editing refinements, Ableton Live 9 DAW offers more flexibility than ever. The advanced automation abilities such as adding curves to automation or duplicate certain automation plus a full range of effects and instruments are ready to turn any idea into reality.
Ableton Live 9 is available priced at EUR 79 (for Live 9 Intro), EUR 349 (for Live 9 Standard) and EUR 599 (for Live 9 Suite).
Ableton 10 is currently under development and we believe that will be ready next year, it may be presented at NAMM 2016, who knows?
2. Image-Line FL Studio 12
FL Studio 12 was and is one of the best music software, used and appreciated by many electronic music producers across the globe. This year ranks second, and this says a lot.
FL Studio 12 brings some significant developments and innovations such as the new "vectorial" GUI that allow FL Studio 12 to be scaled in real-time and to support high-resolution screens, up to 8K. For those who have made the transition from a previous version the workflow remains fairly familiar, yet some few changes have been made. Another great feature, beside the vectorial GUI is the implementation of multi-touch support for touchscreen monitors.
Beatmakers such as Lex Luger, Shawty Red, Young Chop, Jahlil Beats , Hit Boy use FL Studio. If you did not know, Jay-Z and Kayne's "N***** in Paris" was produced with FL Studio.
So, if you are looking for a fun and easy-to-use DAW, with a graphical interface that looks great and that can be customized according to your preferences, then FL Studio 12 is a very good choice.
FL Studio 12 is available  (just for Windows) in three versions: Fruity Edition ($99), Producer Edition ($199) and Signature Bundle ($299). Another strength of FL Studio is that once you have purchased a license, you will have updates free updates for! It is the only music software that offers this.
3. Presonus Studio One 3
Studio One 3 developed by PreSonus is a very solid update, bringing some exciting new features such as the Scratch Pads and the Arranger Track, offering more flexibility than ever. Besides all this, Studio One 3 brings some long-awaited virtual instruments add-ons such as Mai Tai, a brand new polyphonic analog modeling synthesizer and the Presence XT sampler, an enhanced version of the previous Presence sampler. Also, there are new effects, such as the newest Rotor audio processor, BitCrusher, and Note FX.
PreSonus listened to its customers and has managed to make from Studio One 3 one of the best music software of this year. Presonus Studio One 3 is available in two versions: Artist for $99.95 and Professional for $399.95.
4. Cockos Reaper 5
Reaper from Cockos is a brilliant piece of music software providing all tools you need to make the best music. Reaper is a multi-track audio and MIDI recording, mixing and mastering, editing and processing digital workstation for both Windows and MAC OS.
Reaper 5 was released this summer and brings many improvements such as FX VST3 support, video support and performance, new GUI layouts, new automation options, extra fancy new theme and much more. This music software is one of the most affordable, for an individual non-commercial license you pay only $ 60. For those who want to test it, can download a 60 days fully-operational demo version of Reaper.
If you thought to change your DAW, Reaper 5 can be a good alternative, with a very active forum and many free tutorials online.
5. Apple Logic Pro X
Apple's Logic Pro X is a MAC-only music software, very powerful and affordable with strong production capabilities.
After Logic Pro X 10.1, which was a big step forward, bringing many improvements, Logic Pro X 10.2 brings even more upgrades and more obvious is the addition of Alchemy, the next-generation sample manipulation synthesizer with over 3000 presets ready for all types of electronic music. Besides Alchemy synth, there are more features such as the Logic Remote from where you can control your DAW from any corner of your studio using an iPad.
Logic Pro X is available for MAC users priced at $199.99, affordable compared to other recording software from this list.
6. Steinberg Cubase 8
Cubase 8 developed by Steinberg is their latest and greatest version of Cubase music software with many new features and comes in two versions: Artist and Pro. Cubase Pro has all the features of Artist, plus a lot of features such as a Full Scoring Editor, VariAudio for pitch correction, Surround Sound, VCA Faders, Direct Routing, Wave View, significant performance increase and many GUI refinements.
Cubase 8 is available for Windows and MAC OS priced at $699 (PRO) and $399 (Artist).
7. Cakewalk Sonar 2015
Cakewalk Sonar 2015 is one of the more advanced digital audio workstation for Windows (PC) available today. Sonar 2015 comes with a brand-new interface ("Skylight"), mix recall modes, vocal sync, Melodyne integration and some great new useful tools and new effects. Also, SONAR (Platinum, Professional) comes with Addictive Drums 2 (a great drum virtual instrument) included.
You can choose to get SONAR on a monthly or an annual basis. As long as you choose to pay a license, monthly or yearly, you'll get access to all updates and downloads. Sonar 2015 is available for Windows in three versions as follows: Artist: $99 upfront or $9 monthly, Producer: $199 upfront or $19.99 monthly, Platinum: $499 upfront or $49.99 monthly.
8. Avid Pro Tools 12
Announced at NAMM 2015, AVID Pro Tools 12 is the next generation of the industry-standard music making audio software with artist collaboration support via Avid Cloud Collaboration.
After a few months from NAMM 2015 event, AVID announces a new version update: the Pro Tools v12.1 with new updates and improvements for Editing, AudioSuite, Bounce, Audio, and Video Engines, Delay Compensation, I/O Setup, MIDI, and Satellite workflows to further improve stability.
Pro Tools 12 is available for both Mac and Windows-based computers, priced at $599.
9. Bitwig Studio 1.3
Bitwig Studio is one of the newest DAW on the market. However, it quickly became one of the most stable and well-featured music software. Bitwig Studio 1.3 is the latest update and was released just a few days ago bringing and improved workflow and the touchscreen technology. Now Bitwig Studio can be used on any touchscreen device that runs on Windows, Linux and a special display profile for Microsoft Surface Pro. It can be said that at first sight Bitwig Studio looks quite well as Ableton Live, as this DAW is a clip-based sequencer.
Bitwig Studio is available for Windows, Mac, and Linux at a price of USD 299.99 / EUR 299.00, quite affordable.
You might also like to check our Bitwig Studio Review.
10. Propellerhead Reason 8
On the tenth position is the Propellerhead Reason 8, a music software with a different approach than many of its competitors and more than 10 years of development behind. Its GUI mimics the design of an actual studio rack, even giving you rear access for cable patching.
The latest version, released this year, Reason 8, introduces several enhancements that make this DAW a more modern one, easier to use and manage. Some buttons and controls were changed, now being much more intuitive, clean and logical to use.
Reason 8.3 is the latest update, released back in June and brings new sounds and a faster flow plus a massive update to Reason's classic RV7000 Advanced Reverb.
Reason 8 is available in two versions, the main version priced at €369 with all instruments, effects and all features included and another "Essentials" version priced at just €49, with some limitations.
Let's not forget the other mentions of our readers who have voted for Renoise 3, Magix Samplitude Pro, MOTU Digital Performer 9, Apple GarageBand, Steinberg Nuendo 7, Acoustica Mixcraft 7 and MuTools MuLab.
We hope this list will help you to choose the best DAW for you, whether you are a beginner or want to switch to another music software. From our experience, all these music programs are good, each can be used to create a great hit and can be used in any professional studio or in personal home-studios. The differences are mostly the price, workflows, tools included and support.
Original article found here:
http://www.producerspot.com/top-best-daw-2015-best-music-software