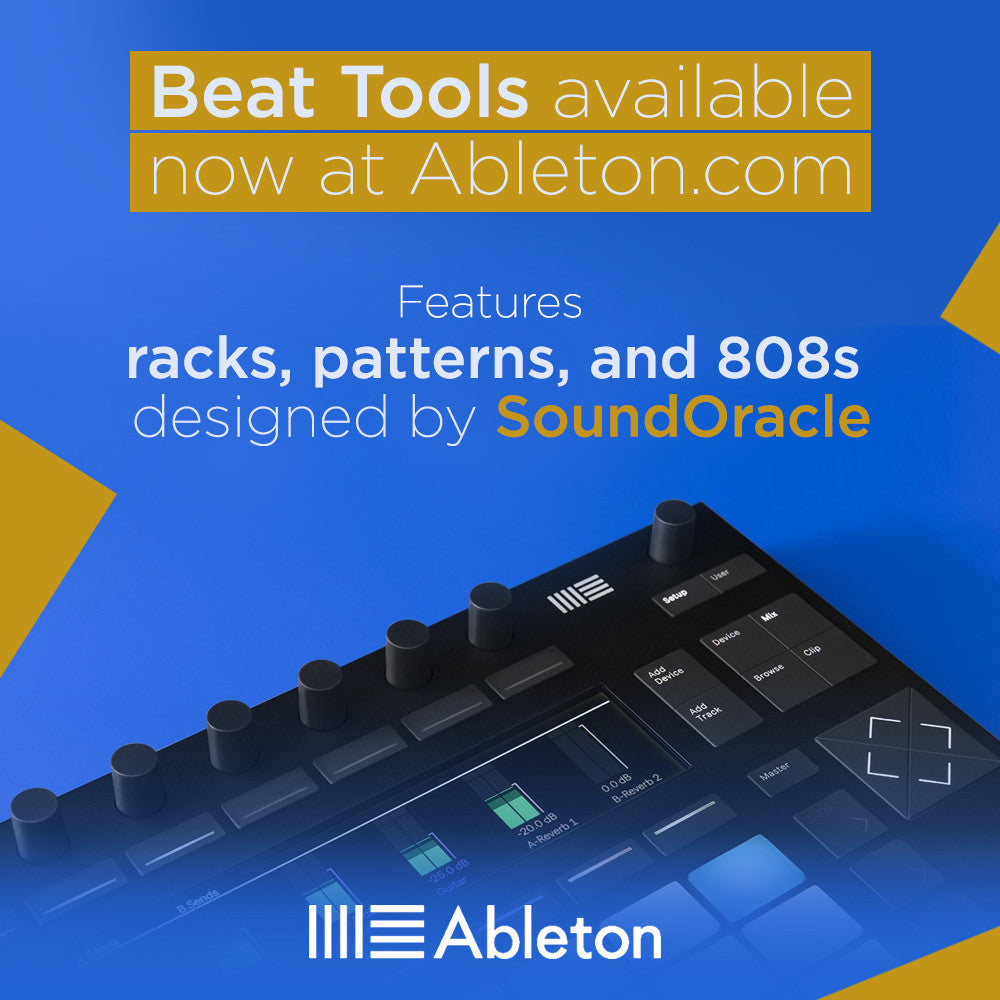 Sounds Beat Tools by Ableton
I'd like to thank Ableton for having me be a part of the new Beat Tools library. And giving me an opportunity to inspire producers, beatmakers, and musicians worldwide. I honored to the sound design creative team for Beat Tools with artists like @miccheckmate, @MSXIIsound, @mvploops, and  @KayKayBeats.
Beat Tools will now be included in Push and Live 9 Suite. It includes drum racks, patterns, 808s, and sets designed by a team of producers and sound designers including Sound Oracle, Mic Checkmate and Michele Darlingby. This collection of sounds puts everything you need for making beats in one place. 
Beat Tools: A Creative Toolkit for Beatmaking
Beat Tools is the latest creative toolkit for beatmaking with Ableton Live. This pack features heavy heating 120 Drum and Instrument Racks, over 182 loops for slicing, tweakable processings, plus almost 100 MIDI clips and more. Beat Tools has all the sounds you need for sparking ideas and keeping you in your flow–especially with Push.
BMaul
 makes a beat with Beat Tools – a new Pack with all the sounds you need for beatmaking. 
BMaul - LA raised Berlin based Singer-Songwriter | Multi-Instrumentalist | Beatmaker | Finger Drummer | Agile Coach at Ableton
Beatmaking Flow with Push
Drum Racks come with percussive hits, bass and melodic samples for working on tight-knit ideas for groove and melody on a single kit. The sound is great right off the bat. It comes with eight Macros. That are carefully setup for your creative sound design directly from Push. The 100 instruments racks comprise expressive Push features like pad aftertouch. And also, it offers a diverse sound palette. The additional feature of the collection of audio loops and phrases are ready for making new beats and melodies.
Specifications
*102 Instrument Racks (bass, keys, leads, pads, and effects)
*27 Drum Racks
*97 MIDI Clips
*182 Audio Loops
*15 Effect Racks
*5 Demo Sets
How to get Beat Tools
*Beat Tools is free for Live 9 Suite and Push owners, or you can buy it here.
*First, be sure your unit is registered. 
*Once registered, Beat Tools will appear in the list of Packs on your account page.
About Sound Oracle:
Sound Oracle is best known as the producer and chief sound designer for multi-platinum producer Timbaland. Sound Oracle's work has appeared in productions for the likes of DJ Jazzy Jeff, Kehlani, Beyoncé, Jay-Z, Justin Timberlake, Chris Brown, and Christina Aguilera.
Studio Session - Ableton Loop 2016 in Berlin, Germany
SEE: SOUND ORACLE SPEAKS AT ABLETON LOOP SUMMIT FOR MUSIC MAKERS
One would define Oracle as a "supplier of wisdom and insightful counsel."  However, his personal quest is to inspire. His music has adopted a system of authentic storytelling. Here, he lays the outline of Sound Oracle. He successfully mastered the skill to produce music; the ultimate dream of this Virginia native, Sound Oracle. Despite the shortage of music mentors and influencer's within the DMV area. The producer and sound designer proved that bringing his childhood aspirations to reality. It is as simple as setting small challenges. He tested the confines of one's own ability to overcome them, where he wields guts and gall from the sheer passion of all things' production related. Sound Oracle, who is an introvert, galvanized his motivation from the fear of dying in obscurity. And set out on a mission to manipulate sound by incorporating the beauty of a colorful transient noise.
{"one"=>"{{ count }} comment", "other"=>"{{ count }} comments"}