Best Vocal Mics For Under $800 in 2020!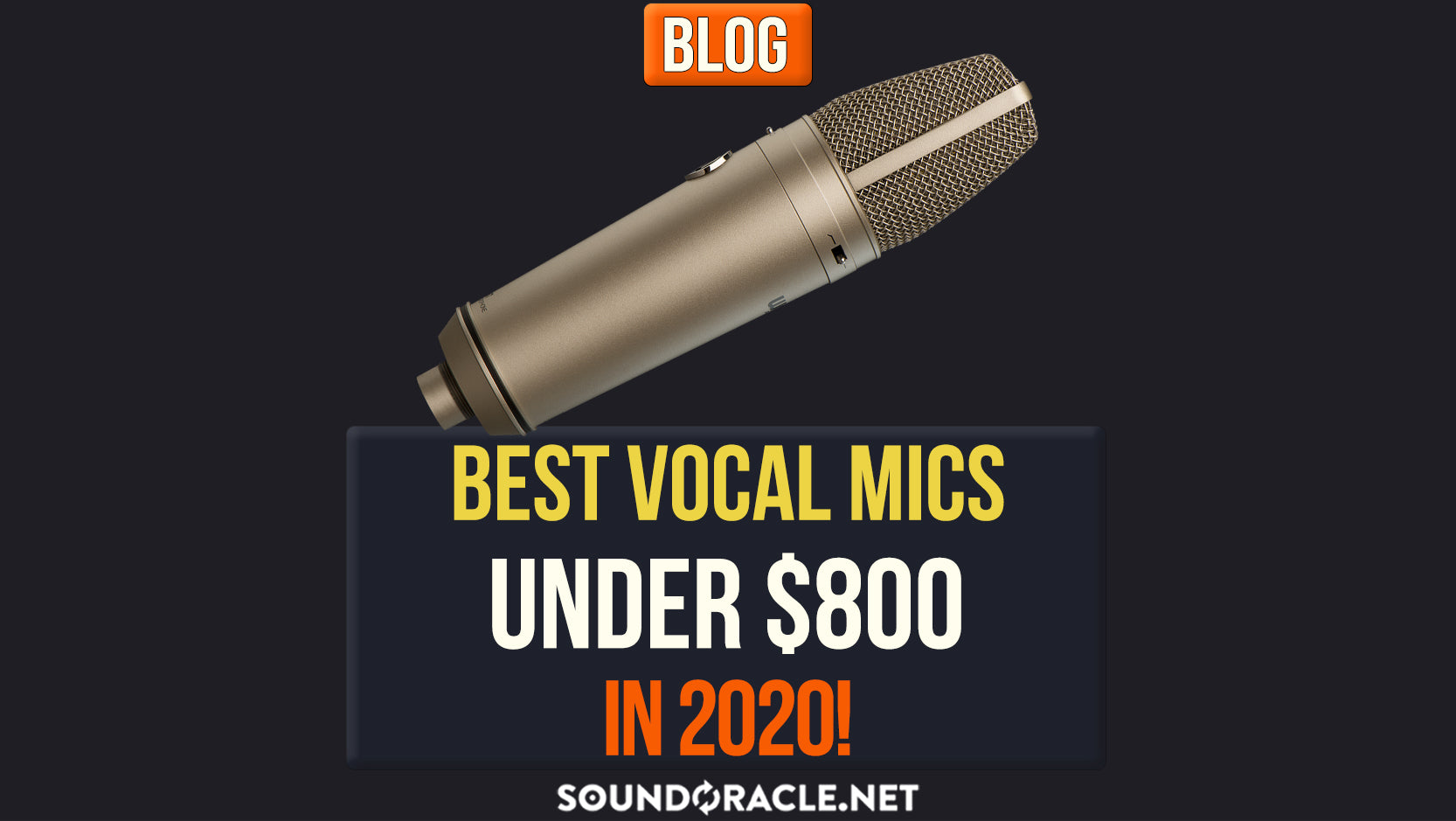 Best Vocal Mics For Under $800 in 2020!

Written By: Eric "Realistic" Michael



As producers, engineers, or artists a good quality microphone can be an important piece of gear to have. When it comes to the absolute best microphones with the highest quality, you won't find any for under $2,000. When you're first starting out or you have other costs/finances to consider in your life that can be too much to spend right away. Luckily, there are some more affordable mics on the market that can still give you a good quality product between $400-$800.

That can still be a little pricey for some, but if you're planning on doing music as more than just a hobby, it's a good idea to save up & invest in something that's at least in this price range. There are mics on the market for a lot less; however, the quality is very poor & you will run into consistent issues with clipping, crackling, broken, hollow, boxy, & shrill vocal recordings. With a lot of those mics, the lost cost just isn't worth it & you'll eventually have to upgrade to something better. No amount of mixing can save a bad recording.

There's so many mics on the market & it can be hard to find the right one & you don't want to waste your money on something that's going to disappoint you. This list should help guide you in the right direction though! These mics may not be at the same quality level that Drake is using, but they can definitely give you a good sounding recording that will be enjoyable for you & your listeners!

PRICE: $699.00

Audio Technica has a great reputation for delivering a lot of solid products at a budget friendly price. Of course, the AT4050 is no different. This microphone sounds rich & full on vocals & still delivers a sound that's not overly toned. Making it a fairly versatile mic & easy to use for most vocals & instruments. The AT4050 has high SPL capabilities & features three selectable polar-patterns to choose from: cardioid, omnidirectional, & figure-8. The AT4050's transformer less circuitry basically eliminates low-frequency distortion and provides accurate recordings of fast transients. Not only is this microphone a great sound, but it's also quite durable & you'll most likely find several years of use out of it, if not more!

PRICE: $699.00

We are beyond excited to be able to include a tube mic on our list! Warm Audio has a great reputation for creating pretty close emulations of classic mics & gear for a fraction of the cost. The WA251 is based on the vintage Telefunken ELA M251E tube mic. The Telefunken version ranges from $10,000-$50,000, so to be able to get a mic based off of a true classic for only $699 is remarkable. At this price the WA251 is not an exact carbon copy of the original; however, Warm Audio did a great job capturing the essence of this mic. Warm Audio's version retains the clarity, smooth texture, rich lows, & open sound the 251 is known for. If you're planning on recording more singing style vocals rather than rap, rock or broadcast vocals, then a tube mic is definitely something you want to consider. Tube mics capture wonderful analog tones with a slight tape-like saturation & compression like no other style of mic can capture. Pop & R&B vocals will sound buttery smooth on this microphone!

The WA251 is a tube mic, so it does not need phantom power & sending phantom power to it can damage it, so be sure to be aware if phantom power is on or off when plugging this mic in. Just like any tube mic, this microphone comes with its own power supply & 7 pin tube cable.


5. Shure SM7B Cardioid Dynamic

PRICE: $399.00

One of the most iconic & well known mics in the industry & it's the only dynamic mic that made our list! This mic has been used on countless hit records including Michael Jackson's entire Thriller album & lots of Hip Hop records in the late 90's & early 2000's.

With it being a dynamic mic it can handle more abuse. It performs well under a lot of sound pressure & loudness being recorded into it. A lot of condenser mics are not able to handle the same level of sound intensity & they are more likely to distort & clip with too much SPL. That makes this mic perfect for lots of rock vocals & loud energetic hip hop vocals. This dynamic mic also features a dual-band switchable passive EQ which can cut out the low end & boost the presence of the overall sound.

The design of the SM7B is one of the most brilliant on the market. There's an internal suspension & shock-mounting system built right in! This helps prevent vibrations from floor movement. The electromagnetic shielding around the mic is designed to keep out hum & outside interference. The built-in swivel mount makes for easy adjusting.

One thing to keep in mind for this mic is it does not require Phantom Power to use it & it needs a lot of gain from your pre-amp to get to an audible level. Some people even invest in the CL-1 Cloudlifter to help boost the overall gain of this mic before it enters into the pre-amp.

This mic is also great if you plan on doing podcasts, online tutorials, or any content that requires your speaking voice. This mic is usually the top choice for people looking to dive into that realm of content creation! This is the mic that we use for all of our online tutorials!

4. Aston Spirit (Large-Diaphragm Condenser

PRICE: $499.00

This is a great looking mic that has a surprisingly pleasing shine in the top end for such a low cost. Known for accurately capturing a performance, it also delivers rich harmonics in your vocal recording. This microphone is also known for some great bells & whistles too. It has a built-in mesh pop-filter, discrete circuitry for avoiding hum, & switchable polar-patterns (Omni, Cardioid, & Figure-8.)

The Aston Spirit is very transparent & usually won't need too much EQing for boosting. You'll find this mic has a crisp & clean sound to it without much coloring to it. Since this is a condenser mic, you will need to apply Phantom Power to it once it's plugged into your pre-amp. This mic is ideal for singing & hip-hop vocals; however, it's meant for more light-to-moderate tones. This mic won't handle shouting or screaming vocals very well, but for most singing & rap songs, this mic will do just fine! Plus, the microphone sounds good on other instruments like guitars & strings, so you'll have a multi-purpose mic on your hands at all times.

3. Neumann TLM-102 (Large-Diaphragm Condenser)

PRICE: $699.00

Neaumann has long been known for very high quality microphones & the TLM-102 is no different! This mic is one of the best overall performers on our list. It has a rich, warm sound that's full of depth & clarity. This is a piece of gear that really makes vocals stand out in the mix & it can handle a little more sound intensity than the previously mentioned Aston mic. The small downfall with this microphone is that it's a Cardioid only mic & there are no switchable polar patterns. That usually won't serve as too much of an issue though, because in most vocal cases, cardioid is the perfect polar pattern to use.

If you're looking to record modern Pop, R&B, or Hip Hop vocals, the TLM-102 will not disappoint. Your vocals will sound professional & clear using this mic.

This mic also requires Phantom Power & can be used on a variety of instruments outside of vocals. The TLM-102 also sounds great on acoustic guitars, brass instruments, strings, & hand percussion.


2. Slate Digital VMS ML-1 (Large-Diaphragm Modeling Mic)

PRICE: $799.00

Modeling mics are becoming better & more practical each year! This mic is perfect if you're looking for lots of options without having to buy a lot of different mics. What makes this mic so special is that at its core, its ultra linear & transparent; however, with Slate's digital software it allows you to transform this mic into different iconic mics. With a flip of a digital switch inside the software you can turn this microphone into famous vintage microphones like a U-67, U-47, M-251, & several other classic high quality mics. This mic gives you instant access to a locker full of microphones & allows you to choose the perfect mic based on the application you're recording!

This mic requires Phantom Power. Its biggest setback is it's limited to only a Cardioid polar pattern. It would have been nice to see a mic with so many mic & tone options to also have switchable polar patterns; however, in most recording cases, cardioid is the common pattern to select.

This mic will shine the most when it comes to vocals, but can also be used on a variety of instruments based on all of the choices of microphones it gives you inside of the software. The Slate Digital VMS ML-1 gives you instant access to microphones that are rich & warm, bright with pristine top end, punchy with aggressive mid-range, smooth & transparent, & so many more options to choose from!

1. Warm Audio WA87 (Large-Diaphragm Condenser)

PRICE: $599.00

Another Warm Audio mic to make our list. WA has long been known for their amazing emulations of classic analog gear like compressors & EQs. They've made a reputation for very accurate emulations of the La-2a & 1176 compressors as well as a brilliant take on a 1073 Neve style preamp. Their take on the legendary Neumann U-87 was no different!

The U-87 is possibly the most known vocal mic & became popular to use in studios because of its high quality, warm tones, & aggressive bite that still had a touch of brilliant smoothness. The U-87 is a go to for a lot of pros; however, with the $3,200 price tag attached to it, it can be hard for most people to afford. That's where Warm Audio comes into play & is absolutely clutch.

The WA-87 is not only modeled after the U-87, but they came very close to a spot on emulation of one of the most revered microphones of all time & it's available for a fraction of the price! Using this mic on vocals feels like the right choice every time. You'll instantly notice your vocal recording has a warm, rich sound full of deep harmonics & beautiful overtones. If you're looking for the best vocal clarity for under $800, this is the best choice to go with!

This microphone requires Phantom Power & also features switchable polar patterns (Omini, Cardioid, & Figure-8.) This microphone will become a workhorse in your studio. Not only does it sound great on vocals, but it sounds good on everything! Acoustic guitars, flutes, brass, strings, hand percussion, drum overheads, choirs, room mics, you name it & this mic is right for the job!

Producers have eagerly been awaiting this groundbreaking video course & it's finally available to access.Giving your beats a professional mix is a standard that's expected from major labels & publishing companies when trying to get your beats placed.Our brand new coursework will teach you everything you need to know to ensure your beats have an outstanding mix & loud clean master.Save thousands of dollars by not having to enroll in school & save hundreds of hours from watching the wrong the tutorials.

What's included?

* Over 5 hours of expert techniques
* Mixing cheat sheets in PDF form
* An easy to understand, concise layout
* Small, digestible chapters with quick access to the info you need
* Everything you need to know to mix your beats professionally

Our 808 Formula series is one of our most popular & the much demanded third installment is finally here!

808 Formula 3 is a mega library of high quality 808s & you'll be sure to find the 808 that you need for any production style or genre.

Whether you need 808s that are hard hitting, punchy, distorted, classic, unique, wide, long, short, or just a deep sub, 808 Formula 3 has every kind of 808 you can imagine!

This 808 kit will fit your workflow perfectly & works with all types of modern production types: Trap, Boom Bap, Hip Hip, Pop, R&B, EDM, etc.


ERIC MICHAEL
REALISTIC PRODUCTIONS
(Engineer)


Realistic is a Music Producer and Engineer located in the Twin Cities. He has been producing music for Hip-Hop & Pop music since 2004. In 2017 he graduated with an AAS in Music Production & Engineering. Real is the chief mixing engineer for SoundOracle.net where mixes all loops & sounds on the site & also provides mixing & mastering services on the site to artists & producers.