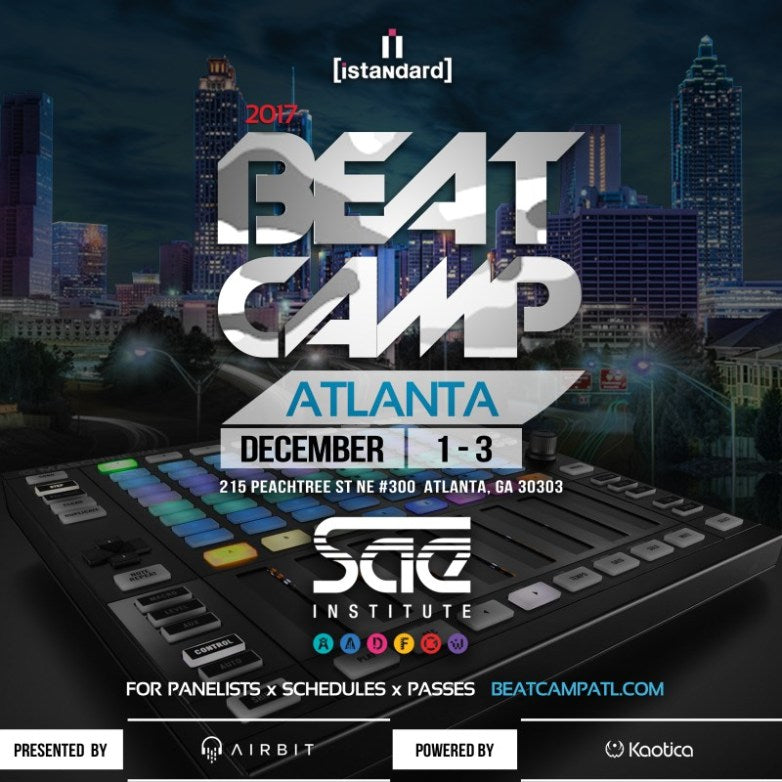 [istandard] is hosting Beat Camp – Atlanta, December 1st-3rd @ SAE Atlanta. Beat Camp is a music creator weekend retreat consisting of interactive panels & workshops on Producer Branding,  Management, Networking & Relationships, Songwriter & Producer Synergy, Sampling. Mixing, and much more…
Sunday, December 3
Where: SAE INSTITUTE 215 Peachtree St Ne #300, Atlanta, Ga 30303
My Speakers Sessions
[1 on 1's]



Event Time: Sunday, December 3 • 12:15pm - 1:15pm
Venue: [Beat Suite]
Speaker
BEASTS will get a chance to play 1 beat for an established Producer or Engineer at Beat Camp and get valuable verbal feedback on the spot. Please have a flashdrive with 1 beat ready to go. Find out your time slot at registration.
#MixNMastered
Event Time: Sunday, December 3, 2017 2:30pm - 3:30pm

Venue: MAINSTAGE
Speaker
[You cannot cut corners on quality. A bad beat with a good mix will always beat out a good beat with a bad mix. Our panelists will hone in on main focuses you should be aware of to ensure you aren't missing your target when it comes to your products presentation.]
Moderator
Co Founder of [istandard], [istandard]
Co Founder of [istandard]/ Mgr of Kaydence, ValleySoWavy & SXYDRPS
Speakers
'No Dope On Sundays'- Producer Panel
Event Time: Sunday, December 3, 2017 3:45pm - 5:00pm

Venue: MAINSTAGE
Speaker
Moderator
[istandard] COO, [istandard]
COO of iStandard Producers
Speakers
ABOUT THE HOST

SAE Institute Atlanta will host  [istandard] Beat Camp. [istandard] has been an influential organization in the Music Production industry since 2005, helping bridge the gap between the up-and-coming producer and the music industry. The [istandard producer showcase] is the premier live event for producers to spotlight their music live in over 35 North American markets, and [istandardproducers.com] has gained the attention of the industry's elite, as well as millions of viewers from over 100 countries around the world.
DIRECTION
{"one"=>"{{ count }} comment", "other"=>"{{ count }} comments"}