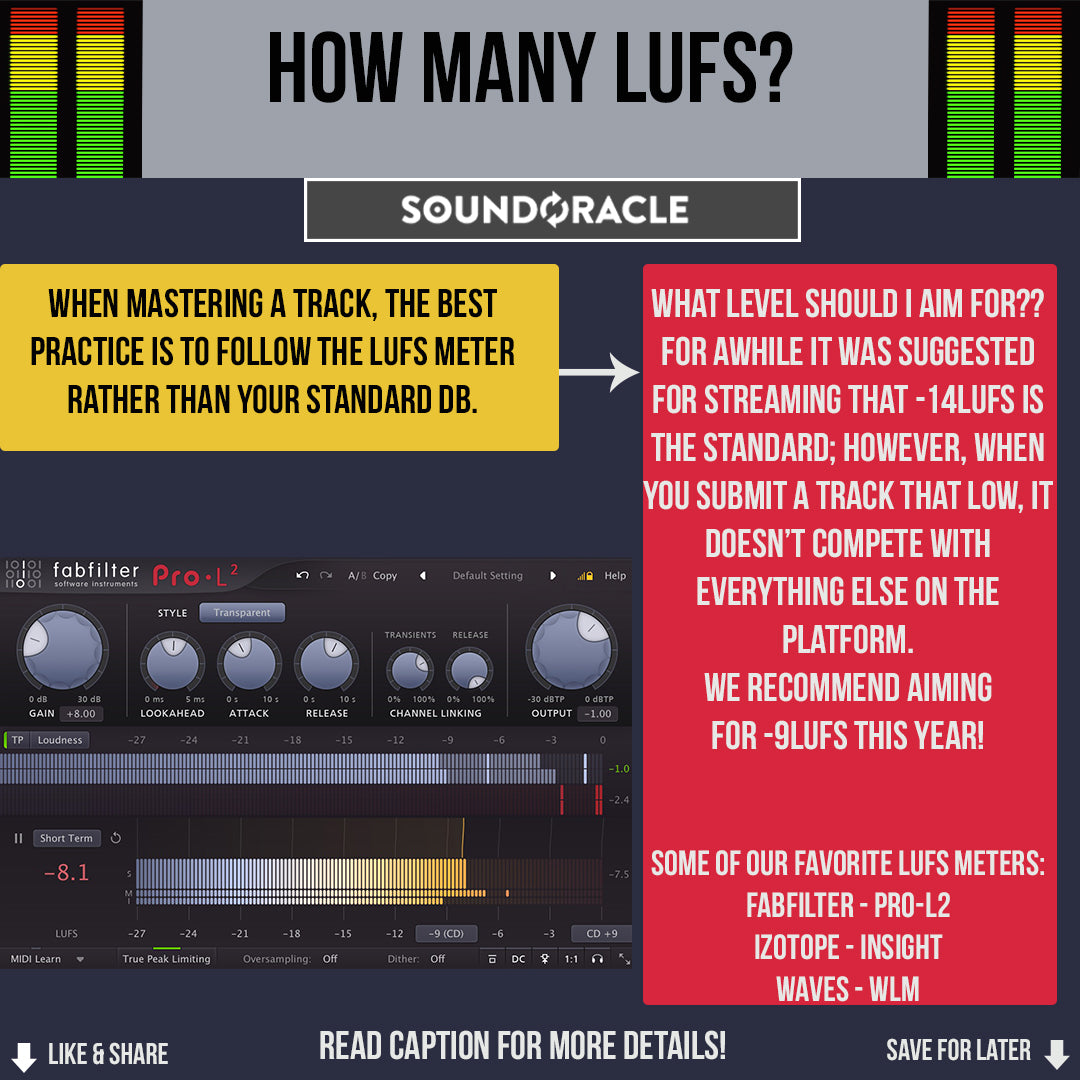 These quick production tips will definitely save you time in the studio and improve your workflow.
When it comes to mastering the standard meter to use is the LUFS meter.

LUFS stands for Loudness Unit Full Scale.

When mastering it's preferred to use LUFS rather than dB, RMS, or VU.

Streaming guidelines go off of the LUFS meter these days. Lots of online articles suggest to aim for -14LUFS when submitting tracks to streaming; however, if you've ever aimed that low, you know that your song is noticeably quieter than the rest of the songs on streaming platforms. That's why we suggest -9 LUFS. Maybe even as loud as -8LUFS.

The LUFS meter allows the measurement of loudness of the audio without a reference & is extremely accurate at displaying the perceived loudness of audio material.

This is also your best chance to get a consistent loudness when mastering several different songs or trying to match the loudness of other songs you may be competing with.

Whereas a decibel measurement requires the reference of standard air pressure generated by the audio. dB is great when it comes to the mixing side of things & should still be used in the mixing stages, but it won't give you the consistency in the mastering stage like LUFS will.

THE ART OF BEAT MIXING VIDEO COURSE
Producers have eagerly been awaiting this groundbreaking video course & it's finally available to access.Giving your beats a professional mix is a standard that's expected from major labels & publishing companies when trying to get your beats placed.Our brand new coursework will teach you everything you need to know to ensure your beats have an outstanding mix & loud clean master.Save thousands of dollars by not having to enroll in school & save hundreds of hours from watching the wrong the tutorials.

What's included?

* Over 5 hours of expert techniques
* Mixing cheat sheets in PDF form
* An easy to understand, concise layout
* Small, digestible chapters with quick access to the info you need
* Everything you need to know to mix your beats professionally