How To Make Your 808s Cut Through The Mix!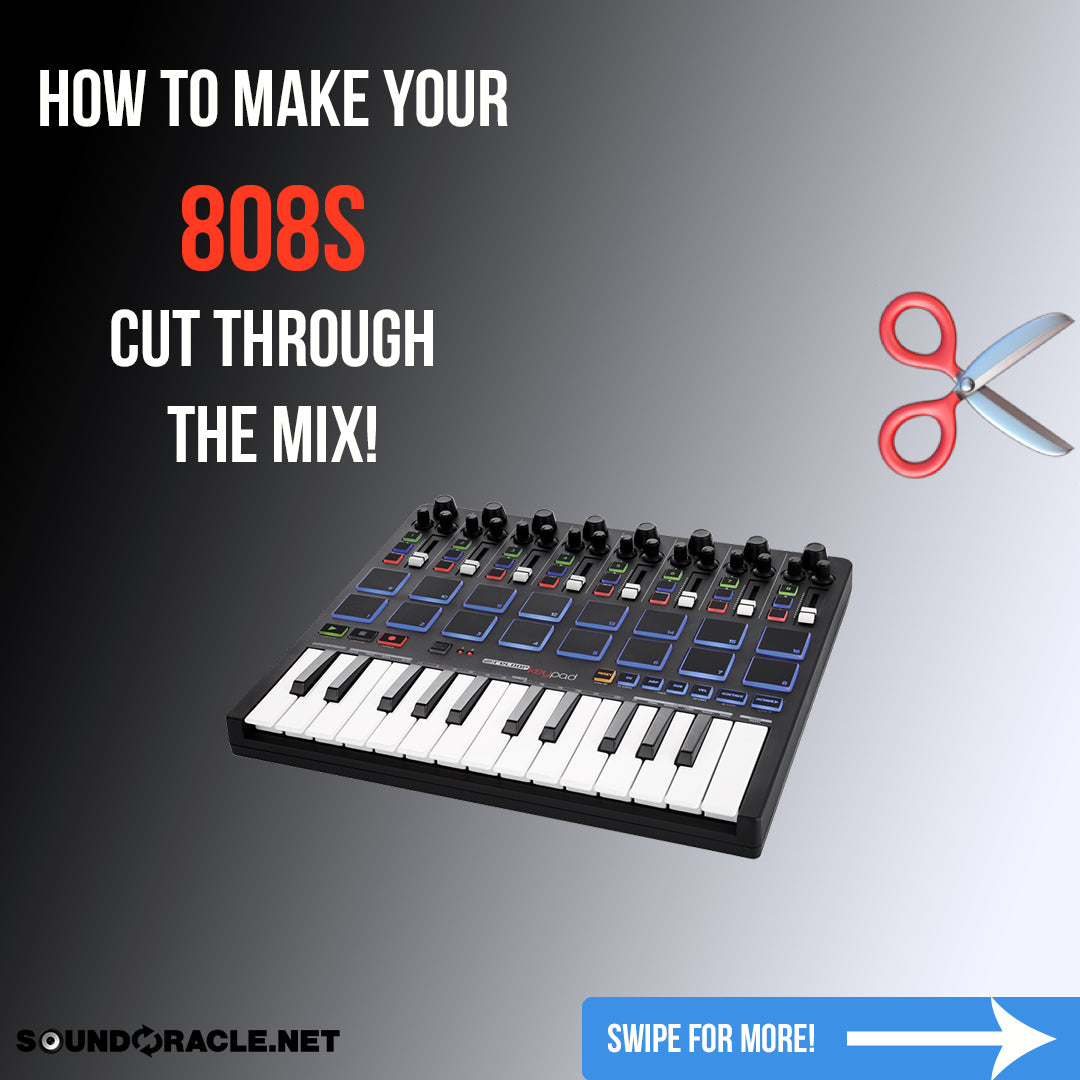 Here is an easy to use tip to make your 808s cut through your mix better!
Step 1: Duplicate your 808 track. This will allow us to control the sub-frequencies & mid-range separately. Plus, our distortion plugins will not muddy up the low end or take away from it.
Step 2:

On your original 808 track, apply a low pass filter at 200Hz. This track will be just for the sub-frequencies & now we can add or reduce the level of the sub-frequencies easily! Think of this area as the part of the bass we feel more than we hear.

Step 3:

On your duplicated 808 track, apply a high pass filter at 200Hz. This track will be for the mid-range frequencies to cut through the track. Think of this area as the part of the bass we hear more than we feel.

Step 4:

Remaining on the duplicated 808 track, add on your favorite distortion plugin. Increase the drive knob somewhere between 4-6.

For even more punch, switch steps 3 & 4 around. This way the low end can be distorted, creating upper harmonics & then the remaining sub can be high passed out.

Step 5:

Now you can balance the two channels separately. Need to hear more of the 808? Turn up the duplicated track. Too much low end? Turn down the original 808 track.

Step 6:

You can add some stereo tools on your duplicated 808 track for a wider 808 sound too. Only if you want to though!

This method is amazingly effective with your low end because we are not adding distortion on our sub-frequency channel allowing us to keep the rich low end in place. We can also control the mid-range & distortion on an entirely separate channel, so now if we need to hear the 808 more, but do not necessarily want to raise the sub-content, we can easily do that!

Some of you may be wondering why we duplicate the track instead of using an AUX send. That is because once we apply the low pass filter on the original 808 track, the high frequencies we need to distortion to work will not be sent to the AUX send. Even on pre-fader. They will be filtered out.

THE ART OF BEAT MIXING VIDEO COURSE
Producers have eagerly been awaiting this groundbreaking video course & it's finally available to access.Giving your beats a professional mix is a standard that's expected from major labels & publishing companies when trying to get your beats placed.Our brand new coursework will teach you everything you need to know to ensure your beats have an outstanding mix & loud clean master.Save thousands of dollars by not having to enroll in school & save hundreds of hours from watching the wrong the tutorials.

What's included?

* Over 5 hours of expert techniques
* Mixing cheat sheets in PDF form
* An easy to understand, concise layout
* Small, digestible chapters with quick access to the info you need
* Everything you need to know to mix your beats professionally