How To Start An LLC As A Producer In 7 Steps!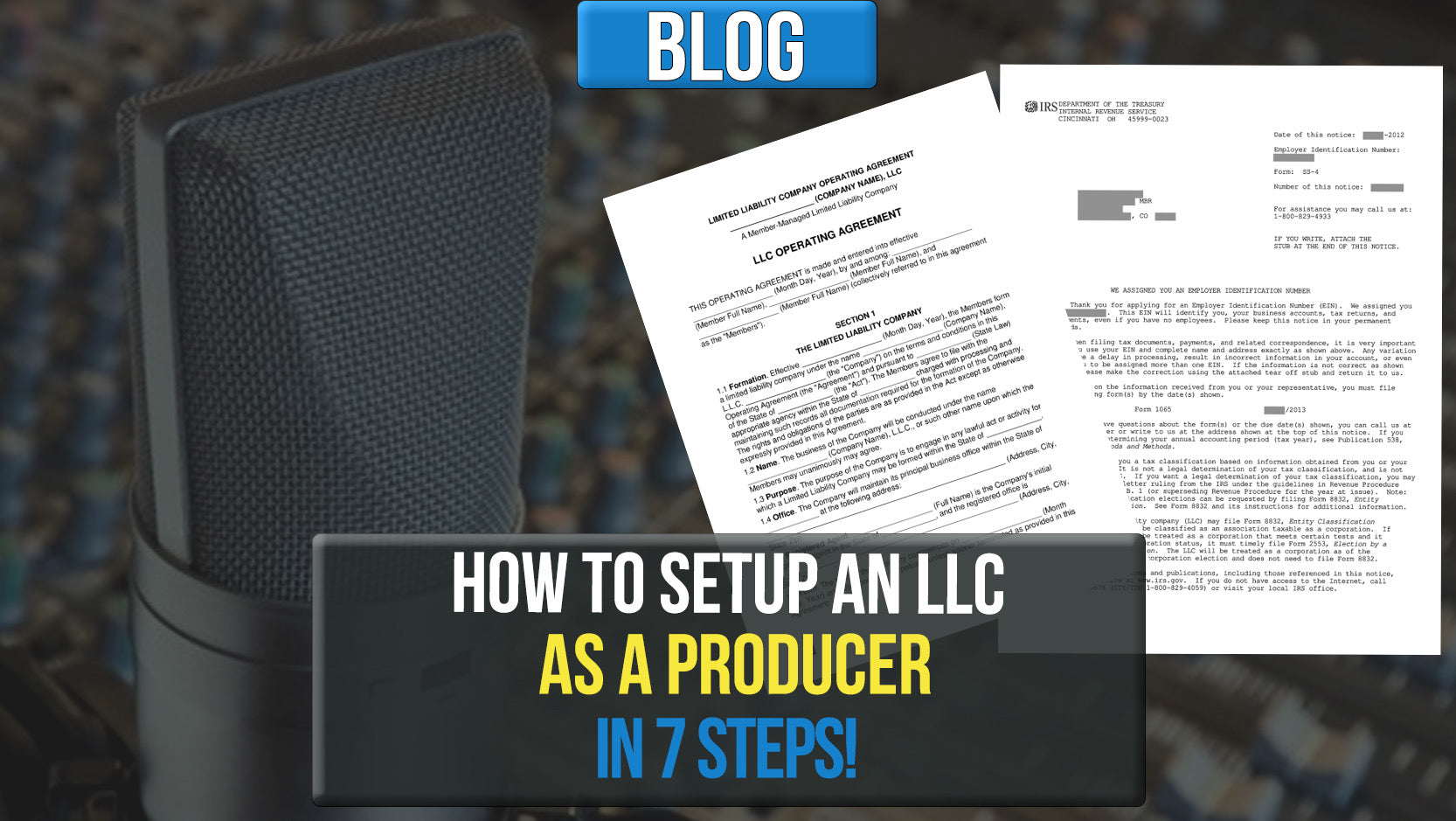 HOW TO START AN LLC AS A PRODUCER IN 7 STEPS!

Written by: Maia Lor (Papaya)

Congratulations! You're reading this because you're thinking of becoming your own boss, so I'm excited for you! However, most of us dread paperwork, but these steps are important when you become your own. So let's dive in!

When your business takes off, you can create an LLC, S-Corp, or C-Corp, so as you establish yourself as an LLC business, you have multiple options. You can list yourself on your tax-filing as a sole proprietor with no special paperwork, or your company could become an S-Corp or a C-Corp. Keep in mind, it is more difficult to turn a C-Corp into an LLC or S-Corp without tax consequences.

The benefits of having an LLC is the Limited Liability, so If someone charges a lawsuit, your personal assets will have more coverage and away from creditors. In short, you're not personally responsible for business debts. With that, let's start these 7 steps:

1. Choosing a Name for Your LLC

Choosing a name can be exciting because it represents your identity, just make sure nobody else has it, as most states don't allow two names. So for example "Queen Beats, LLC" and "Queen Beats, Inc." wouldn't be acceptable, even if they're located in different cities. Also, most states have certain word restrictions such as having "bank" in the name. So search online for existing business names, and check for availability in your state

before filing. You can also check to see if a domain name is available that matches your business name. The nice thing is you can do this all online. Just be sure to choose your state. Thank you Google!

2. Determine the Members of the LLC

The owners (aka members) of an LLC can be:

● Individuals: A single person can own an LLC or it can be a group of individuals
● Other Businesses: Another LLC or corporation can own an LLC.
● Trusts: Can own an LLC.
● Foreign ownership: Foreign individuals may own an LLC, but keep in mind there are tax and legal consequences to foreign ownership. In this case, talk with an attorney in your state.
● State Banks and insurance companies: c annot own an LLC.

Ain't no one tell you 'bout that ;)

3. Get an Employer ID for Your LLC

It's important to obtain an Employer ID (EIN), a Tax ID for your LLC, even if you do not plan on hiring any employees. You will need this number for many business documents, taxes, and contracts as well as your business checking account if you get one. You can complete an EIN application on Form SS-4 online, phone, or by fax. (Like who uses that anymore?)

4. Register Your LLC with Your State
Once everything is figured out, you will need to register your LLC with your state by filing Articles of Organization with your state's business division. The information needed to complete this registration form varies by state, so there are online resources to help. In some states, you must file a Certificate of Organization (sometimes called a certificate of formation) with your state to register a new LLC. At this point, you're probably cringing, but hey, we're almost there!

5. Create an Operating Agreement for Your LLC
Like any business, an operating agreement shows all of the decisions about your business, including member responsibilities and duties, how profits and losses are distributed to the members, and the effect on the LLC if a member passes, leaves, or is asked to leave. There is a default agreement, but if you want to override the default to something you'd specifically want or don't want in your agreement, just reach out to them. This is important to have.

6. Register for State Taxes, Including Sales Taxes

When you register for your LLC in a specific state, this doesn't include registering for employment tax and sales tax purposes. It's important to get these registrations in place before you start your business because you'll have to start accounting for these taxes right away, such as Income Tax, Sales Tax (selling taxable products or services), and If you are selling online, check to see if you must collect sales taxes. Finally, Employment Tax (If you have employees).

7. Register Your LLC in Other States

If your LLC does business in more than one state, you will need to register as a "foreign" LLC in the other states, in addition to the original state where you registered. However, if it's online, you will have to check your state for regulations.

There you have it, you're becoming your own boss! But before you go, consider this side note:

Other Considerations Before Forming an LLC
It's important to understand some of the intricacies of forming an LLC. If you follow the rules, hold annual meetings and keep up with your paperwork, it can help tremendously, especially in cases if you're audited by the IRS or sued. Simply forming the LLC doesn't really provide many benefits unless you install an operating agreement, so pay attention to the details.

Notice: Please note, we're not lawyers, attorneys, or CPA, so please direct yourself to one if needed as each LLC rules and regulations are different per state.

Maia Lor
Realistic Productions Executive Assistant & Owner of Lens This Beauty Photography, LLC

Maia is an Executive Assistant to Realistic Productions as well as a Photographer and Graphic Designer, located in the Green Bay area. She's been alongside Realistic since 2014 and in photography since 2004. Then along came Graphic designing in 2015 when going to college for Music Business. Maia is the go-to when it comes to photography and designs for Realistic and Sound Oracle.

Producers have eagerly been awaiting this groundbreaking video course & it's finally available to access.Giving your beats a professional mix is a standard that's expected from major labels & publishing companies when trying to get your beats placed.Our brand new coursework will teach you everything you need to know to ensure your beats have an outstanding mix & loud clean master.Save thousands of dollars by not having to enroll in school & save hundreds of hours from watching the wrong the tutorials.

What's included?

* Over 5 hours of expert techniques
* Mixing cheat sheets in PDF form
* An easy to understand, concise layout
* Small, digestible chapters with quick access to the info you need
* Everything you need to know to mix your beats professionally

ERIC MICHAEL
REALISTIC PRODUCTIONS
(Engineer)


Realistic is a Music Producer and Engineer located in the Twin Cities. He has been producing music for Hip-Hop & Pop music since 2004. In 2017 he graduated with an AAS in Music Production & Engineering. Real is the chief mixing engineer for SoundOracle.net where mixes all loops & sounds on the site & also provides mixing & mastering services on the site to artists & producers.