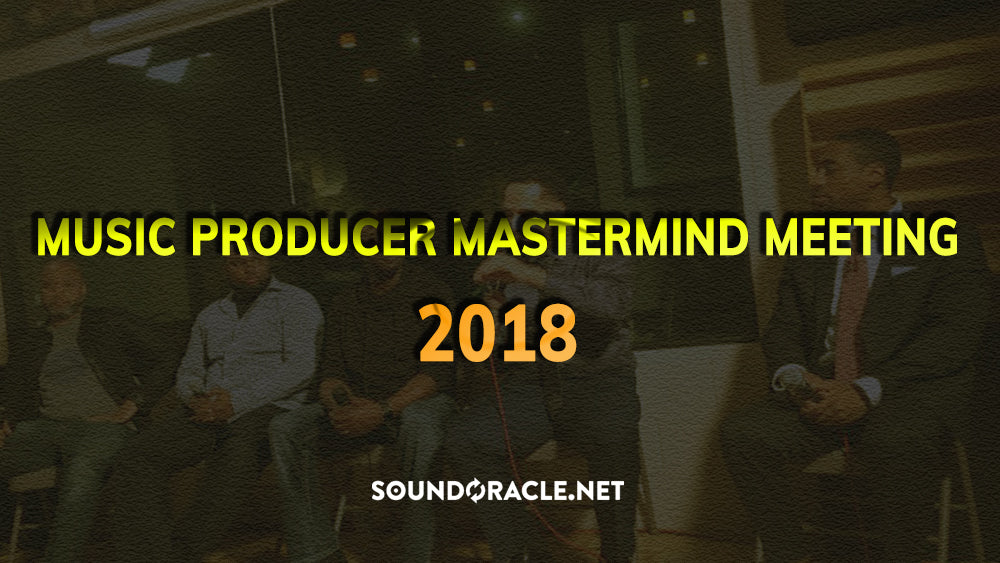 The first Music Producer Mastermind Meeting was held in Love and Laughter Studios in Anaheim, CA (Jan. 25-28, 2018). On this panel, we talk about how to get placements, how to connect with other producers, and much more!
This is Day 2 of 4.
This seminar was full of strategies you can apply as a music producer in this modern music business.
Main topics of the panel discussions were interrelated and revolved around the following themes/lessons:
Building your brand/reputation: What pops in someone's head when they think of you? What comes easy to you and difficult to others?
Goal-setting: Crucial step in any business/profession/passion. What are you trying to accomplish and more importantly, why? (Asking so what over and over again)
Setting your intention: Creating specific goals for the beat/project/outcome
Developing a message: Create content that speaks to an audience
Naming your projects: Song and beat title psychology (similar to other psychologies in fast-food (yellow/red colors), shopping, consumer behavior)
Narrowing your focus: Avoiding changing goals and being sidetracked by different distractions; such as fame, awards, number of streams/plays
Work Ethic/Commitment: Working hard, discipline and being consistent
Authenticity: Earning trust (Universal trait in all aspects life). Producers only work with people that they trust
The Journey of Self-discovery
The Power of Relationships: Creating value for those above you in vertical relationships (Thirst vs. Hunger)
Understand the business: Don't just have your head down making beats or songs for years 
Independence in the Music Business: Distribution, assessing and reaching communities, monetizing your products, exploring business models, contracts, splits
Building and maintaining email lists: Creating a community and providing value to your followers
Routines/life hacks: Work techniques – Pomodoro Technique (Time management/Avoiding fatigue)
How to get better at producing: Practice remaking songs you like, study the billboards, constant re-evaluation and improving sound, seek feedback
Investing in your future: First invest time to earn money than invest money to buy time
10X rule: Whatever you think you are going to do. It's 10 times harder than you think 
Teaching: If you can teach you can lead and generate another stream of income while helping others enhance their skill-sets
Influence: Impacting the world through growth and contribution 
We even had friends:
1.    Game – Producer/Entrepreneur/Music Production Tutorial Master
2.    Curtiss King – Produceneur, Producer/Entrepreneur, Recording Artist, Author of "The Prosperous Hip Hop Producer"
3.    Sound Oracle – Sound Designer for Timbaland and Polow Da Don
4.    Triza – Sound Designer, DJ & Producer for Chris Brown, Justin Beiber, Rico Love and Sean Kingston
5.    Postman – Producer/Entrepreneur (Selling Beats Online)
6.    Diego Ave – 2X Grammy Platinum Producer – Chris Brown, Swae Lee, Kevin Gates, Jeremih, Trey Songs, Schoolboi, Ross, Game, PnB, French, TI, Outkast
7.    Kerry "Krucial" Brothers – "Krucial Keys" – Grammy-Award Winning Producer/Songwriter for Alicia Keys, Keyshia Cole, and K'naan
8.    Louis King – International Touring Artist
Not only did we share our producer insider tricks, we also had the live Unquantized Podcast during the seminar.
Credit to Chris Thompson: Music Producer Mastermind Meeting Recap and Reflections
Shot by Jay Yachetta
Producer/Director at LuxWAV Films
716-969-4587