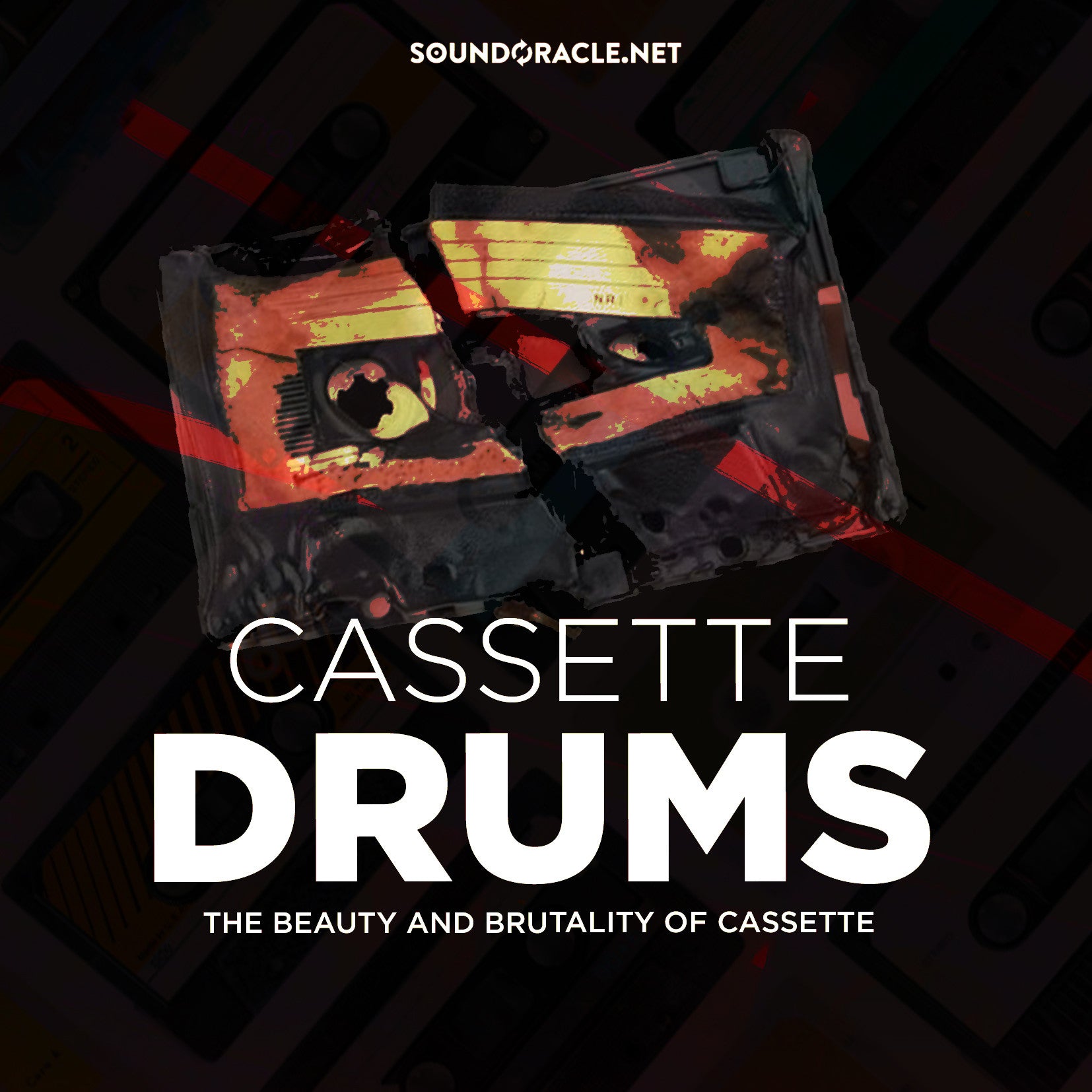 Sound Oracle New Sound Library, "The Cassette Drums" coming June 30th 2017.
SoundOracle.net presents Cassette Drums. An aggressive mixture of kicks, snares, hats, and percussion loops processed with the warm beauty and brutality of worn out cassette tapes.
Since the late 1940's, Analog Tape has been vital in the creation of a warm and exotic saturated sound that has become a staple, not only in American Culture but also Worldwide. Emitting a gritty and dirty characteristic, this sonic quality helped give birth to some of the hard-hitting genres we know and love today. With these elements in mind, I proudly bring to you Cassette Drums.
This collection is quintessential in giving your beats a thick and heavy "In Your Face" sound that serves perfectly to add some rugged and warm contrast to some of your cleaner compositions. With this pack alone, no expense was spared in creativity. Taking old Vintage Cassette Tape Players (Ampex, Tascam, Marantz, Sony, and Fostex) and meticulously handcrafting and recording to each specific brand. My aim was to use them in "As Is" condition with no calibration. This helped create an unorthodox "Straight Out of the Basement" sound, filled with harmonic gritty saturation in a league of its own.
"Beat by Marv4MoBeats using Cassette Drums"
Cassette Drums is a downloadable (WAV Format) kit containing over 160 Modern Earth-Shattering Kicks, Snares, and Hi-hats along with Epic Royalty Free Percussion Loops that will incite sheer creativity for any Music Producer. Whether your genre is Trap, EDM, R&B, or Boom Bap Hip Hop, look no further to quench your musical ambitions.
KIT FEATURES:
● Instant Download
● Over 160 hand crafted sounds (kicks, snares, hi hats, percussion, and percussion loops)
● All 808s are in the key of C
● All sounds have them processed using real cassette tapes ranging from clean to super dirty
● All sounds were processed using vintage cassette players (Tasman, Foster, and Marantz)
● Compatible with all DAWs (Ableton, Fruity Loops, Protools, Reason, Logic, etc)
● All sounds are royalty-free
ABOUT SOUND ORACLE
Sound Oracle is best known as the producer and chief sound designer for multi-platinum producer Timbaland. Sound Oracle's work has appeared in productions for the likes of Beyoncé, Jay-Z, Justin Timberlake, Chris Brown, and Christina Aguilera.
This demonstration was performed by Producer Marv4MoBeats.
● Instagram: @marv1977
● Twitter: @Marv4Mobeats
● Website: www.marv4mobeats.com
● YouTube: youtube.com/Marv4MoBeats