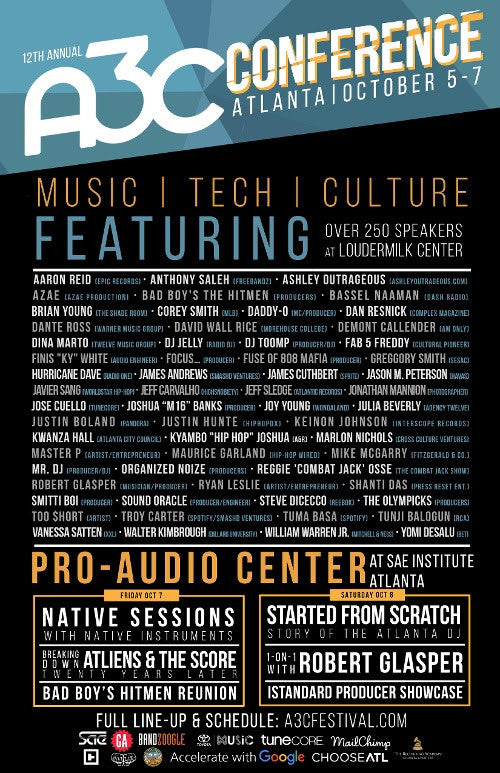 (Oct 8th, Saturday) Speaking Engagement at A3C Conference

●Appearances:

Talking Sound Design with Sound Oracle

●Date & Time:

Saturday, October 8th @ 2:30 PM

●Where:

Pro Audio Center at SAE Institute (Classroom 1)
About the Conference:
The 2016 A3C Conference is an exceptional gathering of Hip-Hop influencers, artists, organizations, and music industry experts. A3C will host dozens of networking and educational events where music, technology, and culture will be the underlying themes of the A3C Conference. Download the A3C App to guide you about all things A3C. This will be your guide for the entire lineup of #A3C16 speakers and schedules.
About Sound Oracle:
Sound Oracle is best known as the producer and chief sound designer for multi-platinum producer Timbaland. Sound Oracle's work has appeared in productions for the likes of Beyoncé, Jay-Z, Justin Timberlake, Chris Brown, and Christina Aguilera. One would define Oracle as a "supplier of wisdom and insightful counsel." However, his personal quest is to inspire. His music has adopted a system of authentic storytelling. Here, he lays the outline of Sound Oracle. He successfully mastered the skill to produce music; the ultimate dream of this Virginia native, Sound Oracle. Despite the shortage of music mentors and influencer's within the DMV area. The producer and sound designer proved that bringing his childhood aspirations to reality. It is as simple as setting small challenges. He tested the confines of one's own ability to overcome them, where he wields guts and gall from the sheer passion of all things' production related. Sound Oracle, who is an introvert, galvanized his motivation from the fear of dying in obscurity. And set out on a mission to manipulate sound by incorporating the beauty of a colorful transient noise.