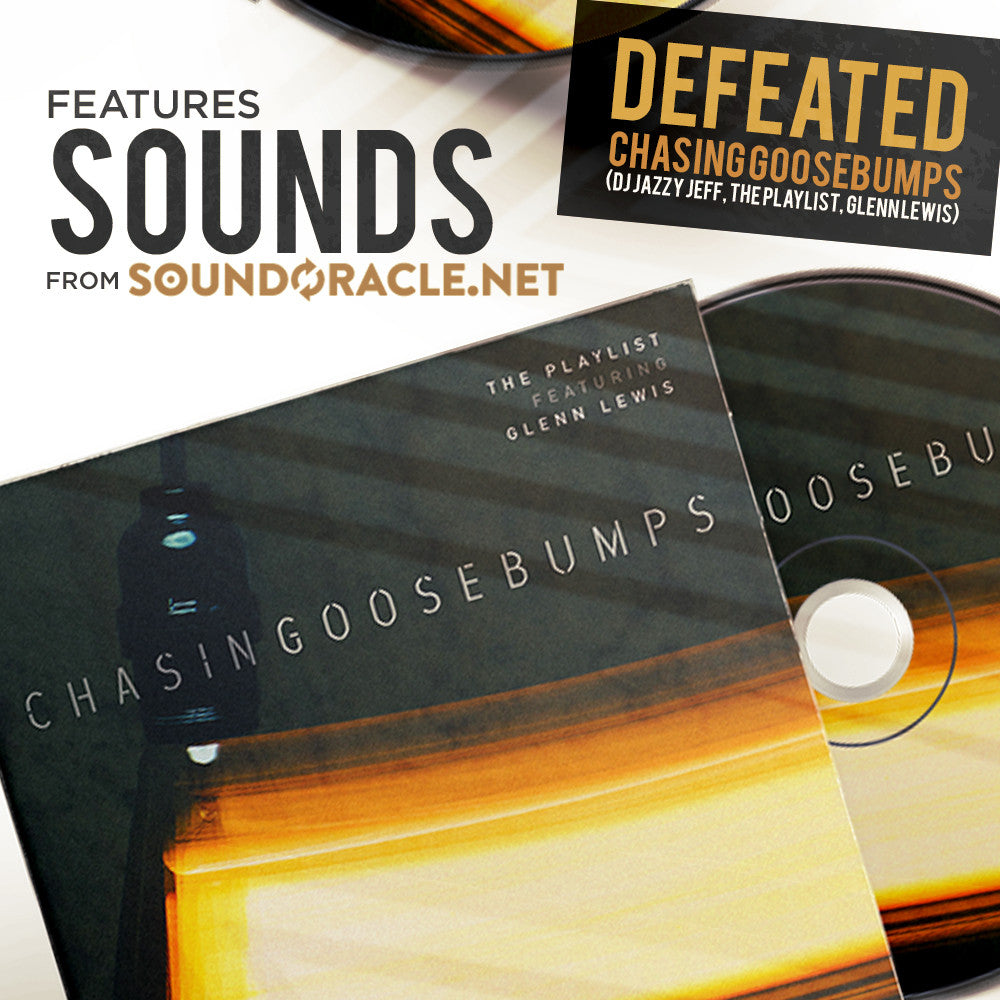 Oracle Packs Have Found a Home on Another Great Project
DJ JAZZY JEFF, "DEFEATED"
DJ Jazzy Jeff wants his new project to give you "GOOSEBUMPS" – to Listen & Chill.
Oracle Packs  have found a home on another great project. The song "Defeated" on the album "Chasing Goosebumps." It is produced by the one and only, DJ Jazzy Jeff,  The Playlist  super group, and  Glenn Lewis. It features a  percussion loop from  Soundoracle.net.
If a legendary  DJ Jazzy  Jeff invites you to a project, don't miss out. Your contribution will be ingrained as part of music history. He enlisted his most valued friends of musicians, singers, and songwriters for a new concept project called "Chasing Goosebumps." They all happily obliged.
This album was recorded in a short span of time. Oh yes, it took only seven days with the entire process documented via  Facebook Live  from the DJ Jazzy Jeff fan page; which gave music fans to witness this extraordinary approach to making music. It includes the writing, recording, producing, mixing, and mastering a full  set of 15 track album . He gave them full creative freedom with one condition; give listeners "Goosebumps." This is a sprawling release that features contributions from Vidal Davis, Daniel Crawford, Stro Elliot, Teeko, Agent K, and so many more. Lead vocalist "Glenn Lewis" laces each and every cut with soulful rendition.
Chasing Goosebumps embodies the reflective emotions that only come from unimpeded creativity. This is not a genre specific album.  This album is an eclectic mix of soul, funk, hip-hop, jazz, pop, and samba. From the tunes to the lines, Chasing Goosebumps is a heart-rending and thought provoking album, which tackles a variety of topics. It speaks of social injustice, relationships, love, and the music industry. Glenn Lewis who is the main vocalist who served as the best medium for these stories. His manifestation explores a wider range of topics and musical styles with graceful delivery.
Source Articles:
Dj Jazzy Jeff's The Playlist Featuring Glenn Lewis "chasing Goosebumps" Album Is Out Now
Dj Jazzy Jeff & The Playlist Are 'chasing Goosebumps' On New Project With Sir, Masego & More