Our Top 5 EQ Plugins In 2020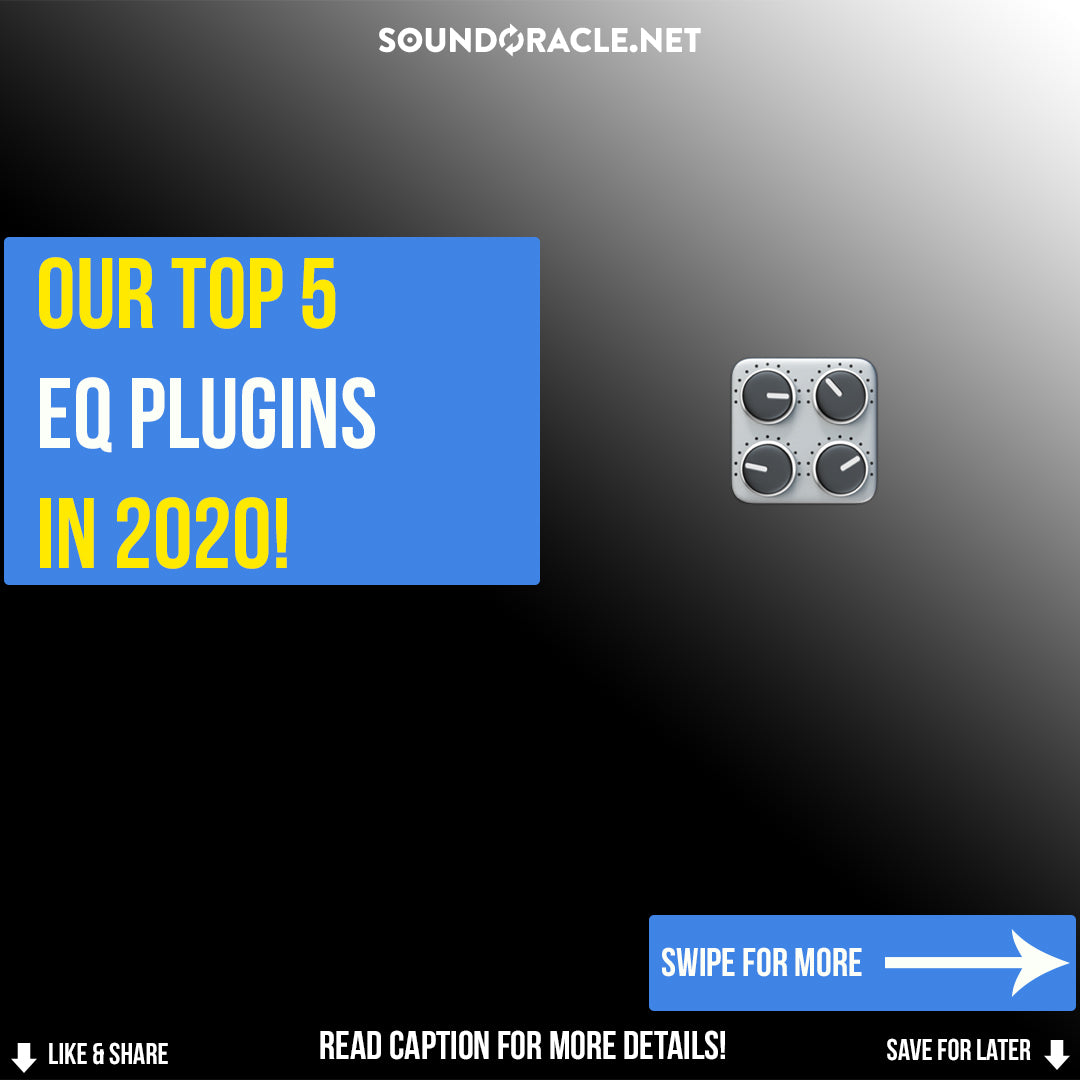 OUR TOP 5 EQ PLUGINS IN 2020
These quick production tips will save you time in the studio and improve your workflow.
Here is a list of our Top 5 EQs of 2020.

Let us know in the comments if you would like us to do a full blog on these & give detailed breakdowns of each one!

The more & more you get involved in mixing, having some good EQs in your collection will be useful & can help your workflow.
Now, the most important thing though is knowing how to properly use any EQ you have & know what to search for when boosting or cutting frequencies.

Simply buying an expense EQ won't be enough to do the job; however, there are some great EQs out there that we think can make your life easier!

5 - SSL Channel EQ - this EQ properly has the least functionality of the others on this list; however, its has a classic tone & energetic bite & color to it. This has been one of the sounds of the industry for years. It allows includes a gate & compressor! Our favorite version is UAD's version of it, but WAVES & Plugin Alliance also make versions of it too!

4 - Surfer EQ by Sound Radix - this an incredibly modern EQ designed by SoundRadix. Its biggest selling point is the ability to change what it's EQing as the audio source changes over time.

3 - Your DAW's stock EQ - never underestimate the value of what you already have in your collection. Simply knowing how any EQ works & having proper ear training to know what to boost & cut is the most valuable thing when it comes to EQ.

2 - Neutron by iZotope - This EQ has the ability to do Mid/Side EQ, linear phase EQ, & dynamic EQ! Neutron also has the ability to communicate with other iZotope plugins!

1 - Pro-Q3 by FabFilter - This EQ has it all! M/S, dynamic EQ, L/R linear phase EQ. This EQ also includes a useful piano roll at the bottom & the ability to show clashing frequencies between tracks.

THE ART OF BEAT MIXING VIDEO COURSE
Producers have eagerly been awaiting this groundbreaking video course & it's finally available to access.Giving your beats a professional mix is a standard that's expected from major labels & publishing companies when trying to get your beats placed.Our brand new coursework will teach you everything you need to know to ensure your beats have an outstanding mix & loud clean master.Save thousands of dollars by not having to enroll in school & save hundreds of hours from watching the wrong the tutorials.

What's included?

* Over 5 hours of expert techniques
* Mixing cheat sheets in PDF form
* An easy to understand, concise layout
* Small, digestible chapters with quick access to the info you need
* Everything you need to know to mix your beats professionally
ORCHESTRA PIT: Conduct Your Own Symphony
WHAT EXACTLY IS ORCHESTRA PIT?

Orchestra Pit gives music creators instant access to complex, beautiful orchestral pieces.

Filled with strings, horns, harps, & woodwinds along with careful detail to orchestral techniques such as trills, flutter, vibrato, tremolo, pizzicato, staccato, & more!

These original compositions will allow you to instantly bring the orchestra directly in your studio & conduct them how you want. Each loop is labeled with the BPM & key, so you can easily flip, chop, & sample these loops to become your own unique symphonic interpretation.

The deluxe version even comes with stems & MIDI - making it incredibly easy to come up with your own builds & arrangements.

Details:

Instant download
20 original musical compositions.
Already arranged into short song formats. Just expand to make a full song
Tempo & Key information included in each loop
High-quality WAV files, mixed to perfection
Every loop was professionally mixed and mastered by a certified mixing engineer
Compatible with all DAWs (Ableton, FL Studio, Logic, Reason, and more)
Compatible with all Hardware and Software Samplers (Maschine, MPC, etc)
Master clearance guaranteed!​