Our Top 5 Omnisphere Time Saving Features!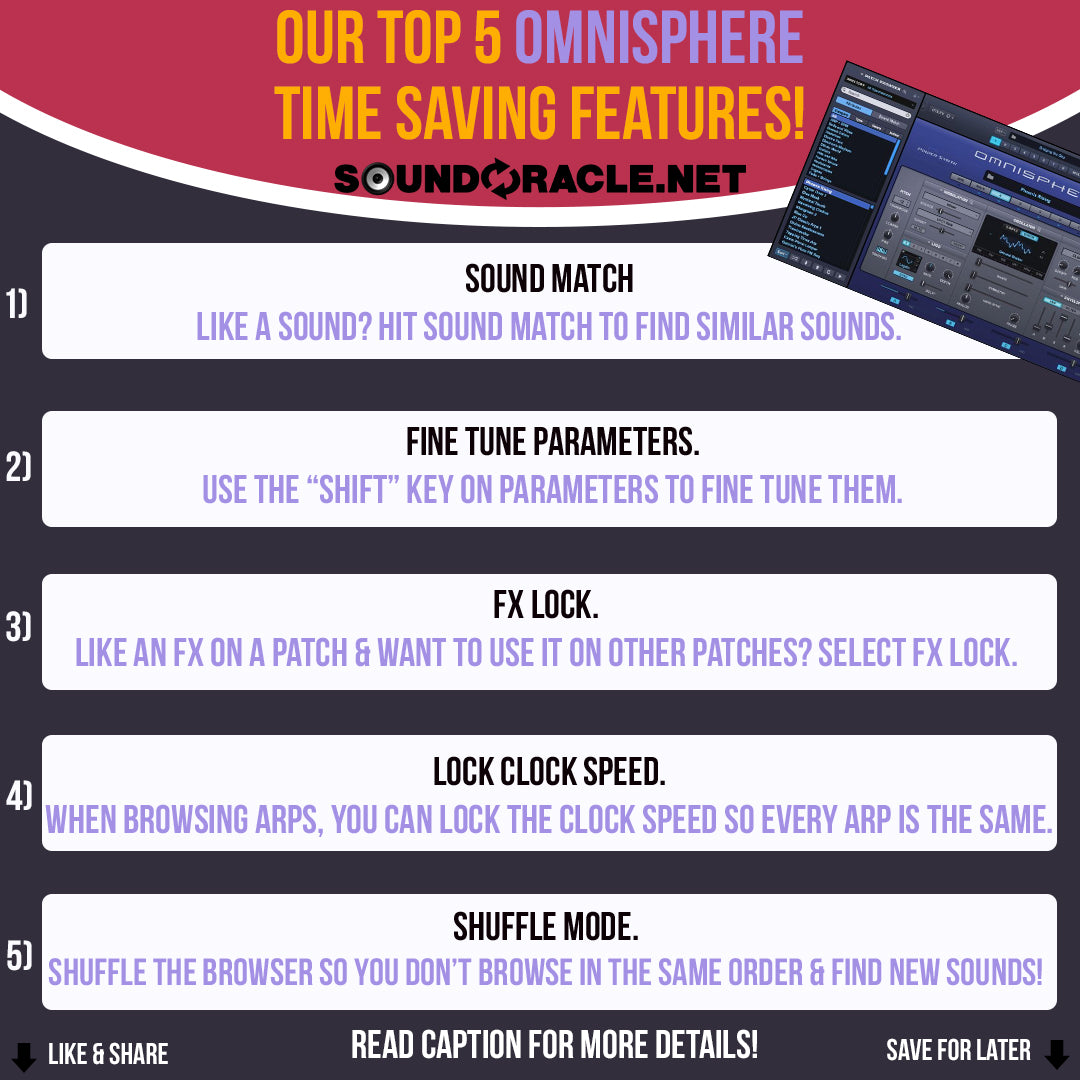 OUR TOP 5 OMNISPHERE TIME SAVING FEATURES!
These quick production tips will save you time in the studio and improve your workflow.
Omnisphere not only has amazing sounds, but it has a lot of useful features in it that can help save you time & just make your creative process easier!

1. Sound Match - Located at the top of your browser. Simply just select a sound you like & hit the "Sound Match" button & tons of sounds that share similar characteristics, tones, & instrument type will populate. This is useful for finding new sounds or getting a slightly different tone & sound from what you normally use.

2. Fine Tune Parameters - You can fine tune any parameter, knob, or slider to the exact value you want it to be. Simply hold down the shift key on your computer & can fine tune the parameter. You can also double click the parameter & type in the exact value you want. Both are useful, but sometimes adjusting the parameter can be a little more intuitive & let you hear the differences better.

3. FX Lock - This is incredibly useful for creating new sounds & giving some of your go-to sounds a new twist. Just find a sound that has an FX chain you like & then hit the "Lock" icon located at the top left-hand corner of your Omnisphere plugin & select "Effects". Now you change through sounds & they'll all have that FX chain applied to them. You can also select several other things to lock in like tuning scale, octave settings, filters, LFOs, & lots of other options!

4. Lock Clock Speed - Usually when browsing through arps you'll hear lots of different playback speeds. This lets you lock in the speed of your arps so when you're browsing arps, every patch plays at the same speed. This can be helpful to find the right sound because you may have the speed you want already in your head & this lets you hear each patch at the same speed.

5. Shuffle Mode - This is one of the best ways to find brand new sounds! Just hit the "shuffle" button located at the bottom of the browser & Omnisphere will change up the order of the patches. You can hit it multiple times to keep shuffling. This is a great way to discover new sounds since Omnisphere will put different sounds at the top then the normal order we're used to.

THE ART OF BEAT MIXING VIDEO COURSE
Producers have eagerly been awaiting this groundbreaking video course & it's finally available to access.Giving your beats a professional mix is a standard that's expected from major labels & publishing companies when trying to get your beats placed.Our brand new coursework will teach you everything you need to know to ensure your beats have an outstanding mix & loud clean master.Save thousands of dollars by not having to enroll in school & save hundreds of hours from watching the wrong the tutorials.

What's included?

* Over 5 hours of expert techniques
* Mixing cheat sheets in PDF form
* An easy to understand, concise layout
* Small, digestible chapters with quick access to the info you need
* Everything you need to know to mix your beats professionally