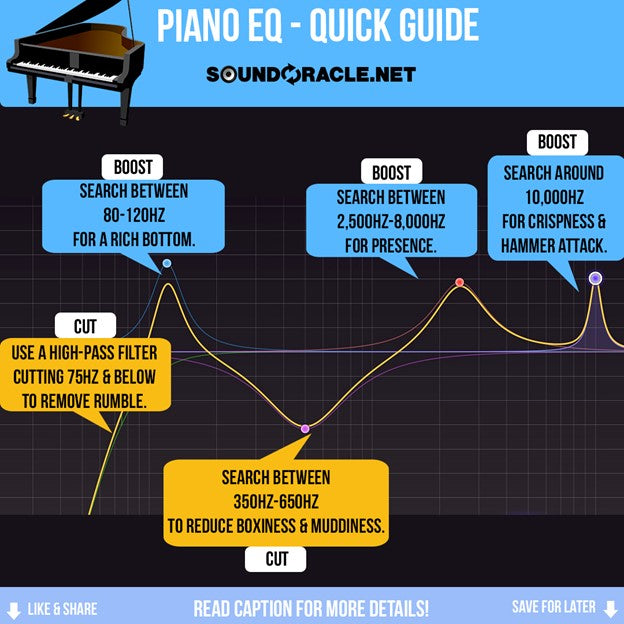 PIANO EQ - QUICK GUIDE
✋ Always remember that guides like these are not absolutes & they're not suggesting that your EQ looks 100% like this. In fact, it won't look like this at all. You probably won't boost all three areas & cut both areas for every piano. These are just visuals to show you where problem areas may lie or if you need more of something, this is the general area it may be. These are more for ear training & to help teach you what different problems/needs sound like!

The following areas are ballpark numbers & you will have to search somewhere between these areas. Some pianos may have these same issues, but at even lower or higher frequencies; each piano & each mix is different. You won't always need to cut every area either. Some pianos may need a cut in a certain area while some are best left alone in another area.

Every piano track is different so you may find that you cut a certain frequency on one piano & may even boost that exact frequency on a completely different piano.

THE ART OF VOCAL MIXING VIDEO COURSE
Learn how Auto-Tune & Melodyne Work!
These days it's pretty standard for a vocal mix to have some form of pitch correction applied to them.
That's why we felt it so was important for us to dedicate entire chapters to both Auto-Tune & Melodyne.
We'll show you how every parameter & tool works in both of these powerful software's & we even show you some fun FX you can create with both software!
The Art Of Vocal Mixing is our brand new online course & it's packed with over 150 videos & 14 hours of professional mixing skills & techniques.
What's included?
Over 150 high-quality tutorial videos
Over 14 hours of expert techniques
Useful mixing guides in PDF form
An easy to understand, concise layout
A beautifully designed interface
Small, digestible chapters with quick access to the info you need
Everything you need to know to mix your vocals professionally
A bonus sound kit made by SoundOracle himself!
THE ART OF BEAT MIXING VIDEO COURSE
Producers have eagerly been awaiting this groundbreaking video course & it's finally available to access. Giving your beats a professional mix is a standard that's expected from major labels & publishing companies when trying to get your beats placed. Our brand new coursework will teach you everything you need to know to ensure your beats have an outstanding mix & loud clean master. Save thousands of dollars by not having to enroll in school & save hundreds of hours from watching the wrong the tutorials.

What's included?


Over 5 hours of expert techniques
Mixing cheat sheets in PDF form
An easy to understand, concise layout
Small, digestible chapters with quick access to the info you need
Everything you need to know to mix your beats professionally