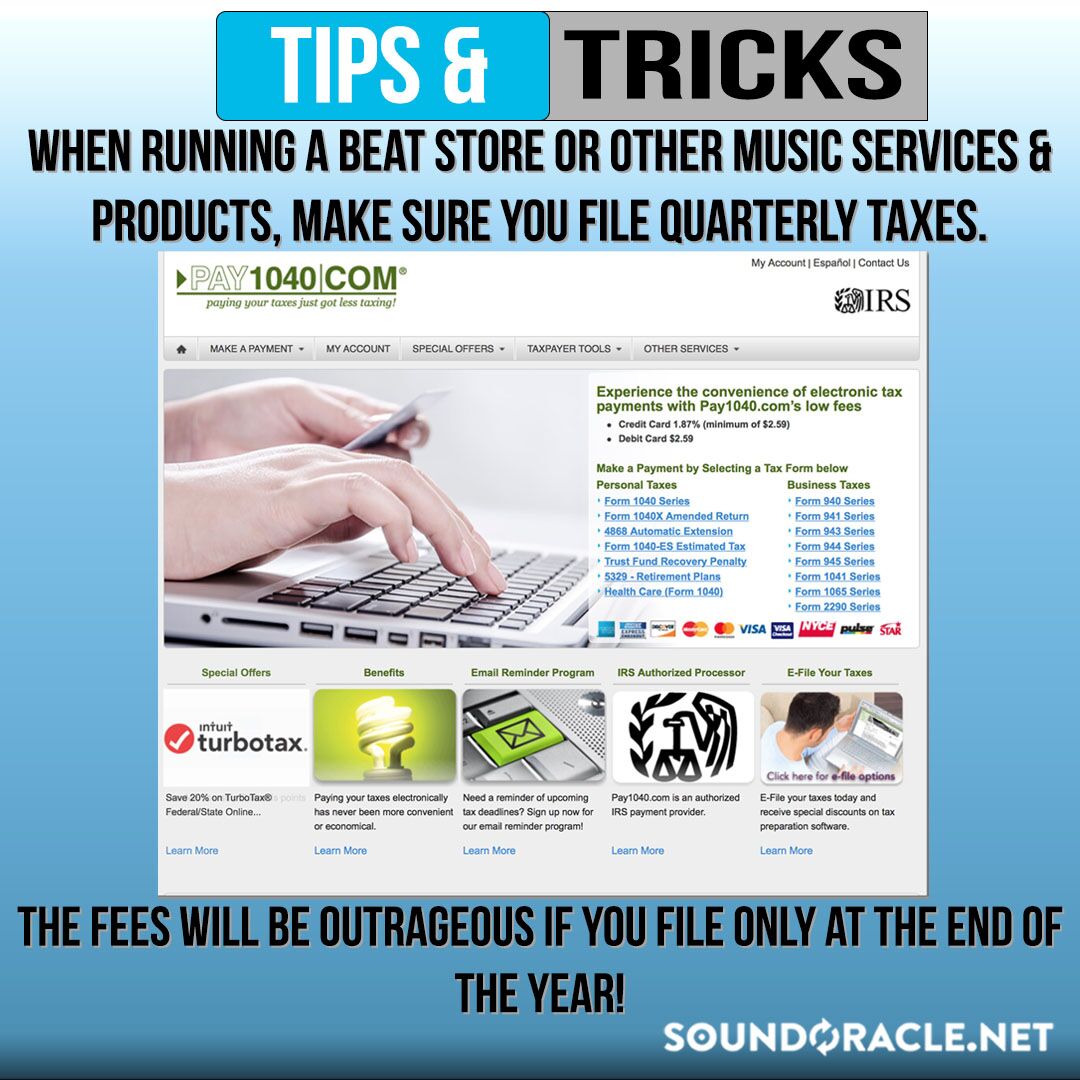 Production Quick Tip of the Week #26
Whether you're running a beat store, sound kit site, mixing & mastering service, or any other type of self-employed service, it's essential to make sure you keep records of your income & spending each month so that you can pay your quarterly taxes.
If you don't pay them quarterly (every three months), not only will you owe a bunch at the end of the month, but you will also be charged extra fees for not filing throughout the year.
It's also easier to pay in smaller increments throughout the year rather than one large sum at the end of the year. One thing I do, is I pay a little extra each quarter in case I miss something & if I didn't miss anything, I'd at least get a little bit of extra money back at the end of the year.
The important filing dates are the 15th of each quarter: April 15th, July 15th, September 15th, & January 15th.
Have a productive week, Be Different. Be Dope.

Oracle
Click here to get BEEN TRAPPIN 4 ➡️ http://bit.ly/BT4
By popular demand, Soundoracle.net & Theproducerkit.com presents to you the follow-up kit you've all been waiting for, BEEN TRAPPIN IV.
Inside the wrapper, you will find that all sounds and melodies come in WAV format and are Royalty-Free. We all know that time is money, why waste either on recycled, resampled sounds from songs you've heard on the radio? From the hand-crafted snares to the custom-built 808's, all 122 audio files were methodically created from scratch and molded for this kit.
Watch R&B Legend Tim Kelley and Others Cookin Up With Moon Rocks Drums In The Studio
Click here to get MOON ROCKS ➡️ http://bit.ly/moonrocks
The browsers of most modern producers DAW is overrun with a ton of Files. Quantity is great, but in real life situations such as being in a studio session where you have to create a beat on the spot or meet a very short deadline for a project, you don't have time to sift through all of these folders to find the perfect drums. These situations are where this drum kit shines. 
Details:
Over 200 high-

quality

 one-shot drums

All sounds are royalty-free

Instant download

808s tuned to the key of C

Every drum was professionally mixed and mastered by a certified mixing engineer

Compatible with all DAWs (Ableton, FL Studio, Logic, Reason, and more)

Compatible with all Hardware and Software Samplers (Maschine, MPC, etc)

All sounds are in WAV Format
More Tips and Resources...
{"one"=>"{{ count }} comment", "other"=>"{{ count }} comments"}