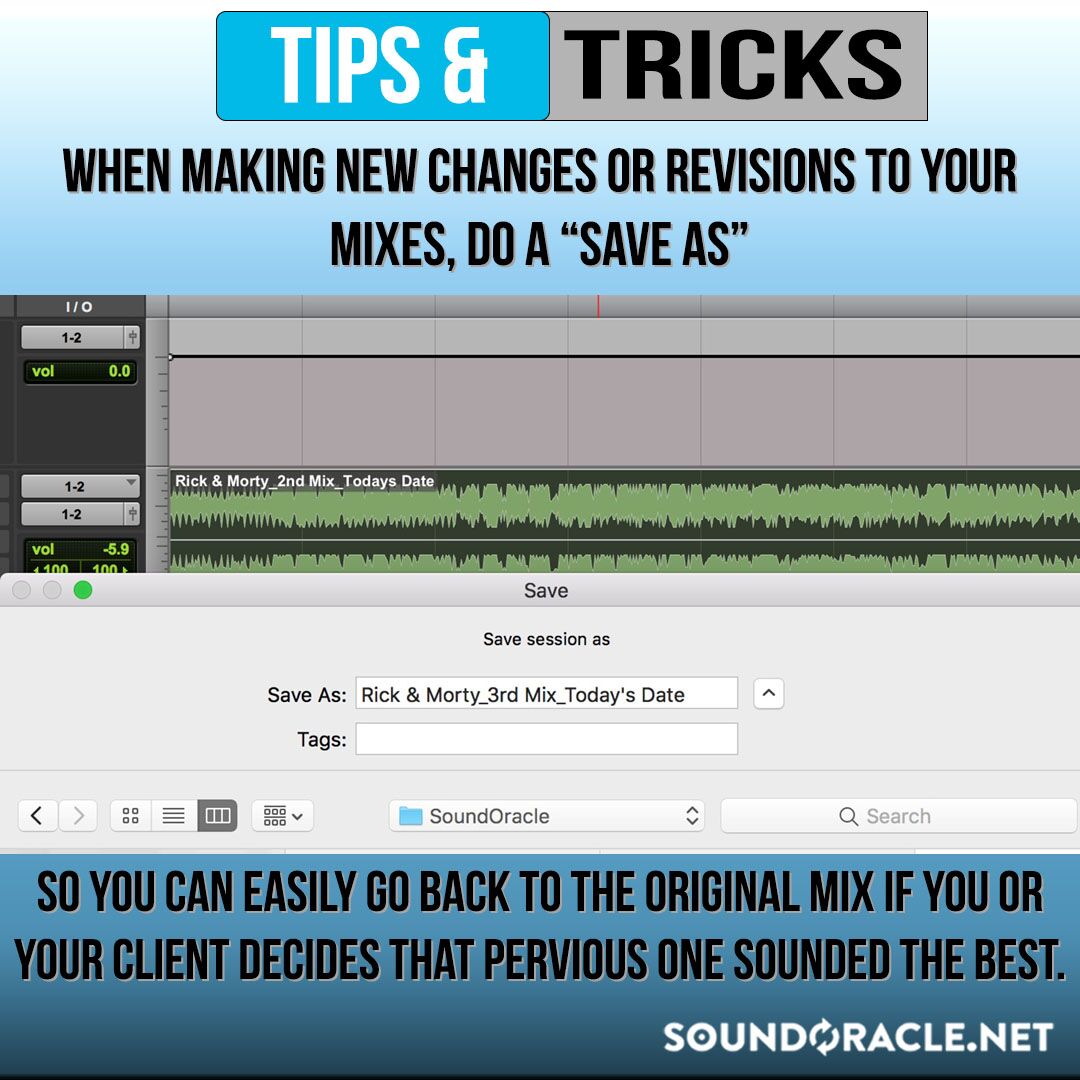 Production Quick Tip of the Week #29
This is just a classic clutch tip. Even if it's just a small change or a few things, it's best to just do a "save as" when making the changes. Simply put the mix number (E.g. Mix 4) & the date of the change or then begin making changes. This will come in handy for the finicky clients that may want to go back to a previous mix. You will have no problem pulling that up since you saved each change as a different session.
Have a productive week, Be Different. Be Dope.

Oracle
Click here to get BEEN TRAPPIN 4 ➡️ http://bit.ly/BT4
By popular demand, Soundoracle.net & Theproducerkit.com presents to you the follow-up kit you've all been waiting for, BEEN TRAPPIN IV.
Inside the wrapper, you will find that all sounds and melodies come in WAV format and are Royalty-Free. We all know that time is money, why waste either on recycled, resampled sounds from songs you've heard on the radio? From the hand-crafted snares to the custom-built 808's, all 122 audio files were methodically created from scratch and molded for this kit.
Watch R&B Legend Tim Kelley and Others Cookin Up With Moon Rocks Drums In The Studio
Click here to get MOON ROCKS ➡️ http://bit.ly/moonrocks
The browsers of most modern producers DAW is overrun with a ton of Files. Quantity is great, but in real-life situations such as being in a studio session where you have to create a beat on the spot or meet a very short deadline for a project, you don't have time to sift through all of these folders to find the perfect drums. These situations are where this drum kit shines. 
Details:
Over 200 high-

quality

 one-shot drums

All sounds are royalty-free

Instant download

808s tuned to the key of C

Every drum was professionally mixed and mastered by a certified mixing engineer

Compatible with all DAWs (Ableton, FL Studio, Logic, Reason, and more)

Compatible with all Hardware and Software Samplers (Maschine, MPC, etc)

All sounds are in WAV Format
More Tips and Resources...