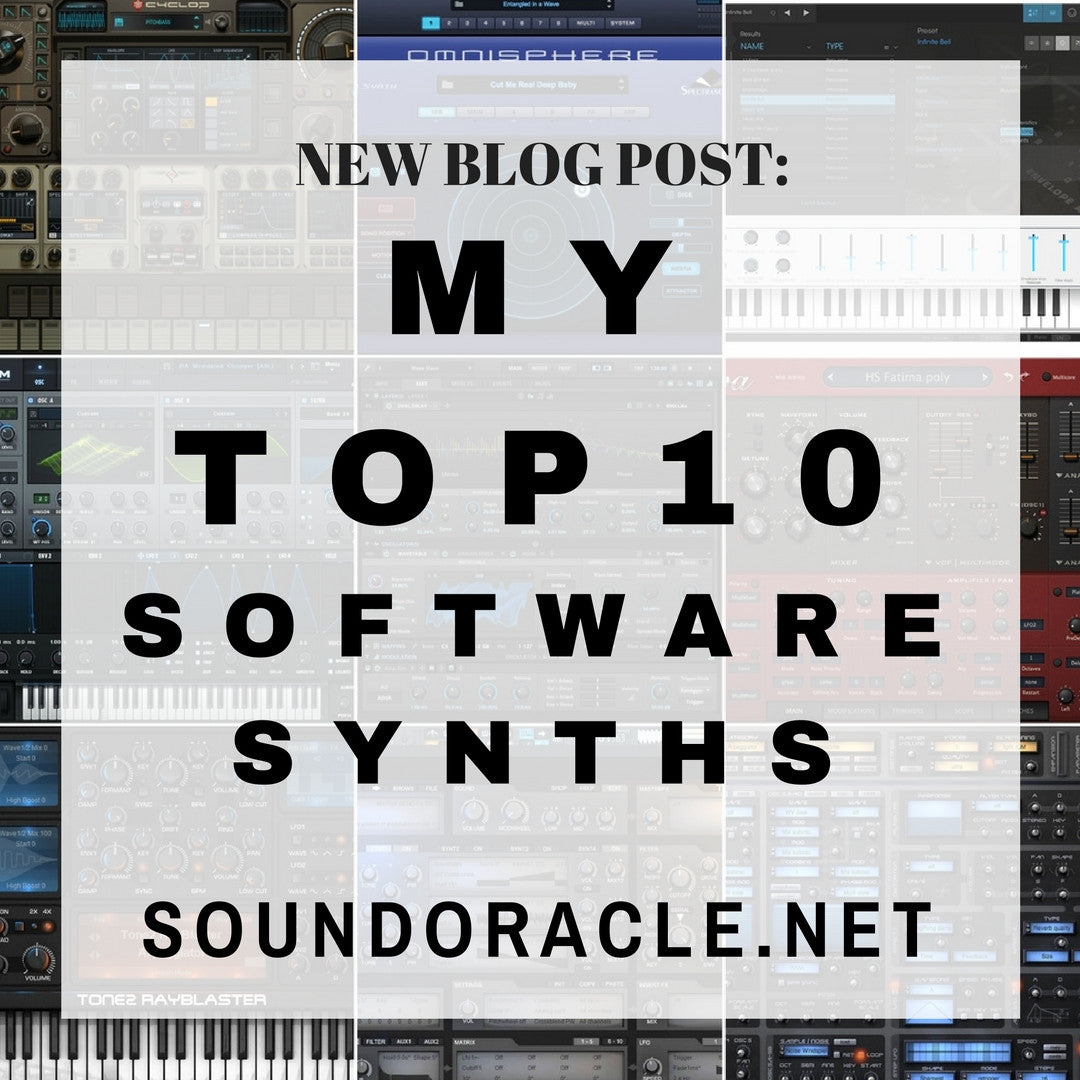 By now, there is an ever increasing universe of virtual synthesizers. With every passing year, they become more sophisticated and robust. I get asked questions on a daily basis about what are the newest VST synthesizers. Now, that question has changed into what are the best VST synthesizers out. The focus has changed from quantity to quality. So, here is a list of my favorite go to VST synths.
"One of the coolest things about this synthesizer is that it has a built-in video game that lets you preview the presets while you play the game!" ~ Sound Oracle
Cyclop is one of the best VST monophonic synthesizers that works, particularly well with wobble bass sounds. It comes with cutting-edge presets that stand the test of time. The master of subs that controls even the lowest chords and produces the most stomach-churning thick sound that features a mid-and-side processing and a stereo imaging (250Hz and 4kHz). This warrants a wider selection of sound design capabilities. Cyclop's awesomeness and real-time control add spice to existing tracks. The user interface updated for the touch performance. Its complexity, intuitive, and user-friendly synth for somebody who needs sub bass sound for their productions. Cyclop is now available on the iPad.
The Arturia Analog Lab is a fantastic selection of classic analogue synths. It has a great new user interface and superb workflow experience. Its enhanced hardware, scenes, and rhythms; make it the pick of the bunch. The Synclavier V is great and has over 5000 original synthesizer sounds. That feature samples from Arturia's current vintage analog synthesizer recreations. The Analog Lab upgrade can also open; do layering of patches from the collection. Powerful librarian and editor that controls access over all the Arturia synths loaded onto the hardware.
Rayblaster is a powerful synthesizer with nearly infinite combinations of sound manipulation capabilities. The Impulse Modeling Synthesis makes Rayblaster a tough one to beat. This synthesizer allows your music to stand out from the crowd that lends well to modern music. It has a huge sonic range with flexible sound design possibilities with remarkably creative potential. Well-featured CPU-friendly modulation options, a guarantee that the results will always be unique.
UVI's Falcoln is a compelling sound design workstation software. Falcon is a strong and interesting newcomer in the ultra-competitive soft synthesizer category. The musical sound is clean and modern than any other synthesizer. Nice looking visual analogue capabilities in the VA oscillators. It includes a wide feature specification. The Ircamtech in Falcon is stunning. It has a flexible and powerful architecture. There is no limit to the number of parts, layers, modulation and effects. Numerous independent parts can play in Falcon. You could run a kit of synthesized drums; or, a full ensemble worth of parts, each with their own mixers. The modulation tools and configuration appear to be powerful. Falcon's price is a good value for what you get.
"Diva is what I like to call a sleeper. It seemed to have gone unnoticed by a lot of producers when it was released. However, this is a great analog emulator synth, full of rich sounding presets." ~ Sound Oracle
U-he's Diva is interesting, well known, and loved soft synthesizer in the market today. The most important aspect of the user interface is its simplicity. Diva is plain and clear. The size is perfect and for software, it is very logical. The sound is exceptional with the zero-delay filters. Even during draft mode, this synthesizer has character. Excellent filters, highpass and bandpass included. The effects are amongst the best in the synthesizer software. The flanger and phaser is one of the greatest around. The modifier can combine LFO's in a variety of ways. Playing with quantize was fun. Stacking feature was added to the latest upgrade. Diva is a good program. For the documentation, they have lots of detail to it. It is not cheap, but for the value, it is worth the buy.
"Serum has become a staple in the EDM and dance community." ~ Sound Oracle
Serum's has many positive reviews who recommend Serum. This is for a good reason though. It is a powerful synthesizer. This provides an ultra-clean and unique sound with a complex yet simple to use modulation system which provides an effortlessly complex and intricate sound design. With a level of fluidity not previously experienced. It has a top-notch user interface experience, remarkable animation for all modulation, and the capability to see the wave tables with 2D and 3D views which makes it one of the top synths to-date. Serum has its own editor is impressive. It can customize wave tables, and its editing is outstanding. You get a huge list of filters and FX sounds great. It's one of those synthesizers that make experimenting fun and easy.
Rob Papen's SubBoomBass synthesizers are a comprehensive and musically creative plugin. Which lets you manipulate tone while working on the programming, mixing, and mastering. The user interface can be busy, but it's worth the try. Other unique features come with a low end ammunition, ready presets, innovative wave-sequence, and sound quality that will set the bar higher in music making. There are two effects slots which can be moderated using MIDI from any of the synthesizer parts. The easy edit page and the unique quick browser system allow you to search for sounds quickly and easily.
This award-winning Gladiator gives you a revolutionary approach to sound generation. You get the truest high-end quality. That is warm and rich. Its new synthesizer processes method (HCM™) gives out a unique sound which no other synthesizer VST plugins can emulate. The software possibilities are boundless with the huge sonic range. It is easy to use, highly reliable, and low CPU hardware. This makes it one of the best choices of the VST instrument for all those looking for the ultimate creative tool. With a wide range of professional preset sounds, the Gladiator can definitely replace a room full of music making hardware's.
"The first time I used this synt. I was blown away by its rich sound and easy to use interface." ~ Sound Oracle
Electrax2 is one the most powerful synthesizer workstation on the market today. This instrument provides you with outstanding new sound experience. Fully equipped with a high-end quality sound engine, multilayer support, and a huge range of music making features. The designed made to put you in control. It's a user-friendly user interface which allows beginners and pros create sounds and delve into sound design and quality as deeply as they want to. Electra2 comes with an amazing array of sampled sounds. Where picking the best possible match is easy with the on-screen keyboard. There is nearly nothing what Electrax2 cannot do. It offers huge possibilities, an easy interface, and a very CPU friendly. It is definitely a real asset to your studio.
"This is one of my absolute favorite virtual synthesizers because of its versatility and an enormous library of unique sounds and textures." ~ Sound Oracle
This award-winning Omnisphere 2 brings many varieties of synthesizers into one panoramic sounding virtual studio instrument. You can now use your own audio file import as a sound source. The added modulation was redesigned to give you a wider user interface that comes with many improvements. The Omni 2 upgrade has a similar look and feel to earlier versions. However, the learning curve was minimal.  Its exhaustive upgrade, expanded synthesis options, and more FX features make it the finest virtual instruments money can buy. Omni 2 oozes with class and sophistication and should be an essential purchase for all.
Did we miss something? What are some of your favorite virtual synthesizers that is not listed in this blog post? Please leave a comment below and let me know.
#BeatCamp, Atlanta Sept 16-17
Come out and see me this Saturday, September,17 (1:30pm) at the @istandard #beatcampatl
I'll be on a panel and discussing "Creating Your Own Sound." See you there!
"This Week Get 25% Off Our 2 Best Selling Items."
Special ends on Sunday @ Midnight / September 25, 2016
AND
GET 25% OFF THE EVERYTHING BUNDLE – NO PROMO CODE NEEDED