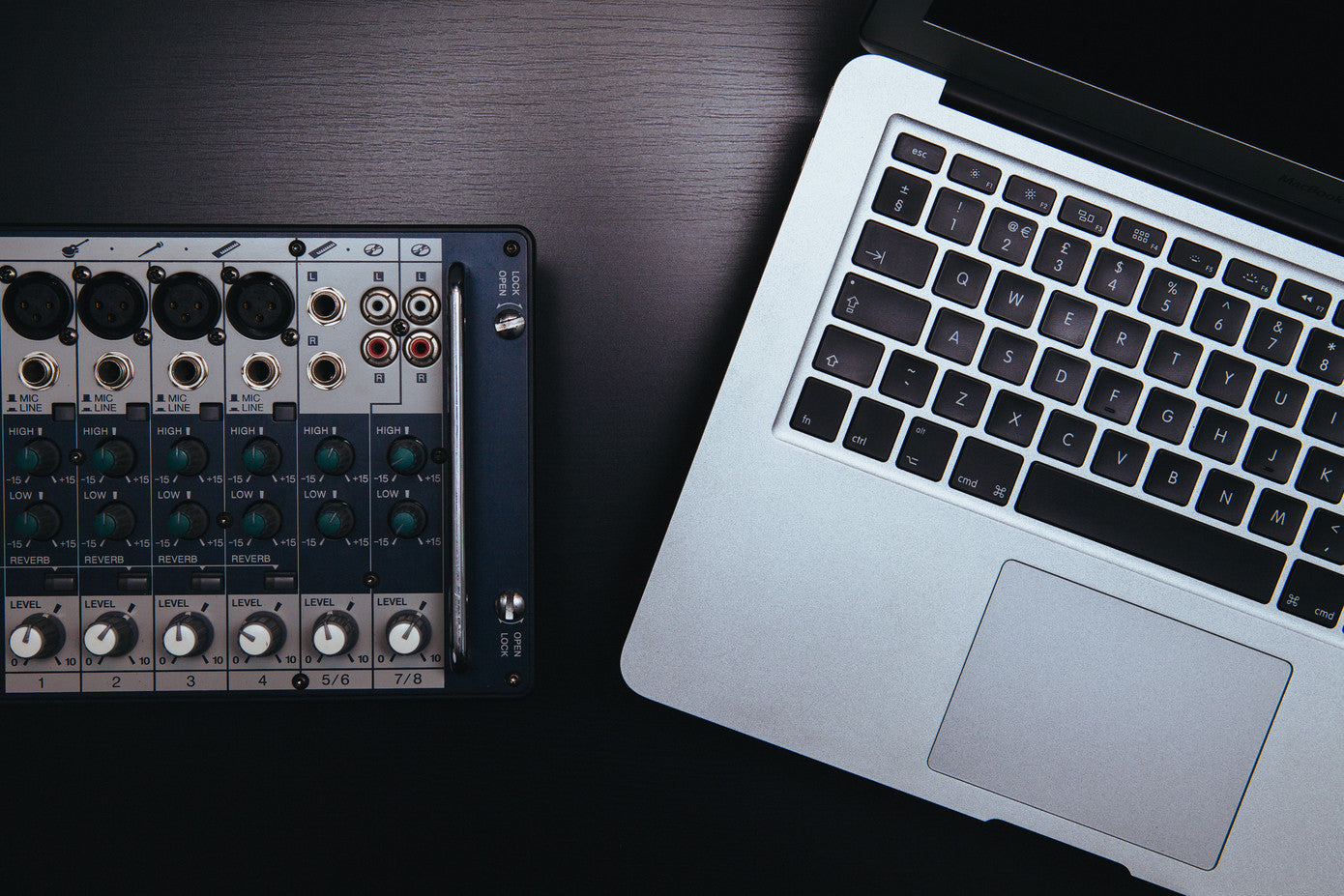 This week will tackle computers for music production. Many producers prefer to work with laptops. Yet, others like their desktop for producing music. Whether you are working in a large studio or not, whatever computer you choose. Your home studio will require more power and a certain configuration. For all audio programs to work, you must pick a Quad core. While your RAM should be about 8GB or more. Preferably, 16GB. This configuration holds up well during intense sessions that use a lot of instances of virtual instruments and FX plug-ins.
Here are my picks for BEST LAPTOPS:
The Asus Rog Series is a powerful 6th generation Intel Core i7 laptop. Built to focus on portable gaming and is one of the best laptops for music production.  It includes features. Such as a powerful Intel core processor. Superior graphic performance, higher resolutions, quality, frame rate, control, and speed. This is a game console perfect for your production needs.
Some Key Features:
*Processor – Intel Core i7

*Graphics – NVIDIA GeForce GTX

*Memory – Overclocked 64GB

*Storage – 1TB

*Battery – 88Whr
I use the Dell XPS Ultrabook for traveling; or, when I am working at someone else's recording studio. It transforms into a touch screen to the tablet. It is super thin and lightweight, perfect for browsing through different samples. Do your edits and work on mixing in Ultrabook mode. The Dell XPS 12 is the perfect marriage of hardware and software. As a convertible ultrabook, it is a powerhouse packed with wonderful features.
Some Key Features:
*Memory – 8GB LPDDR3-1600MHz

*Hardware – 256GB Solid State Drive

*Video Card – Intel® HD Graphics 515

*Display – 12.5" 4K Ultra HD

*Battery – 10 Whr
Music producers need a device powered for performance. That gives a cinematic experience and engineered to help tackle your most challenging setbacks. The HP Envy features that include a brilliant FHD display, Audio by Bang & Olufsen and HP Audio Boost technology with memory up to 12GB RAM.  The latest Intel processor and 1TB storage hard drive. This is definitely one of the most advanced audio systems for your music production, making this notebook a favorite amongst music lovers.
Some Key Features:
*Processor – AMD A10-5750M Quad-Core

*Speed – 4 x 2.5GHz clock speed

*Memory – 8GB RAM.

*Storage – 1TB hard disk and 8GB Flash caches
Lenovo Z50 is a sharp, high-performing laptop. That spews electrifying entertainment. This wonder never fails to impress anyone with a surprising power. That won't break your budget. It includes a built-in technology that will keep your mobile. Its powerful battery will last you a long time and paired with an integrated DVD and Dolby-enhanced audio system to provide an unrivaled multimedia experience. This Z50 is the answer to all your needs.
Some Key Features:
*Monitor – Full HD 15.6in display

*Resolution –1,920×1,080 pixels

*Processor – 2.0GHz Intel Core i7

*Memory – 8GB of RAM

*Operating System – Windows 8.1

*Media – GPU-accelerated graphics

*Storage – 1TB
Apple MacBook Pro is an attribute of power for music making. When you ask every producer who is a Mac user, they will swear by its performance. And user-friendly experience. This laptop comes equipped with a dual Intel Core i5 and i7 processors. MacBook Pro makes everything you do is fast and responsive. Advanced Intel Iris 6100 retina graphics, state-of-the-art architecture, and an 8GB memory will help you through your project. The laptop boasts a different approach to a faster processing system. Including the flash storage based architecture, with ten hours of battery. Ready for any music making tasks you bring to create.
Some Key Features:
*Processor

–

up to 9GHz dual-core
*Memory

–

up to 16GB 
*Storage

–

512GB
*Graphics

–

Intel Iris Pro Graphics
*Audio

–

Stereo speakers, dual microphones, and a 3.5 mm headphone jack
As a music producer, I seldom work in one place.   I get my inspiration everywhere, and when I do. I would like to grab that aha moment when it arises. This M-series allows every music enthusiast to be flexible without affecting their work. What you experience in your home studio is the same reliability when you are on the road.  You can perform edits.  Or, write a song between transits.
Some Key Features:
*Processor – Intel® Core™ i7-4710M

*Monitor – 15.6-inch FHD

*Memory – 8GB

*Ports – USB2.0: 3

*Audio – Realtek ALC662
Here are my picks for BEST DESKTOPS:
This Acer gamer machine brings all the firepower known for its commanding advantage of a two hard drives. That leaps into action with a Nvidia GTX 980 graphics card powered by a g3610 video card, i7-6700K Intel core processor paired with a 16GB DDR4 RAM and performance. This Acer Predator G6 holds a 256GB SATA and a 2TB powerful unit perfect for your music production. It's striking armor designed enclosure inspired by the tanks head. Meaning it has a busy scale like pattern. That encloses like a belt. Enjoy this power-packed PC. And boasts the latest specs made both for all gamers and music lovers that demand the best gears for music producing.
Some Key Features:
*Processor – Intel Core i7

*Graphics – Nvidia GeForce

*RAM – 16GB

*Storage – 256GB SSD, 2TB HDD

*Power supply – 730-Watt

*Audio – Creative Sound Blaster X-Fi MB5
This CybertronPC Patriot is a gaming PC. That will work well with your music production. This computer is powered by a Dual Core CPU, 8GB of RAM and superior graphics ideal for delivering a solid musical experience for your sound design. Or, when you are audio processing in any DAW.  With the capacity of 1TB storage space hard drive. You can store tons of sample packs including software plugins without losing out on space. The processor that is ultra-fast packed with multitasking applications. Enhance graphics, a PC that avoids freeze ups and an excellent audio system. For the buck, it is worth the buy for your home studio.
Some Key Features:
*

Memory – 8 GB

*Storage – 1 TB

*Graphics – HD 7480D

*Drives – Dual-layer DVD±RW drive
This Dell XPS is a powerful Tower desktop loaded with features with a room to grow for more. This desktop includes a 6th Gen Intel® Core™ processor, and i7 Quad Core. With a speed of up to 2TB HDD and storage capacity, gives you easy access to the applications. Give you the ability to multitask with your multimedia projects.  You also have the option to upgrade to optional i7 K edition processor to track your performance. This machine comes with a generous memory option of up to 32GB. A 1.3x higher bandwidth, Waves MaxxAudio and built-in integrated 6 jack audio. This powerful beast won't definitely let you slow down.
Some Key Features:
*PC CPU – 2.7GHz Intel Core i5-6400

*PC Memory – 8GB DDR4 SDRAM 2,133MHz

*Graphics – 4GB Nvidia GeForce GTX 970

*Storage – 1TB 7,200rpm HDD

*Networking – 802.11ac wireless, Bluetooth 4.0

*Operating System – Microsoft Windows 10 Home (64-bit)
When you think of conventional desktops, you will associate it with noise. This is why Lenovo aimed to make the ThinkServer Towers the "whisper machine." It offers a better noise reduction compared to other PCs in the market. This tower series has the latest processors and faster performance. And unmatched reliability tools to power this beast.
Some Key Features:
*Processors – Up to 2 Intel® Xeon® E5-2400 v2 Series processors

*Memory – Up to 192GB memory / 12 DIMMs

*Storage – Up to 32TB internal storage
Mac Mini is everything you want in a desktop. Get the entire Mac experiences as simple as just connecting your processor, keyboard, and a mouse.  This is a 4th generation Intel Core processor paired with a wireless performance. And a speed that is way quicker than that previous generations. It delivers a power packed graphics performance. That provides great connectivity applications. Although the CPU processor is only Intel dual-core i5, it still impresses a lot of good reviews. Despite its noted size of 1TB hard drive and 8GB RAM. This Mac Mini operates with no issues in music production.
Some Key Features:
*Processor – up to 3.3GHz quad-core

*Memory – 8GB

*Graphics – up to AMD Radeon R9 M380 with 2GB

*Storage – up to 2TB Fusion Drive
Limited Offer!

GET 50% ON
(NO PROMO CODE NEEDED)

PROMO ENDS ON MONDAY SEP 5, 2016 AT MIDNIGHT
Limited Time Only...