Top 10 Audio Interfaces For Music Producers In 2020!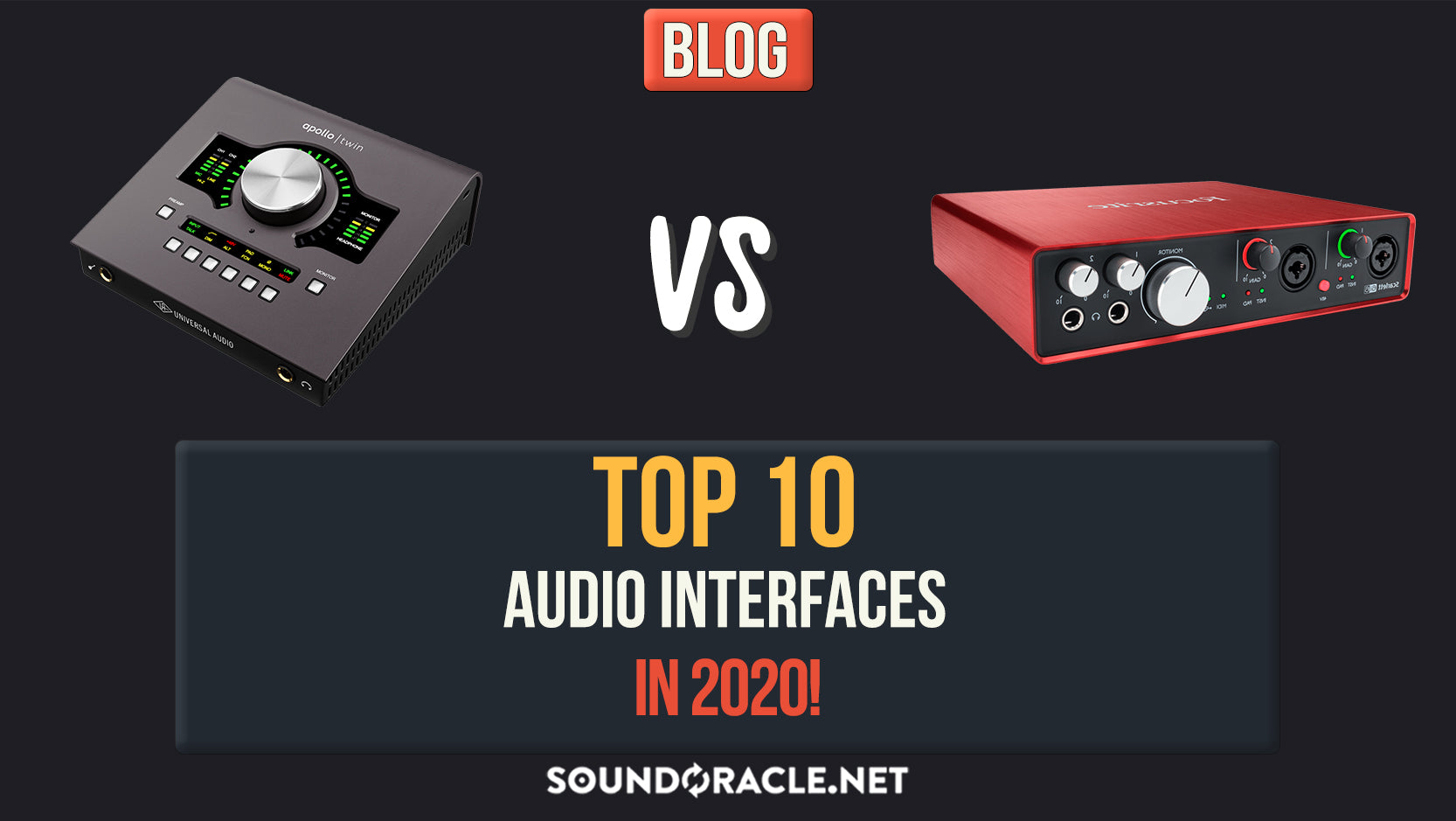 Top 10 Audio Interfaces For Music Producers In 2020!

Written By: Eric "Realistic" Michael



When it comes to producing, engineering, or recording music the two bare necessities are a computer & an audio interface. With so many interfaces on the market, it's hard to figure out which ones are good & which ones should be avoided.

You'll need an audio interface in order to record audio into your computer, use studio monitors with your computer, & control the overall volume of your system.

Things to consider when choosing the right interface for you
Will you be recording at all with it or will you just be mixing or making beats?

How many inputs & outputs do you need?

What type of connections does your computer have? USB, USB-C, Thunderbolt, Firewire?

Do you make your music with a Mac, PC, tablet, or smartphone?

What is your budget?

Are DSP plugins important to you?

Will you need a portable rig?
For most producers 2 input channels are plenty. That would allow you to record two microphones at once. For outputs, 2-4 channels is usually enough for most producers. 2 would allow you to hook up one set of studio monitors (left & right) & 4 would allow you a second set of monitors to alternate between. A second set of monitors are great for A/B testing & reference checks, so they are worth looking into if you're heavy into mixing.

If you're planning on recording a lot with it, we recommend saving up for a little bit nicer of an Interface. The lower budget ones are great for just mixing & producing; however, the preamps in them are usually pretty low quality & you'll run into a lot of recording issues like clipping & harshness. You can clip low budget interfaces without much gain or even hitting levels within the red. For producers & engineers that need an interface for recording, consider getting an interface that connects with USB-C or Thunderbolt 2. USB interfaces can run into latency issues during the recording process.

Since everyone has different needs & budgets, we don't have this list in any particular order, but these are the ones we recommend when you're in the market for one. We put all different types of interfaces on here. Ones that are affordable, ones that are the highest quality, & ones that are the most portable. So let's dive into our list of the top 10 interfaces for music producers in 2020!


PRICE: $899.00

When it comes to quality & features, the Apollo Twin is our favorite. UA is known for both their amazing A/D - D/A conversion, as well as their high quality plugins. This interface has built-in DSP, so your UAD plugins actually run off of your audio interface rather than your CPU. This helps with latency issues & also is a lighter result on your CPU while you're mixing.

The actual hardware itself has some handy buttons too. A mute switch, a dim switch, a mono switch, & a talk back button all makes this small unit feel like a large studio desk. You can hook up a second set of studio monitors to the Twin & the there's a button on the interface that will let you toggle between monitors for easy A/B comparisons.

If you're looking for high quality for both recording & mixing and you have a little bit more to spend with your budget, then this is definitely the interface we recommend.


PROS

Great Quality

Comes with a Free Plugin

Lots of I/O

Zero latency recording

CONS

Expensive

Newer models lack USB options

Doesn't come with a connector cable in the box

Has to be powered from an outlet

PRICE: $1,299.00

This is a new interface this year from Apogee & it sounds as great as it looks! The Symphony comes with a handful of free plugins & they run off of the DSP of the interface rather than eating up energy on your CPU. Apogee has a stellar reputation for A/D - D/A conversion & the quality of the pre-amps will be more than satisfying.

This is another interface that will be worth considering if you plan on doing a lot of recording since it's a low latency interface. The preamps themselves have lots of headroom to help avoid unwanted clipping & distortion.

PROS

Great Quality

Touchscreen

USB 2.0 & USB-C connectivity

CONS

Expensive

Limited to just one set of Studio Monitors

Has to be powered from an outlet

PRICE: $269.00

No audio interface list would be complete without this affordable interface, right? The Scarlett 2i2 really is the perfect interface if all you need it for is producing & composing. If you're not planning on doing any recording or mixing this interface is going to be more than capable for you. Since it's powered by USB & the unit itself is lightweight, the Scarlett is very portable & it's easy to bring anywhere you need to go. It's a great fit for producers on the go with the laptop.

The downside of such an affordable interface is the preamps are pretty low in quality. It doesn't take much to clip or distort these preamps. Clipping can occur on these preamps without even hitting the red, so if you are planning on doing lots of recording, you should consider looking into different interfaces.

There are also some higher level models that have more I/O if you need to work with more inputs & outputs.

PROS

Affordable

Doesn't require power from an outlet

Very portable

CONS

Preamps are very low quality

Limited to just one set of studio monitors

Struggles with latency

PRICE: $199.00

This interface is one of the best mobile interfaces on the market that works with smartphones. An interface like this will allow you to work from anywhere & turn any situation into a recording studio.

The biggest selling point of this interface is its ability to work with iOS & Android devices; however, this interface still works with Mac & PC computers. It has Lighting, USB-C, & USB-A ports making it easy to switch off from desktop & mobile devices. The iRig can be powered by either batteries or an outlet making this even more of a portable option! Just remember to bring extra sets of batteries when you're on the go; this unit starts to fade in power when the batteries run low.

PROS

Affordable

Works with smartphones

Very portable

CONS

Preamps are average quality

Limited to just one set of studio monitors

Performance issues when batteries are low

PRICE: $1,695.00

Antelope is known for high quality converters, but their interfaces are just as good! This particular interface is a great choice for the modern home studio because of its "commercial studio" like functions built into a small device. The touchscreen allows you to enable functions like talk back, input gain, & headphone levels. If you need lots of I/O, this interface will be a go-to choice. The front of the hardware features two headphone outs, two reamping outs, & four line/Hi-Z inputs, all on 1/4-inch jacks. The back of the Zen Tour features four combo-jack XLR 1/4-inch inputs, two pairs of monitor outs on 1/4-inch jacks, eight analogue outs on a DB25, two RCA sockets for S/PDIF in and out, a power connector, USB & Thunderbolt sockets.

Another big selling point with this interface is its onboard DSP effects. There are a handful of FX like reverbs, delays, EQs, & a compressor built right into the interface. These features are great for tracking & even better for live performances. Not only will this interface be a big upgrade in your home studio, but it will also make for an amazing interface for live performances & rehearsals!

PROS

Touchscreen

High quality preamps

Built in FX

CONS

Expensive

Included software is messy & complicated

Touchscreen can be unresponsive if not pressed precisely

PRICE: $99.95

PreSonus has a strong reputation for making affordable products that sound & work better than their price suggests they would. This interface has 2 two mic inputs with 60dB of gain. These pres are combo jacks so you can input an XLR or 1/4-inch. Just like any reasonable interface, this one has a switchable +48-volt phantom power switch. There are stereo main outs, and a headphone jack. It's great for mobile recording & since it operates on USB bus power, you don't have to carry around an additional power supply.

PROS

Very affordable

Portable

Doesn't need much power

CONS

Low cost means low end preamps

Limited monitor controls

Latency may be an issue

PRICE: $649.00

Like most Apogee products they come with a very high-quality A/D and D/A converter. The preamps on this interface have a great quality to them that are both transparent & warm. This is an ultra-compact interface that offers 2-in/4-out capability. This is the ideal choice if you use a mobile device to do recording & mixing, but you still want a very professional quality recording.

When hooked up to your phone, this interface will also charge your phone, so you won't have to worry about your phone dying in the middle of recording. The Duet comes with plenty of cables to connect XLRs & 1/4-inch to it. The cable adapters may be a little bit of a hassle at times, but they are what keeps this interface so sleek & thin.

PROS

Good quality

Works with both MacOs & iOS

Easy to use

CONS

Lots of extra cables & adaptors needed to record

Does not work on Windows PC

Connection has glitches sometimes

PRICE: $229.99

The Mackie Big Knob has become one of the most common interfaces & monitor controllers to show up in the B-room or C-room of commercial studios. It's affordable, has lots of output connections, built-in talk back controls, & alternative speaker selections on board. There's dim & mono switches on board as well. The quality of the preamps leave a lot to be desired; however, this is still a big upgrade from the original Big Knob. The first Big Knob had issues with its main knob actually. The knob was not smooth or accurate; however, they improved the big knob on the Big Knob and it's much smoother & more accurate on this version.

This interface will give you a lot of control & a lot of options for I/O. Another feature we like a lot is the backlit buttons, making them easy to read & see in darker environments. The extra headphones outputs will allow you to send a separate mix to the artist or musician you're recording, allowing you to make changes in the control room without affecting what the artist or musician hears while they are recording.

PROS

Solid & durable casing

Lots of options on deck

Lots of I/O

CONS

Metering is limited

Knobs weaken easily over time

Sound quality is poor compared to other interfaces

Universal Audio Apollo x6 16x22 Thunderbolt 3

PRICE: $2,199.00

Just like the UA Apollo Twin, the Apollo x6 is amazing with it's sound quality. The A/D - D/A converters are top notch & the zero latency plugins during recording are all time clutch.

What makes this interface different from the Twin is it's I/O capabilities. The Apollo x6 is the interface you will want to go with if you have a lot of outboard gear like analog compressors, EQs, preamps, etc. This interface will allow you to send audio to & from all of your outboard gear, whereas the Twin allows for extra inputs, but lacks capabilities for outputs & the Twin would not be ideal for sending tracks out of your DAW into the outboard gear to print back into your DAW, but this Apollo x6 is the interface to go with for a setup like that.

The Apollo x6 also gives you more options for studio monitors & headphone systems. You can have several alternative monitors hooked up to this interface, as well as separate I/O for headphones mixes for your artists. If you need the I/O & have the budget, this is definitely the interface to go with. If you don't need all the I/O & aren't working with any outboard gear, then we recommend the Apollo Twin instead of this one.

PROS

Great quality

Comes with free plugins

Lots of I/O

Zero latency recording

CONS

Expensive

Lacks portability

Has to be powered from an outlet

PRICE: $299.00

This interface is possibly the most unique on our list & what intrigues us the most is it's really made for songwriters, composers, & producers.

There's an onboard microphone right on the interface with the intention to be used for getting out ideas quickly with just a push of a button & no setup required. With a touch of a button you can move on to the next idea while saving your previous recording. This device hooks up to iOS & Android devices so its portability is awesome! The "Soundcheck button" allows Spire to monitor the inputs and balance each channel, which will take the guesswork out of mic placements and recording levels.

The downside of this interface is its lack of I/O & lack of monitor outputs. This would not be the ideal interface for mixing or professional recording; however, if you're looking for something just for recording demos & need to record them on the fly at any moment's notice, this interface will be perfect for you. This might be the best interface for songwriters & demos available.

PROS

Good quality

Durable

Works with mobile devices

CONS

Not a universal interface

Not idea for stationed setups

No ¼ inch monitor outputs

Producers have eagerly been awaiting this groundbreaking video course & it's finally available to access.Giving your beats a professional mix is a standard that's expected from major labels & publishing companies when trying to get your beats placed.Our brand new coursework will teach you everything you need to know to ensure your beats have an outstanding mix & loud clean master.Save thousands of dollars by not having to enroll in school & save hundreds of hours from watching the wrong the tutorials.

What's included?

* Over 5 hours of expert techniques
* Mixing cheat sheets in PDF form
* An easy to understand, concise layout
* Small, digestible chapters with quick access to the info you need
* Everything you need to know to mix your beats professionally

Our 808 Formula series is one of our most popular & the much demanded third installment is finally here!

808 Formula 3 is a mega library of high quality 808s & you'll be sure to find the 808 that you need for any production style or genre.

Whether you need 808s that are hard hitting, punchy, distorted, classic, unique, wide, long, short, or just a deep sub, 808 Formula 3 has every kind of 808 you can imagine!

This 808 kit will fit your workflow perfectly & works with all types of modern production types: Trap, Boom Bap, Hip Hip, Pop, R&B, EDM, etc.


ERIC MICHAEL
REALISTIC PRODUCTIONS
(Engineer)


Realistic is a Music Producer and Engineer located in the Twin Cities. He has been producing music for Hip-Hop & Pop music since 2004. In 2017 he graduated with an AAS in Music Production & Engineering. Real is the chief mixing engineer for SoundOracle.net where mixes all loops & sounds on the site & also provides mixing & mastering services on the site to artists & producers.