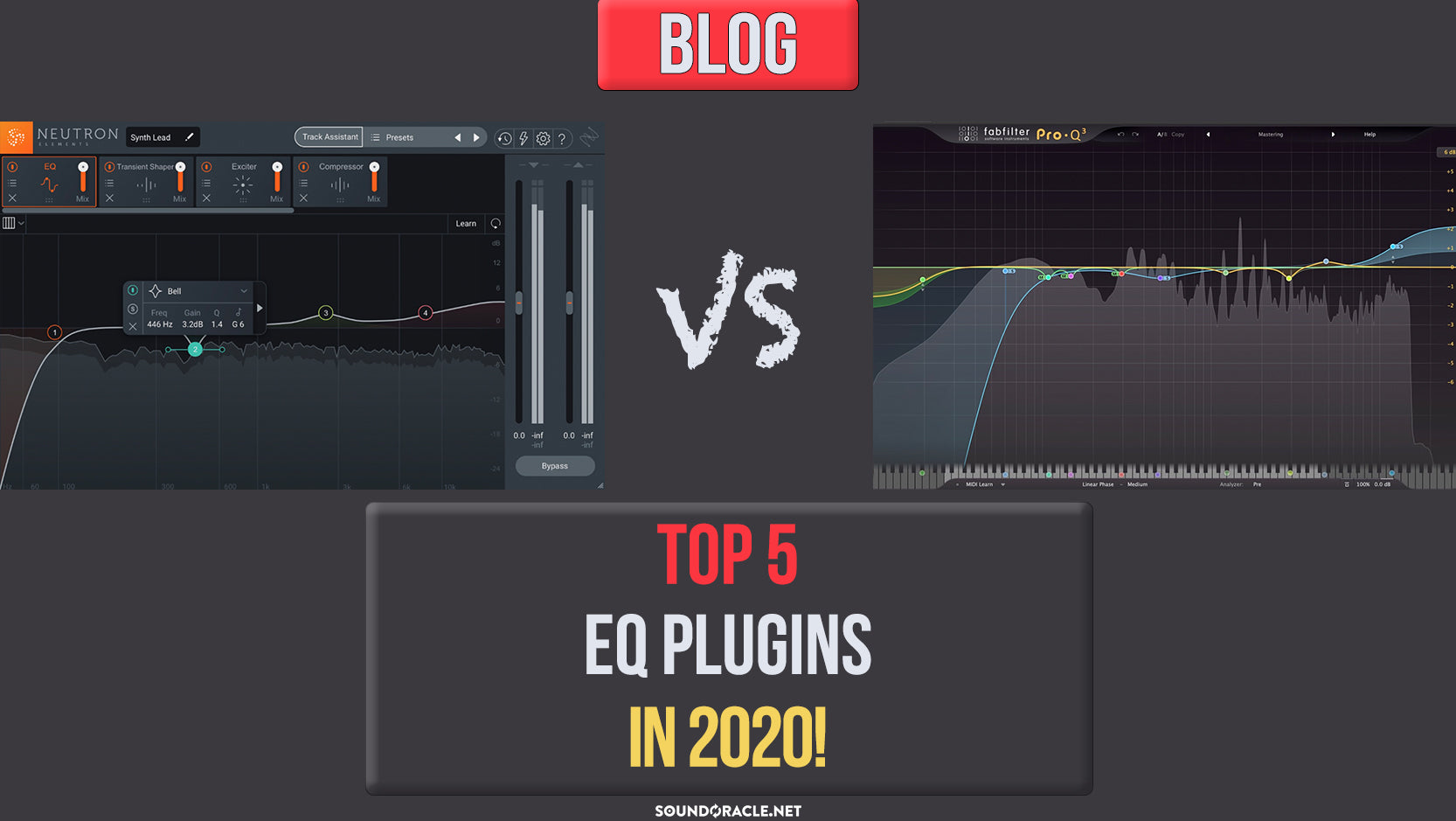 Written By: Eric "Realistic" Michael
Top 5 Eq Plugins In 2020!
If you produce, engineer, or even write music, you have come across an EQ & you probably know how important this tool is to shaping the sound & tone of your music. Even if you're not an engineer, having some good EQs in your collection will be useful.
Now, the most important thing though is knowing how to properly use any EQ you have & knowing what to search for when boosting or cutting frequencies. Simply buying an expensive EQ won't be enough to do the job. Fortunately, we do have tons of free tutorial videos showing you how to mix & master, which can be found here. With that being said, there are still some EQs that can do the
Job better than others, & after you get the hang of using EQs, it may be time to upgrade. Here are our top 5 EQ plugins in 2020.
This really is an iconic EQ. One of the things that makes this EQ so special & a big reason it makes the list, is its distinct sound & tone. Other EQs on this list have more function & lean towards a more modern workflow, but the SSL EQ has stood the test of time & it's tone remains one of the sounds of the music industry still. The SSL EQ has an aggressive bite to it that's bold & punchy. It has been the sound of platinum records for decades, including this decade we just entered into!
Another great thing about this EQ is it comes as a channel strip allowing you to also have access to an EQ, a compressor, a gate, & gain controls all in one plugin. This can reduce your CPU usage & increase the productivity of your workflow.
A few different companies make plugin versions of the SSL, but we recommend either the UAD version or the Brainworx version by Plugin Alliance. WAVES also makes a version, but we recommend purchasing plugins elsewhere.
SurferEQ is an incredibly modern EQ designed by SoundRadix. It's biggest selling point is the ability to change what frequency it's EQing as the audio source changes over time. For instance, if you have a vocal, sometimes the vocals can be harsh at 2,400Hz, other times in the same song, that harshness may move to 2,500Hz, later to 3,200Hz, & back 2,400Hz again. Surfer EQ will make adjustments throughout the song & move the frequency band where it needs to be. This can give a more natural tone & reduce annoying resonance by a lot!
You could argue this could be much higher on the list; however, with its lack of bands (only 7) & missing mid/side functions, it doesn't quite make the top of our list. It's still an amazing EQ though!
Believe it or not your DAW's EQ is a very powerful tool. If you know what you're looking for & you really know how to use an EQ, you can honestly get a professional sound using any EQ! That's why we encourage learning the fundamentals before anything.

Another great thing about your DAW's EQ is it's going to be pretty light on your CPU and it allows you to always have an EQ at hand at all times! Your DAW's EQ will allow you to boost, cut, & filter. It also makes our list because they're free with your DAW & who doesn't like to save money?!

Your DAW's EQ is most likely going to have a visual spectrum analyzer on it as well & it can be very useful to have a visual to look at when making adjustments. Just don't rely on what you see too much though & always trust your ears more than your eyes!

iZotope is a game changer when it comes to software & plugins. They're constantly revolutionizing plugins & what they can do; Neutron is no different. Neutron allows you to have up to 12 EQ bands, which is usually enough for most channels. There might be some other issues going on if you need more than that LOL!

Neutron's EQ also has the ability to do Mid/Side EQ, linear phase EQ, & dynamic EQ! These are must have options for anyone who is mixing music at a high &/or professional level! Neutron also has the ability to communicate with other iZotope plugins including other tracks that have Neutron on it as well. This can help when identifying clashing frequencies & when you need to send settings elsewhere. Like a lot of iZotope products, Neutron has a function that helps you identify problems areas & it will give you suggestions on where you need to make adjustments. It's called EQ learn, & it will locate areas that have harshness & resonance buildup within your track.

Another great selling point with Neutron is it comes with compressors, exciters, & other tools! You can load these tools all into one plugin, making for one easy location for most of the tools you will need on a channel. It also has a great looking interface that's easy on the eyes & has the ability to make the plugin window smaller or larger!

If you've been following us for awhile or if you know a lot about plugins, then it may not come as much of a surprise that FabFilter's EQ tops our list!

Pro-Q 3 is the biggest bang for your buck right now & has tons of power behind it. There's honestly not much this EQ can't do. Think of all of the different types of EQs you know about & Pro-Q 3 can pretty much do all of it. With up to 24 EQ bands per plugin, this EQ allows you to do Mid/Side EQ,
left/right EQ, & stereo EQ all in the same plugin. Each band can have a separate function. Need to EQ just the sides in the mid range? Need to EQ just the mids in the low end? How about EQing
just the right channel with a high shelf? What if you need to EQ the whole stereo field in the upper mid-range? Pro-Q 3 will allow you to do all of that in the same window by just right clicking each band & selecting its function.

Pro-Q 2 allowed for all of those functions as well; however, Pro-Q 3 introduced the ability to also do dynamic EQ. This allows you to choose which bands are dynamic as well, so you're not stuck with every band being either dynamic or non-dynamic. Pro-Q 3 also communicates with other
instances of Pro-Q 3 in your session & will detect & show you which instruments are clashing with each other. It's a great function for balancing between your kick & bass or vocals & lead melodies or really just any instruments that seem to be fighting with each other inside of the mix.

Other useful features of this plugin include a piano roll at the bottom of the screen that will show you what frequencies match certain musical notes making it great for tuning! You can adjust the size of the plugin as well for smaller or larger windows when Pro-Q 3 is open. This EQ also allows you the ability to highlight all of your bands & make adjustments to every band all at once & of course like every FabFilter plugin the interface has an elegant & gorgeous design making it easy on the eyes for hours of work.

It's easy to see why FabFilter's Pro-Q3 makes the top of list & many other lists!

THE ART OF VOCAL MIXING VIDEO COURSE
Learn how Auto-Tune & Melodyne Work!
These days it's pretty standard for a vocal mix to have some form of pitch correction applied to them.
That's why we felt it so was important for us to dedicate entire chapters to both Auto-Tune & Melodyne.
We'll show you how every parameter & tool works in both of these powerful software's & we even show you some fun FX you can create with both software!
The Art Of Vocal Mixing is our brand new online course & it's packed with over 150 videos & 14 hours of professional mixing skills & techniques.
What's included?
Over 150 high-quality tutorial videos
Over 14 hours of expert techniques
Useful mixing guides in PDF form
An easy to understand, concise layout
A beautifully designed interface
Small, digestible chapters with quick access to the info you need
Everything you need to know to mix your vocals professionally
A bonus sound kit made by SoundOracle himself!
CLICK HERE TO GET ACCESS