Top 7 Budget Friendly Studio Monitors In 2020!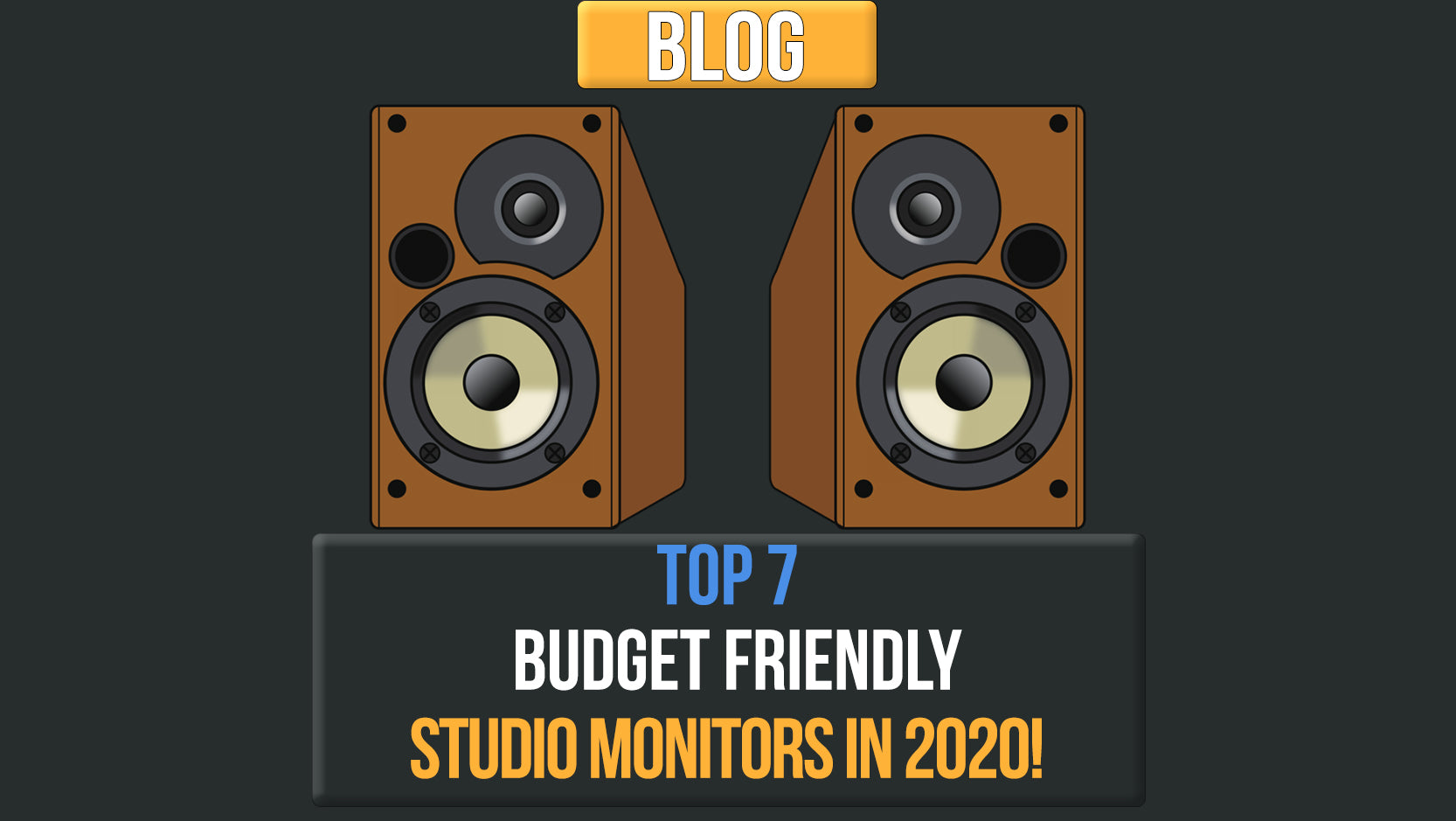 TOP 7 BUDGET FRIENDLY STUDIO MONITORS IN 2020!

Written By: Eric "Realistic" Michael



One of the key pieces of equipment any producer or engineer can purchase for their studio is a solid pair of studio monitors. Your studio monitors play a huge role in how you shape your sound & your mix. When you're mixing, most of your decisions are based on what you hear & that's why having a pair of solid monitors is so important. It's best practice to choose a set of "flat" or "transparent" monitors or at least as close to flat & transparent as possible. This means that the frequency balance on the monitors are even; there's not a drastic boost in the low end or the high end. For example, if your monitors have an extra boost in the low end (like the KRK Rokits), that can be misleading while you're mixing. When playing your track in your studio the low end will sound like it knocks & has a powerful bass; however, later on when you play it in a car or another system you may find that the low end is missing or not hitting as hard. That's why it's important to have a flat frequency balance in your monitors. At least when it comes to mixing.

With so many monitors on the market, it's a challenge to know which ones are the best to go with. Especially when it comes to more affordable pairs. That's why we put together this list for the best budget friendly monitors. We aimed to keep each pair below $800, so high end monitors that we prefer like the Genelec 8361A or the Barefoot MicroMain27 won't be found on this list. We recommend going with active monitors to save the most money without having to spend extra money on amps, so all our monitors on this list are active. If you can, try to aim for 8" woofers for the best response & output. Most of the monitors on this list are 8" with a few exceptions.

1. Yamaha HS8
PRICE: $369.99 each or $739.98 for the pair

At A Glance
8" cone woofer, 1" dome tweeter
38Hz to 30kHz frequency response
75-watt LF, 45-watt HF
Room control and high-trim response
The Yamaha HS8 is one of the more popular studio monitors amongst home studio owners. This monitor is much more accurate & flat than the famous Yamaha NS10's. This set of speakers has high-performance drivers, and a well thought out mounting system to help avoid room vibrations. They added an advanced "Magnetic Circuit" design which allows for excellent response in most rooms.
PRICE: $249.99 each or $499.98 for the pair

At A Glance
7" polypropylene woofer and U-ART tweeter
39Hz–25kHz frequency response
70W (50W amp. 20W tweeter amp)
HF & LF controls
Adam Audio has a great reputation for high-quality monitors. A lot of their more expensive models are in quite a few commercial studios. Their "T series" is a more affordable studio monitor that allows producers & engineers to have a budget-friendly Adam monitor in their studio. That's why these are the only 7" monitors to make our list. These monitors have an extended frequency range and a pretty solid dynamic range. The transient response on these is also a nice surprise. The quality of these monitors is right on par with speakers that would cost 2-3 times as much as these.
PRICE: $249 each or $470 for the pair

At A Glance
5.25" shielded active full-range monitor
90Hz-17kHz frequency Response
60W
High-rigidity MDF cabinet sides for low resonance
Great reference monitor
Okay, so these monitors may not be the best choice for your "mains" but if you're looking for a very solid pair of secondary or reference monitors, look no further than these! The quality output of these won't be super impressive & they do sound pretty boxy, "mid-range", & don't have much low-end knock to them, but that is the point of these monitors. Because of that though, these are the perfect set of speakers for referencing your mixes on. Especially if you want to have a general idea of what your mix will sound like on laptops, smartphone speakers, or most consumer-level speakers. If you don't have a pair of monitors yet, hold off on these & take a look at some of the other monitors on this list instead. These are the ones to go with when you're in the market for an alternative pair of monitors in your studio to reference on.
Pro tip: collapse to mono while mixing on these & just about everything wrong with your mix will be exposed on these.
PRICE: $384 each or $768 for the pair

At A Glance
8" Woofer
54 Hz - 20 kHz frequency response
300W
Bass EQ adjustments on the back
Tannoy's in general are found in lots of commercial music studios & film scoring studios. Their reputation of high quality monitors speaks for itself. These monitors have an accurate & fairly neutral response; this makes for easier mixing choices. There is a "front-firing" bass port design that will allow you to place these near a wall if need be, which ensures for a solid low-frequency performance. There is also dedicated input trim, bass, and treble controls that let you control the monitor for your room acoustics & make adjustments based on the room you are in.
Price: $399 each or $798 for the pair

At A Glance
8" woofer
37Hz-25kHz frequency response
140W (60W LF. 40W MF. 40W HF)
LF & HF fine-tuning controls
These are an exceptional pair of monitors & we don't think you would be disappointed if these were in your home studio. The frequency response on these is very flat & neither the low end nor the high end is boosted on these; which is a good thing when it comes to mixing! These monitors have a low noise output & also have an excellent stereo image to them. You'll also be impressed with the low-end response on these monitors.
PRICE: $399 each or $798 for the pair

At A Glance
5" woofer
40Hz-22kHz frequency response
105W (LF 70W. HF 35W)
Low & high customizable controls
Usually, we wouldn't recommend going with a 6.5" monitor; however, when it comes to Focal the exception can be easily made. Focal has a strong reputation for high-quality monitors & the Alpha 65 is very satisfactory at their price point. Although if you do have the extra $300 in your budget to afford the Alpha 80 8" monitors, you will not be disappointed & you'll be glad you spent the extra $300. These monitors have a very neutral sound giving you the flat response you need to mix. This pair is also known for a very accurate mid-range definition & a well-rounded low end. A pair of these will no doubt put you in a position to accurately hear your mix & give you full clarity.
Price: $259 each or $518 for the pair.

At A Glance
8" woofer
35Hz -22kHz frequency response
140W
MF, LF, & low-cut controls
The Eris E8 may very well be our favorite pair of budget-friendly monitors ever made. For the price, these are overwhelmingly surprisingly high end with a flat, transparent sound. You get MF, HF and low-cut controls to customize the EQ to your room if you need to make adjustments.
There's also a three-position "Acoustic Space" switch. This will allow you to place these near a wall if need be, which ensures a solid low-frequency performance. If you need a good pair of budget-friendly studio monitors, then this is the pair to go with. The Eris E8 easily competes with monitors that are 2-3 more expensive than these.
Producers have eagerly been awaiting this groundbreaking video course & it's finally available to access.Giving your beats a professional mix is a standard that's expected from major labels & publishing companies when trying to get your beats placed.Our brand new coursework will teach you everything you need to know to ensure your beats have an outstanding mix & loud clean master.Save thousands of dollars by not having to enroll in school & save hundreds of hours from watching the wrong the tutorials.

What's included?

* Over 5 hours of expert techniques
* Mixing cheat sheets in PDF form
* An easy to understand, concise layout
* Small, digestible chapters with quick access to the info you need
* Everything you need to know to mix your beats professionally

ERIC MICHAEL
REALISTIC PRODUCTIONS
(Engineer)


Realistic is a Music Producer and Engineer located in the Twin Cities. He has been producing music for Hip-Hop & Pop music since 2004. In 2017 he graduated with an AAS in Music Production & Engineering. Real is the chief mixing engineer for SoundOracle.net where mixes all loops & sounds on the site & also provides mixing & mastering services on the site to artists & producers.