Top 7 Headphones For Producers in 2020!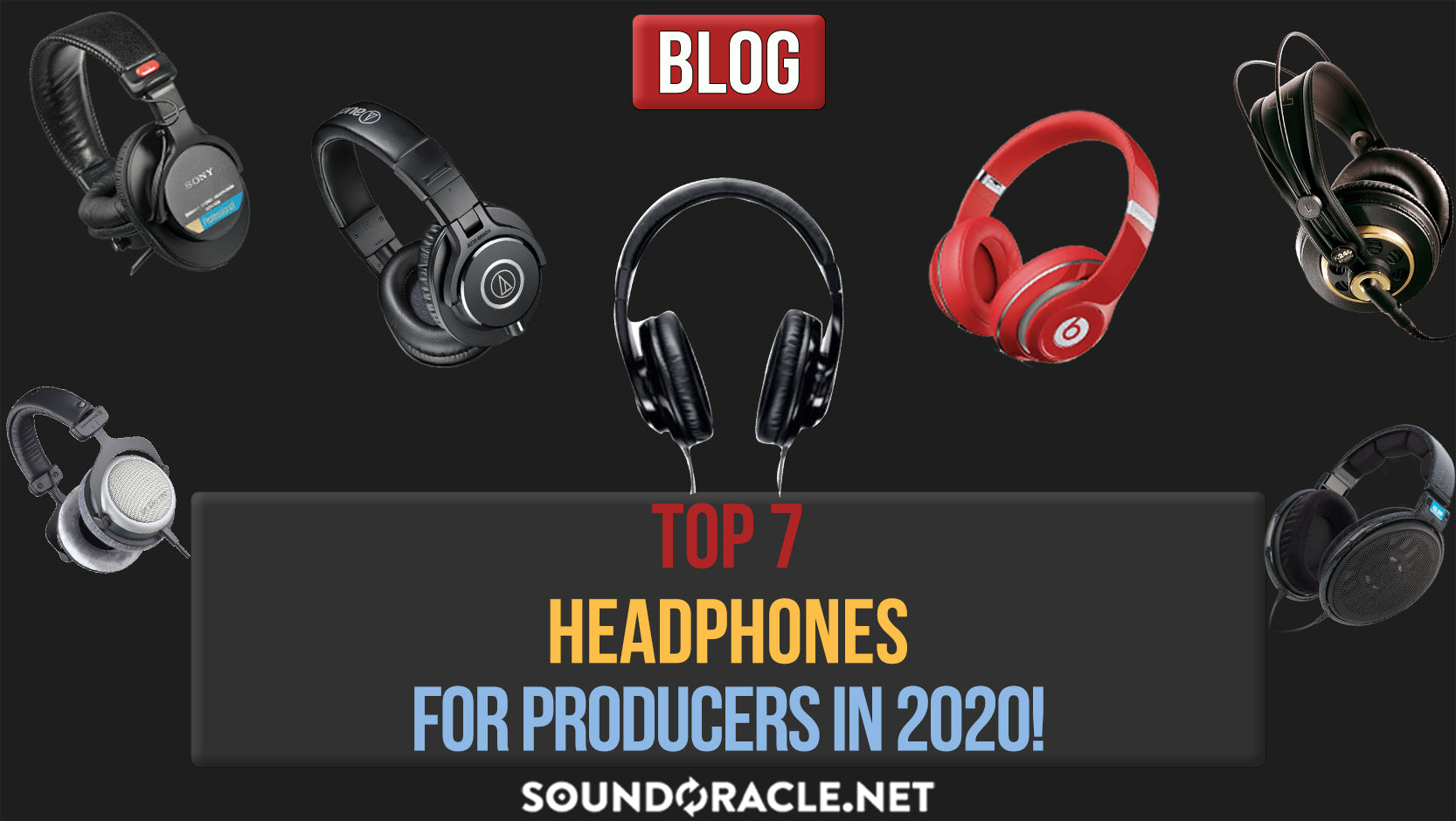 Top 7 Headphones For Producers in 2020!

Written By: Eric "Realistic" Michael



When it comes to studio setups, headphones are essential. Whether you need them for recording your artists, mix referencing, or when you need to throw on a pair so you don't disturb others - headphones are a must have. There are a lot of choices on the market. Some are great options & some should be avoided. That's why we made this list for our top 7 choices when it comes to headphones for music production. We even let you know which headphones are better for mixing, recording, & producing!

PRICE: $99.00

A great sounding headphone that's at a very reasonable price. The ATH-M40x are lightweight making them a good choice for wearing them for long periods of time. They have a wide frequency response that puts out well-balanced audio. The surface area is larger than most other headphones, so they have a decent response with bass frequencies. The transient response is well transmitted making them ideal for studio in-ear monitoring.

PROS

Affordable

Good choice for recording, producing, & editing

Wide frequency response

Comfortable

CONS

Swivel & rotation pieces break easily overtime

Not the best choice for mixing

PRICE: $208.33

Probably the most controversial & polarizing headphones to make the list. Some people absolutely love these while others hate their existence, but these are still worth considering.

One of the biggest reasons they are worth looking at is because a lot of consumers & the general public - non-musical/producers - use these headphones to listen to music on. If there's a good chance the end result of your song will be heard on a particular brand of headphones, then those might be worth grabbing & make for great referencing so you can hear exactly what your listener will be hearing on their end. They also have a stylish design that looks cool & premium.

These are a wireless pair of headphones; however, they do come with a cord in the box, so you can still hook these up to your laptop or interface. A major downfall is that the highs & lows are boosted on these headphones, so you won't get a flat response to mix on. You'll have to compensate for those factors as you're mixing.

PROS

Lot's of music consumers listen to music on these

Good choice for recording, producing, editing, & referencing

Comfortable

CONS

Expensive

Frequency response is not flat

Not ideal for mixing

PRICE: $89.77

Easily the headphone that appears in more studios than any other set. These Sony headphones were the industry standard for years & are still a popular choice. These are looked at as the
"NS10's" of headphones sometimes. Meaning, the quality isn't exactly mind blowing, but they have a similar sound to what a lot of consumer speakers & headphones have, so they're a good headphone to reference tracks on. Be careful recording with these though; they don't isolate the best, so they tend to bleed into the microphone.

PROS

Affordable

Good choice for producing & editing

Good reference headphones

CONS

Overall sound quality is mediocre

Headphone bleed occurs often when recording

Cord tangles easily

Not idea for recording or mixing

PRICE: $369.93

If you have the budget for them & are looking for the best headphones to mix with, then the Sennheiser HD 650 is the choice to go with. These open back headphones have great bass
response, a close to flat frequency spectrum, & presents the acoustic field as accurately as a pair of headphones can. These headphones are the closest thing you can get to matching studio
monitors. If mixing with headphones is your only option, then you should heavily consider investing in this pair.

PROS

Very high quality

Great Bass Response

Precise & uniform across the entire frequency spectrum

ideal for mixing, producing, & referencing

CONS

Expensive

Heavy

Not ideal for recording

PRICE: $188.74

Another powerful set of headphones for studio use. These headphones are a good choice if you need headphones for mixing & editing. They also isolate sound quite well, so these are also a good choice for using during recording sessions. The ear cups are very comfortable, so they are ideal for cases where you need to wear headphones for long periods of time. The DT 880 PRO combines the strengths of closed & open back headphones into one unit. This set also has an impressive frequency response.

PROS

Very high quality

Neutral balanced

All parts are individually replaceable

Idea for recording, mixing, producing, & referencing

CONS

Higher priced

Limited to studio use only

PRICE: $67.00

A very affordable set of studio headphones. These won't pump out amazing quality & probably won't be the idea set for mixing, but if you need a budget friendly pair for making beats or recording, this is a good pair to look into. For the price though, these headphones are actually a nice surprise for the quality they deliver. They won't compete with some of the more expensive models, but for the price range they're in, they stand out from the competition that's in that same price range.

PROS

Very affordable

Good dynamic range

Quality is satisfactory for their price range

Good choice for recording, producing, & editing

CONS

Quality lacks compared to premium models

They can break easily over time

Not ideal for mixing

PRICE: $99.00

Another affordable set of headphones, the Shure SRH440 are a very sturdy set of headphones that can handle some impact & abuse. This is a set that is a good choice for recording because of their durability, but also the isolation they bring. The SRH440's have a clean & clear signal output which makes them a good choice for reference headphones.


PROS

affordable

Durable

Quality is satisfactory for their price range

Good choice for recording, producing, & editing

CONS

Sizing is not fully adjustable & may not fit everyone

Cable tangles easily

Not idea for mixing

Producers have eagerly been awaiting this groundbreaking video course & it's finally available to access.Giving your beats a professional mix is a standard that's expected from major labels & publishing companies when trying to get your beats placed.Our brand new coursework will teach you everything you need to know to ensure your beats have an outstanding mix & loud clean master.Save thousands of dollars by not having to enroll in school & save hundreds of hours from watching the wrong the tutorials.

What's included?

* Over 5 hours of expert techniques
* Mixing cheat sheets in PDF form
* An easy to understand, concise layout
* Small, digestible chapters with quick access to the info you need
* Everything you need to know to mix your beats professionally

Our 808 Formula series is one of our most popular & the much demanded third installment is finally here!

808 Formula 3 is a mega library of high quality 808s & you'll be sure to find the 808 that you need for any production style or genre.

Whether you need 808s that are hard hitting, punchy, distorted, classic, unique, wide, long, short, or just a deep sub, 808 Formula 3 has every kind of 808 you can imagine!

This 808 kit will fit your workflow perfectly & works with all types of modern production types: Trap, Boom Bap, Hip Hip, Pop, R&B, EDM, etc.


ERIC MICHAEL
REALISTIC PRODUCTIONS
(Engineer)


Realistic is a Music Producer and Engineer located in the Twin Cities. He has been producing music for Hip-Hop & Pop music since 2004. In 2017 he graduated with an AAS in Music Production & Engineering. Real is the chief mixing engineer for SoundOracle.net where mixes all loops & sounds on the site & also provides mixing & mastering services on the site to artists & producers.