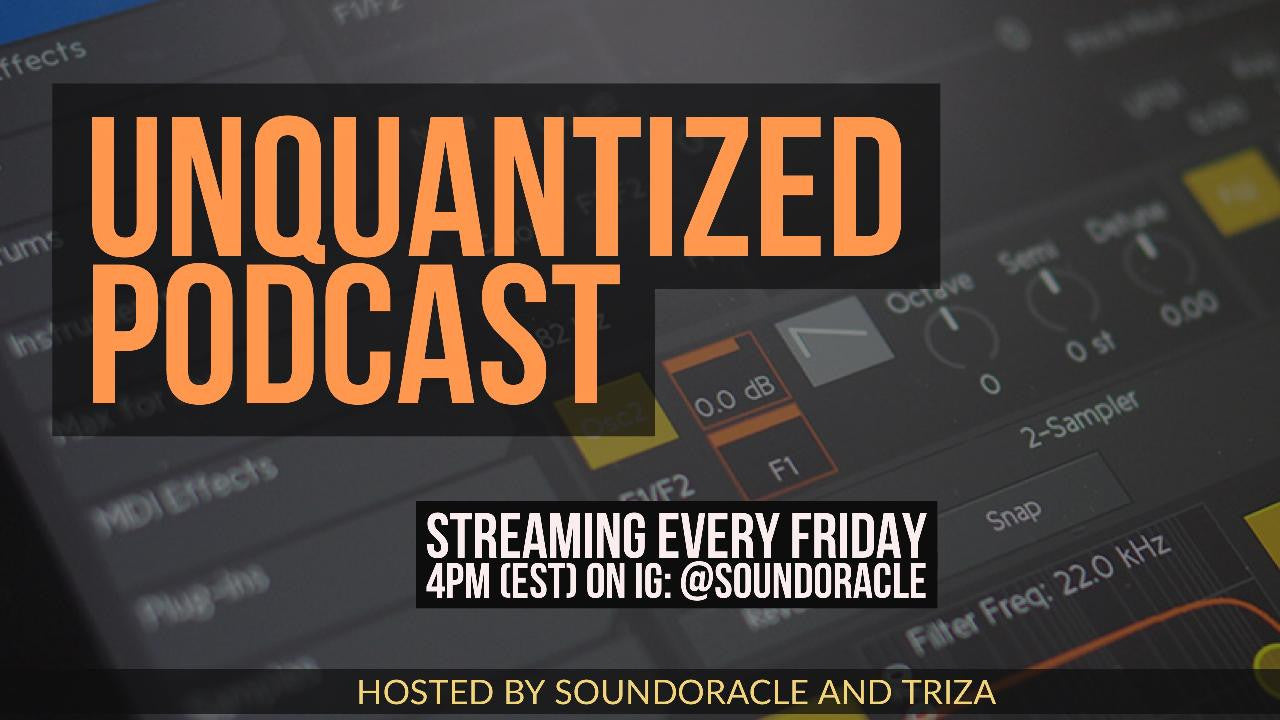 Unquantized Podcast - Production Tips, Career Advice, and Networking
~The smallest gem of knowledge can change the trajectory of someone's life. That is what this podcast is all about.
UnQuantized is a live and interactive podcast that streams on Instagram. Join hosts, Sound Oracle and Triza, as they discuss everything about music production and share industry experiences. Whether you are a beginner or a professional, this podcast is a free way to learn, network, and get motivated with your music.
This weekly podcast is geared towards producers, DJ's, and songwriters. It's primary aim is to entertain and keep musicians up-to-date on strategy, gear, and tips to help you with your musical endeavors.
We cover a scope of empowerment inquiries about branding how to sell your music, and mixing techniques. It is our aim as producers and sound designers to share what we have learned through the years. This podcast is a way to give back to the music community that gave us our break.
UnQuantized #1
UnQuantized #2
Tune in @SoundOracle and @Triza's Live IG to build with your production community every Friday at 4 PM (EST) and follow us at:
About the Hosts:
Image Credit: @Avebrow - Avery Brown Bass Guitarist, Graphic Designer, Music Producer
Host #1: Sound Oracle
Producer and Chief Sound Designer for Timbaland and Polow Da Don. For drums, sounds, and production tips.
Sound Oracle is best known as the producer and chief sound designer for multi-platinum producer Timbaland. Sound Oracle's work has appeared in productions for the likes of Timbaland. Sound Oracle's work has appeared in productions for the likes of Beyoncé, Jay-Z, Justin Timberlake, Chris Brown, and Christina Aguilera. One would define Oracle as a "supplier of wisdom and insightful counsel." However, his personal quest is to inspire. His music has adopted a system of authentic storytelling. Here, he lays the outline of Sound Oracle. He successfully mastered the skill to produce music; the ultimate dream of this Virginia native, Sound Oracle. Despite the shortage of music mentors and influencers within the DMV area. The producer and sound designer proved that bringing his childhood aspirations to reality. It is as simple as setting small challenges. He tested the confines of one's own ability to overcome them, where he wields guts and gall from the sheer passion of all things' production related. Sound Oracle, who is an introvert, galvanized his motivation from the fear of dying in obscurity. And set out on a mission to manipulate sound by incorporating the beauty of a colorful transient noise.
Host #2: Triz La Flare
Triza | Producer & DJ Follow: PROD | for Justin Bieber, Rico Love, Sean Kingston - DJ | Mixes and Curated Playlist - Sound Designer.
Triza creates an experience where partygoers get up from their VIP sections and back on the dance floor is the goal of Atlanta-based dj/producer, Triza. Triza, no stranger to the music world, is virtually light years away from mixing tracks as a hobby during his teenage years in his hometown, Halifax, VA. With musical influencers like producers Pharrell Williams and Timbaland, Triza has found his own sound and likes to describe it as, "Unorthodox, bounce and minimal". Listeners taking a dive into his tracks can expect to hear crazy drum patterns and sound selections, paired with a heavy intertwining of EDM, Baltimore club, and bounce music in juxtaposition with genres like R&B. Coming full circle from bored, self-taught, small town kid infatuated with creating a different sound, to a musical hit-maker, Triza is surely on his way to getting listeners up and out and in tune with what's coming next.