Using Dynamic EQ For Mastering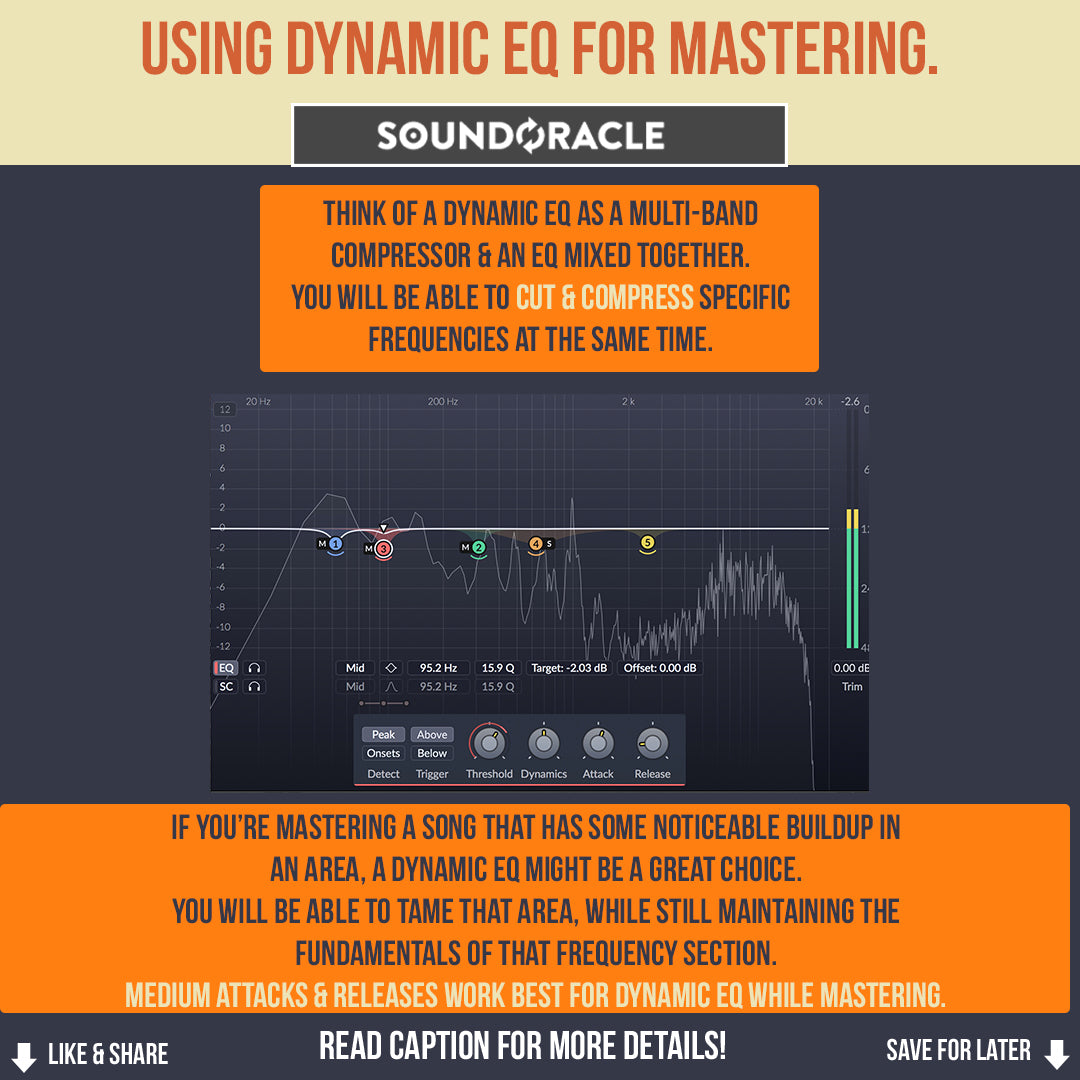 Using Dynamic EQ For Mastering
Dynamic EQs are a powerful tool that allows you to cut or boost frequencies while controlling the dynamics as well.

This style of EQ will also let you have a much narrower Q unlike a multi-band compressor would.

Dynamic EQs are great for frequency build-ups.

Some examples of situations you may use a dynamic EQ is:
- Noticeable harshness on vocals or a lead.
- Piercing high end sounds.
- Muffled or "wolfy" build-up in the low end.
- Reverb causing muddiness in the mid-range.
- Clipping or distorting due to too much low end.


JOIN MY UNQUANTIZED PODCAST COMMUNITY
Don't miss out Unquantized Podcast Live & Interactive by @soundoracle + @triza starting at 4 pm every Friday @IG !!!
YouTube `
Instagram

Realistic Production - Engineer
Realistic is a Music Producer and Engineer located in the Twin Cities. He has been producing music for Hip-Hop & Pop music since 2004. In 2017 he graduated with an AAS in Music Production & Engineering. Real is the chief mixing engineer for SoundOracle.net where he mixes all loops & sounds found on the site & also provides mixing & mastering services on the site to artists & producers.

CONNECT WITH REALISTIC
Website: www.realisticproductions.net
IG: @RealisticProductions
Twitter: @Realistic_Pro
FB: @RealisticProductionsLLC
Apple Music, Spotify, SoundCloud, etc. - https://fanlink.to/bwW5
THE ART OF VOCAL MIXING VIDEO COURSE
Learn how Auto-Tune & Melodyne Work!

These days it's pretty standard for a vocal mix to have some form of pitch correction applied to them.

That's why we felt it so was important for us to dedicate entire chapters to both Auto-Tune & Melodyne.

We'll show you how every parameter & tool works in both of these powerful software's & we even show you some fun FX you can create with both software!

The Art Of Vocal Mixing is our brand new online course & it's packed with over 150 videos & 14 hours of professional mixing skills & techniques.

What's included?
Over 150 high-quality tutorial videos
Over 14 hours of expert techniques
Useful mixing guides in PDF form
An easy to understand, concise layout
A beautifully designed interface
Small, digestible chapters with quick access to the info you need
Everything you need to know to mix your vocals professionally
A bonus sound kit made by SoundOracle himself!
THE ART OF BEAT MIXING VIDEO COURSE
Producers have eagerly been awaiting this groundbreaking video course & it's finally available to access.

Giving your beats a professional mix is a standard that's expected from major labels & publishing companies when trying to get your beats placed.

Our brand new coursework will teach you everything you need to know to ensure your beats have an outstanding mix & loud clean master.

Save thousands of dollars by not having to enroll in school & save hundreds of hours from watching the wrong the tutorials.

What's included?


Over 5 hours of expert techniques
Mixing cheat sheets in PDF form
An easy to understand, concise layout
Small, digestible chapters with quick access to the info you need
Everything you need to know to mix your beats professionally