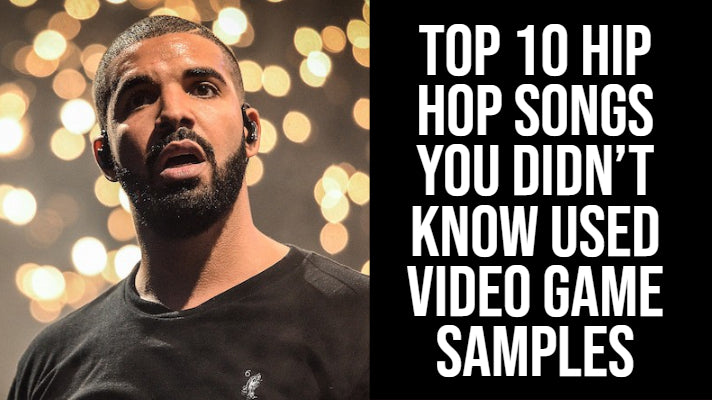 With the release of our new MIDI and Sample Kit, "Super Sample Genesis", we thought it was only fitting that we touch on a little bit of the history when it comes to Video Game Music in Hip Hop culture. Since its conception in the mid 1980's, Video Game Music has always had a profound impact in our popular
culture.
In this blog we'll talk about a few of the compositions that have crossed over into Hip Hop Music.
10. Eminem, JBlack & Masta Ace – Hellbound
8. Logic feat. Jon Bellion- Welcome To Forever
At number 8 we have the title track "Welcome To Forever" off Logic's 2013 mixtape called, "Welcome To Forever" by the same name. This was a standout track off the album and helped propel Logic into the mainstream. The song itself samples "Never More", the ending theme from the 2012 video game Persona 4.
---
7. Dom Kennedy – Locals Only
Weighing in at number 7 we have the song "Locals Only" by Dom Kennedy. Released in 2010 this song helped propel Dom Kennedy into the National Spotlight. The Los Angeles based rapper better known as Dominic Ross Hunn, hit the independent Hip Hop scene hard when this song was featured on his Mixtape, "West Side With Love". Locals Only samples "Secret of the Forest" from the 1995 game Chrono Trigger.
---
6. Childish Gambino- Eat Your Vegetables
5. Bone Thugs-N-Harmony- Eternal
Fresh into their second album, "E. 1999 Eternal" released in 1995, Bone Thugs-N-Harmony released, "Eternal" as the intro track for their Album. This song in particular sampled the video game, Eternal Champions which was released on the Sega Genesis in 1993. The E. 1999 Eternal album as a whole was a Mega commercial success selling over 5 million copies.
---
4. J.Cole- Dollar & A Dream III
Releasing his debut album Cole World in 2011, J. Cole was on fire at this point. The opening track, "Dollar & A Dream is the third track with the name he done with the previous two appearing on his mixtapes. This one slated for his album samples 2005's Kingdom Hearts II, with the track Darkness of The Unknown.
---
2015 would have us see another Drake album titled "If You're Reading This It's Too Late". One of the standout tracks on the album would be the track entitled, "6 God". This track samples of Composer David Wise's 1995 Haunted Chase Theme for Donkey Kong Country 2. The song was produced by the producer Ness.
---
2. Jay-Z & DMX- Money, Cash
1. Wiz Khalifa- Never Been-
Coming in at number one we have Wiz Khalifa's 2010 track "Never Been" off his 2010 Mixtape Kush and Orange Juice. This song was an Anthem when it came out and highly successful. The song samples the 1995 Video Game Chrono Trigger. More specifically, "Schala's Theme". The track was produced by Sledgren.
---
For all my Nostalgic Retro Video Game inspired beatmakers out there, I have something you. I present to you my new MIDI Sample Kit with The Innovator called Sample Genesis.
The core of this kit revolves around 25 incredible original sample compositions in WAV format inspired by Classic Video Gaming Consoles such as the Nintendo, Super Nintendo, Sega Genesis, Game Boy, and Commodore 64. Available in Two Versions.
---
---
We will be giving away a copy of Omnisphere 2.5 to one lucky producer in our community.
TO ENTER:
Purchase Super Sample Genesis between January 18th and February 1st
Post an Instagram video of you using sounds from Super Sample Genesis
Use #supersamplegenesis In your Instagram video
Written by Mitchell "The Innovator" Tillotson, Producer and Sound Designer of Sample Genesis Series and Art of Transition  
Mitchell "The Innovator" Tillotson is a Music Producer, Musician, Songwriter, and Sound Designer hailing from the greater Baltimore area. Growing up as a Military Brat in the early 90's and 2000's and listening to producers like Teddy Riley, Rodney Jerkins, The Neptunes, and Timbaland, he fell in love with music at an early age. The recent Fullsail Music Production Grad and Navy Veteran grew up deejaying the local scenes in the Baltimore/DC areas and is now starting to take the music world by storm. Follow @iamtheinnovator on Twitter.