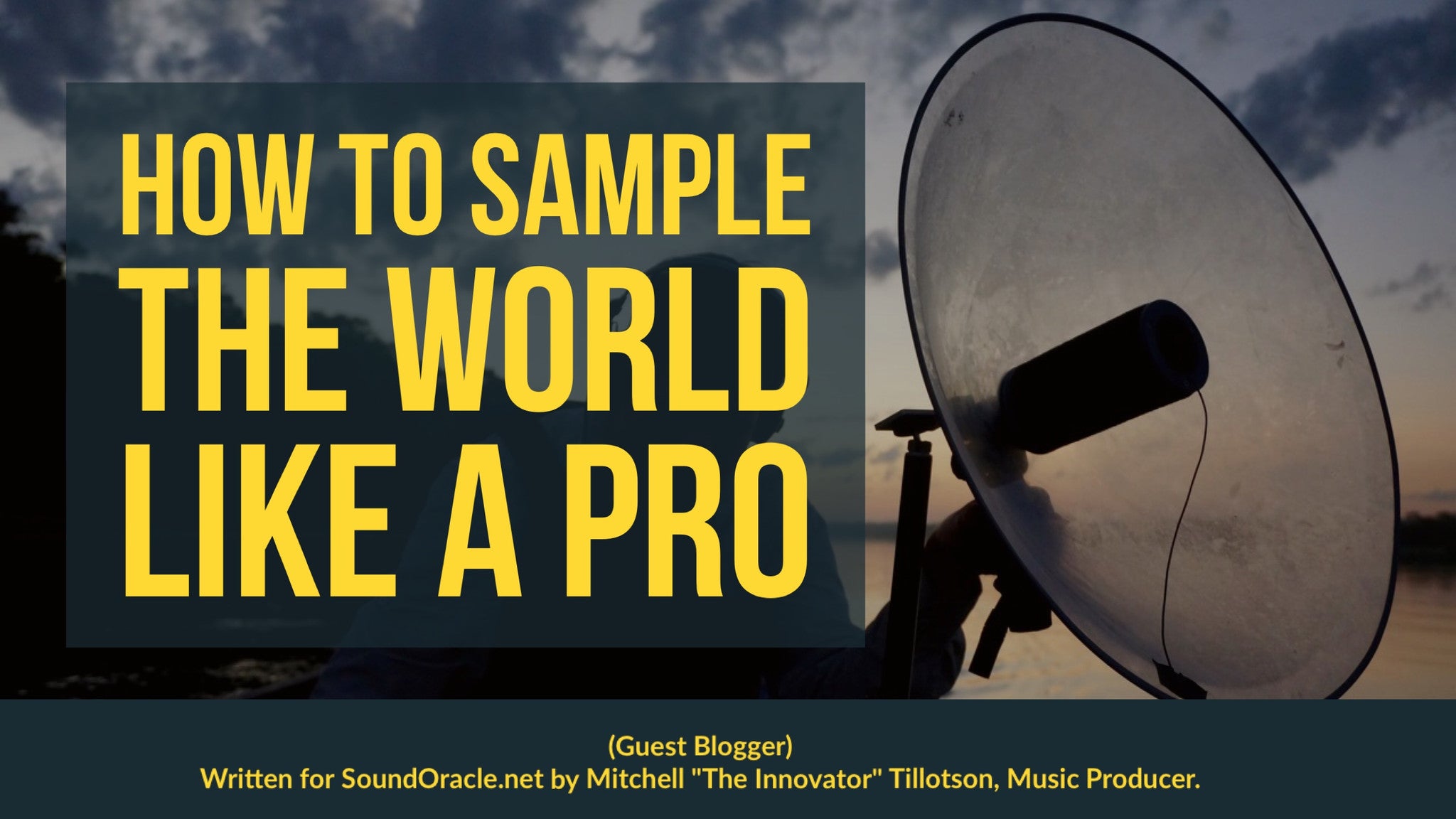 How To Sample The World Like A Pro
Getting started recording the world around you can seem to be a daunting task starting out. Taking all things into consideration like crowd noise, ambient air, passing overhead planes, and just general room reverb, having the right tools for the job can be dire. That being said, join me as I go through my tips and tricks for sampling the outside world.
Field Recording
One of the first things you need to do when looking to sample the world around you is to get a good recorder for the job. My personal favorite is the Zoom H5 Handy Recorder. Retail this thing goes for around $269 but you can definitely swing it at a better price on eBay. The Zoom H5 has six interchangeable input capsules including but not limited to an X/Y, MS, Shotgun, and Dual XLR/TRS Combo, that give it some versatility on recording different objects in different situations. You might also add personal mics as well so you aren't limited to just their collection. The Zoom H5 can also record levels as loud as 140 dB SPL, which is equivalent to a jet aircraft 200 feet away and this all fits nicely on a 32GB SD card supporting 24-bit WAV or MP3 formats. I own this myself and it is definitely one of the best tools for the job. However any substantial handheld recording device can get the job done.
One of the keys to recording a good sound is choosing the best recording attachment for what you are trying to record. I use the shotgun or X/Y attachment in most cases to record. It is also important to make sure you aren't mixing the sound too closely and causing clipping or distortion on the device. It is best to use headphones to help solve these issues when recording. It may also be ideal to tag what you are about to record by giving it a general vocal introduction so as you are going through the sounds you recorded later during editing, you won't have to listen aimlessly to identify the sound you recorded. While recording also remember to restrict motion and personal sound as much as possible to eliminate bleed into the sound that you actually want to record. After you have finished recording each sound, make sure to record a couple of seconds of dead ambient air. This will be vital to denoising, which I will explain further, later in this article. 
Sound Editing
Now that you have recorded the sounds that you want to use it is now time for editing. My plugins of choice for this job are the Izotope RX 5 bundle collection. It comes with plugins that feature tools like dialogue de-noise, de-noise, de-hum, de-reverb, spectral repair, de-clip, and de-click. The names speak for themselves in what they do, however we are going to focus solely on the de-noise function for the purposes of this article.  As mentioned earlier, when recording you will need to leave a couple of seconds after recording your sound to record the dead air ambiance. Using the de-noise function in RX, it allows you to grab a sample of the unwanted dead air ambiance, crowd noise, or annoying airplane flying by, learn it, and then eliminate it from the actual sound you were recording. This just leaves the sound you intended to record without the unwanted destructive sound elements. Edit the sounds further in your favorite DAW of choice and then add FX if necessary. Experiment and Have Fun!!!
RX Collection
RX De-noise
Written for SoundOracle.net by Mitchell "The Innovator" Tillotson, Producer
....Guest blogger...

Mitchell "The Innovator" Tillotson is a Music Producer, Musician, Songwriter, and Sound Designer hailing from the greater Baltimore area. Growing up as a Military Brat in the early 90's and 2000's and listening to producers like Teddy Riley, Rodney Jerkins, The Neptunes, and Timbaland, he fell in love with music at an early age. The recent Fullsail Music Production Grad and Navy Veteran grew up deejaying the local scenes in the Baltimore/DC areas and is now starting to take the music world by storm. Follow @iamtheinnovator on Twitter.
For more reading, click image below: