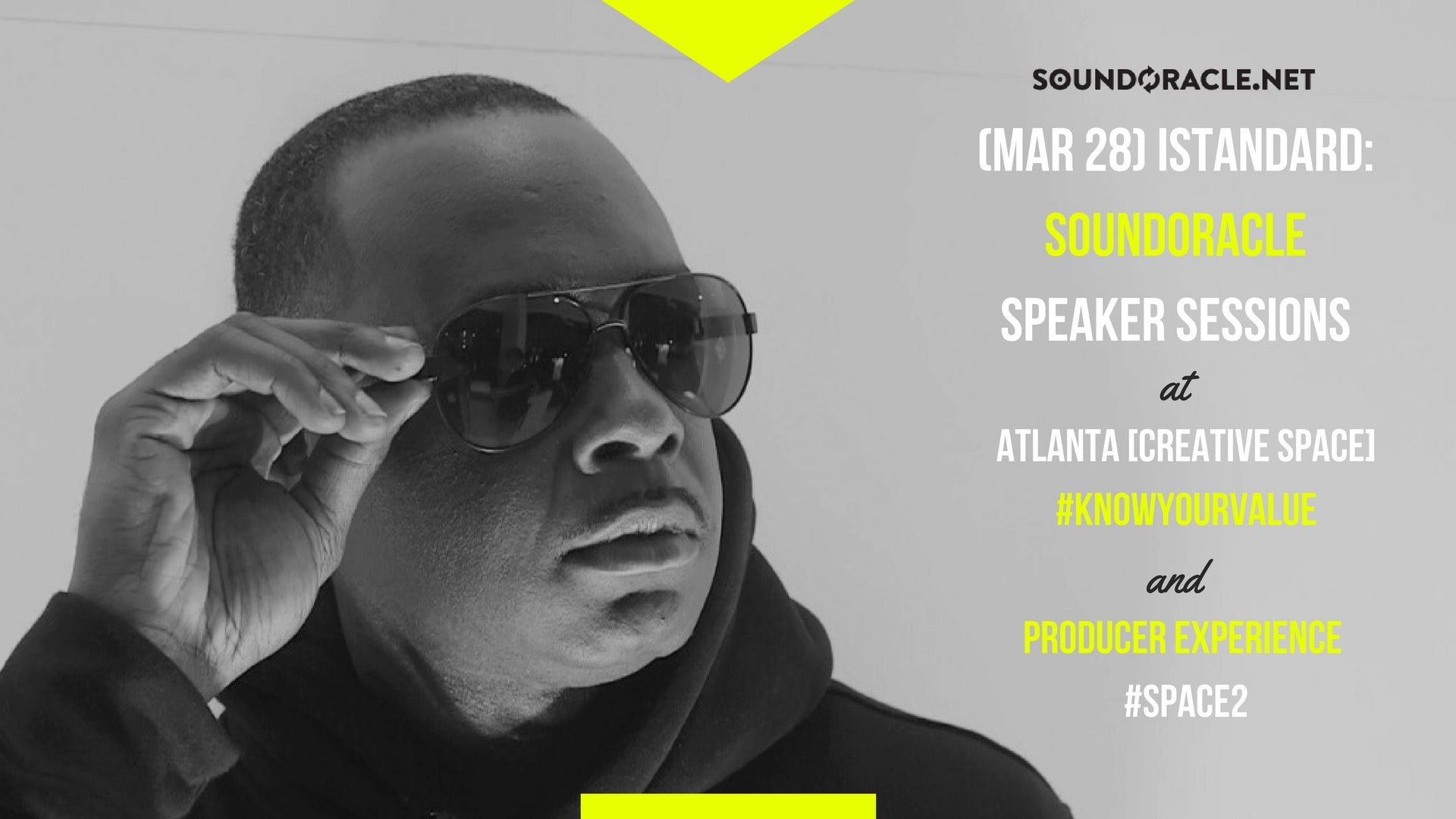 iStandard Event #1: Atlanta [Creative Space] #KnowYourValue
When: Wed, Mar 28 at 6:00 PM–7:30 PM
Where: 215 Peachtree St NW #300, Atlanta, GA 30303, United States
 [@istandard] is proud to partner w/ @SAE_NorthAmerica in Atlanta for [creative space] on [3.28.18] from 6pm-7:30pm on their campus and is limited to 50 seats, it is free to attend however you must RSVP [see below]
Topic is #Knowyourvalue and the discussion will be a very broad one ranging from how to determine your price structure, leasing beats online [exclusive vs non-exclusive], your work ethic vs compensation and much more.
Moderated by @Cizzurp215
PANELIST INCLUDE:
iStandard Event #2: [iStandard Producer Experience - Atlanta]
When: Wed, Mar 28 at 8:45 PM–11:55 PM
Where: 485 Edgewood Ave SE, Atlanta, GA 30312
[@istandard  ] ATL. Producer Show Powered by Kaotica Eyeball, Splice Sounds, and LANDR   is NOW booking for 3/28/18 at SPACE2    
Participants will get to submit their beats for a chance to play their music for a panel of industry judges, receive verbal feedback to help them enhance their craft, network and gain new fans and possible clients!
Judges Include:
Six Figga Digga [Platinum Producer for Jay-Z, 50 Cent, J Lo, Ludacris & More]
Black Metaphor [Platinum Producer for Young Jeezy, Drake, Rick Ross, Yo Gotti & More]
Sound Oracle [Platinum Producer/Sound Designer for Polow Da Don & Timbaland]
ABOUT THE HOST
[iStandard] has been an influential organization in the Music Production industry since 2005, helping bridge the gap between the up-and-coming producer and the music industry. The [iStandard Producer Showcase] is the premier live event for producers to spotlight their music lives in over 35 North American markets, and [istandardproducers.com] has gained the attention of the industry's elite, as well as millions of viewers from over 100 countries around the world.