This week's tutorial breaks down three reasons mixes struggle & come out sounding less than professional.
There are lots of common mistakes that are made when mixing & mastering and a lot of it comes from simply not knowing what's being done incorrectly or how to avoid those issues.

Things, like overcompensating the bass, using EQ or compressors incorrectly, & blasting the volume of your channels, are all things that bring big problems to your mix.

In this video, we talk about common mistakes, why they are incorrect, how to correct them, & what's the correct way to do them.

Follow along as professional engineer Realistic gives you 3 reasons why your mix sucks. These quick fixes will have your mixes sounding professional in no time!
ERIC MICHAEL
REALISTIC PRODUCTIONS (Engineer)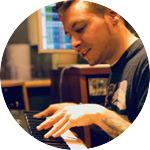 Realistic is a Music Producer and Engineer located in the Twin Cities. He has been producing music for Hip-Hop & Pop music since 2004. In 2017 he graduated with an AAS in Music Production & Engineering. Real is the chief mixing engineer for
SoundOracle.net
where mixes all loops & sounds on the site & also provides mixing & mastering services on the site to artists & producers.
---