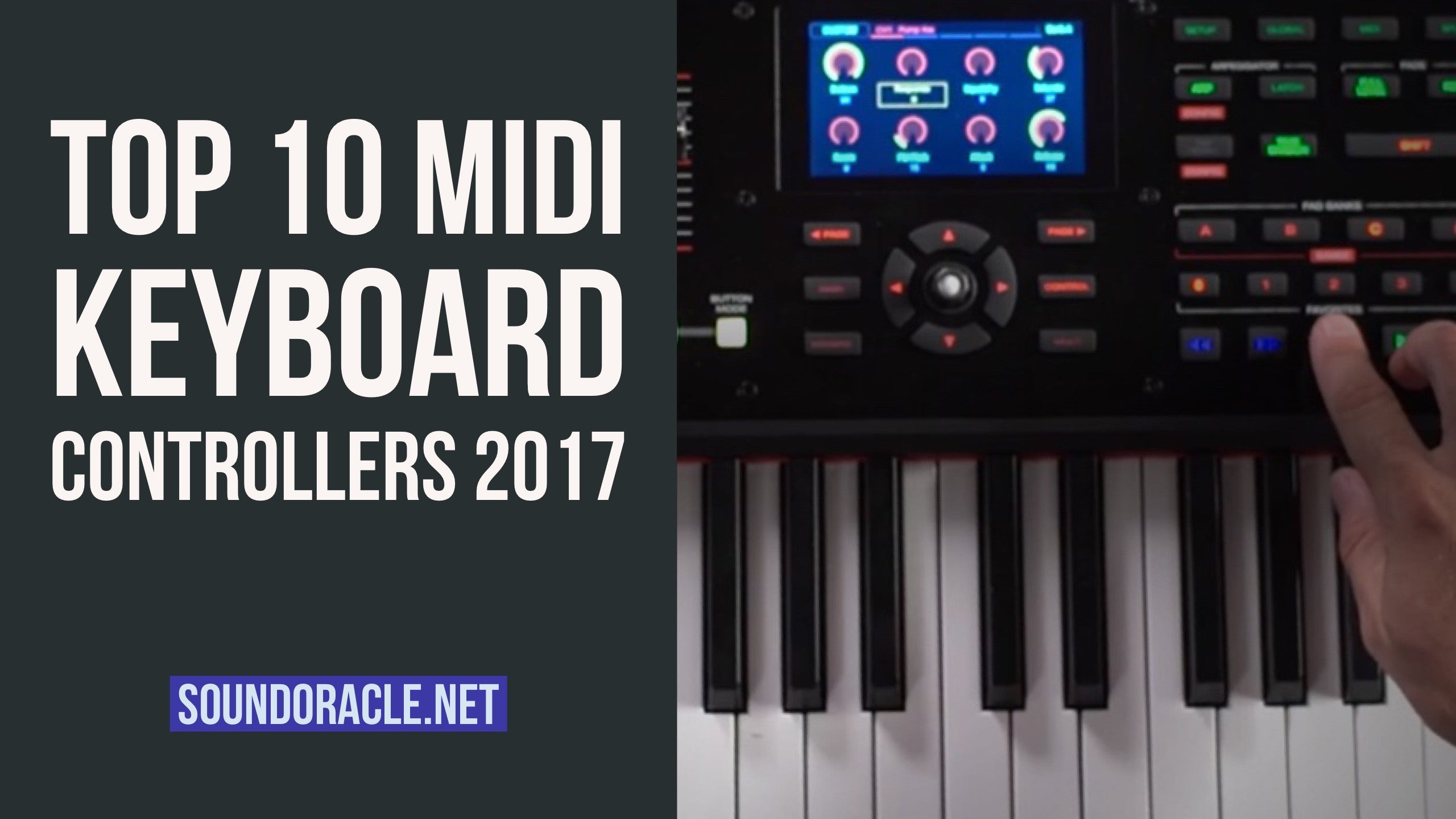 It is that time again to discuss this year's top gear and for this topic we are going to discuss the top MIDI Keyboard Controllers in 2017. I know what you're thinking. Isn't a Midi keyboard just that, simply a means to control your MIDI data? Well in some ways you would absolutely be correct, but a lot of the MIDI controllers presently on the market can do that and so much more. The key is to checkout the features each one and inherit whichever one has the best workflow for you. With this in mind, I bring to you my picks for top Keyboard MIDI Controllers of 2017. They are in no particular order; however the top 3 are simply the best on the market in my humblest opinion. Enjoy!
10. KORG TAKTILE 49 
PRICE: $370.13
The great thing about this Midi Keyboard is its versatility. It is one of the few controllers that isn't just a controller but also has Classic Korg Triton Sounds preloaded inside the unit for a small additional cost. It also has a Kaossilator style X-Y pad in the center of the unit that can be assigned to do everything from controlling software parameters in your DAW to triggering notes and chords in any key you choose. On the far right side of the unit it contains 16 pads for drum input control as well as buttons to control your DAW's transport directly from the device. For display, the Taktile boasts an OLED display for easy viewing for editing and creation. The unit itself is USB powered with the standard MIDI In and Out ports located on the right side of the hardware along with two assignable pedal inputs. The touch and keyboard surfaces have the same play action as the Korg Krome lines of products which is incredible given the price of the unit. Those who have used Korg's line of products will feel right at home. On the Con side, my only issue is that the keyboard does not have after touch, which would have been a nice feature. The keyboard also stops in production at the 49 key versions. A 61 key or even an 88 key weighted would've been nice especially with the Korg Krome play action integrated into the product. All in all though this Keyboard controller is still a heavyweight in my opinion and can create instant inspiration with pad chord triggers and arpeggiator. Simply set up the chords you wish to generate, assign them to a pad, and have fun arpeggiating them with the built in arpeggiator.
PRICE: $334.00

 
This keyboard is great because it is considered a hybrid controller. Using the Analog Lab software you have access to over 5000 patches from Arturia's renowned V-collection patches, which includes classic synths like the Prophet V and the Synclavier V. It also has the regular functions you would expect from most MIDI keyboard controllers as well.  On the right of the device includes 16 pads with the ability to program and trigger specific chords via the Arturia Lab Software. There are also 9 assignable faders, which you can use to map to a parameter of your choice in your respective DAW. On the left hand side is a LCD screen where you can do everything from selecting banks of presets and sounds to remembering the last touched piece of hardware automatically. On the Con side of this piece of gear, the knobs have been known to pop loose during tweaking and the Modulation and Pitch bend wheels seem too small and close together to be effective given the size of the keyboard. Besides these two issues however, the Key Lab is great option especially with the integrated software and additional sounds, it will get the job done for sure.
PRICE: $299.99
The great thing about this controller is the price point when compared to the other Midi controllers in its class. The device contains a lot of bang for your buck.  The models themselves go up to the 61 key versions and are all semi-weighted with aftertouch as are the drum pads too, which is an extreme bonus. There are also 8 pads, 9 faders, and 8 knobs that can be assigned to any parameter in you DAW in order to controls them remotely. The Impulse also has an LCD display perfect for assigning Midi information. On the back of the unit is a USB port that handles both the Midi and power source for the unit, however there are also Midi In and Out ports located on the unit as well. Located at the rear also are 2 quarter inch sockets for Sustain and Expression pedals.  The onboard control system called Automap 4, is very intuitive for the user and allows almost seamless integration with your DAW while displaying every editable parameter in real time. You can also save temples in the Automap software to alleviate having to map buttons and knobs to faders every time. When looking at the price point, the features that are packed with this device are in a league of its own.
7. ALESIS VI 49
PRICE: $189.00
The Alesis VI keyboard is very intuitive and for those who grew up using old Alesis synths you will get a bit of nostalgia as the old feel on the semi weighted keys and layout are alive and well in this model. On the left hand side it has 16 backlit pads perfect for assigning and banging out tracks. Above that are both a Mod and Pitch bend wheel for use as well. The controller does come with a few goodies, including AIR Music Tech's Expand!2, which was formally only available in Pro Tools. The only cons I have is that the screen just shows numbers making assigning of the parameters rather difficult. There is a software editor but without prior knowledge it is difficult to interact with. For the price point however, I would still recommend this controller, especially for those first starting out.
PRICE: $199.99
Novation has been a staple in the industry for over 20 years and with their new Launchkey line of products, they have definitely kept things along the cutting edge. This device boasts keys up to the 61 key versions and comes bundles with Abelton Live Lite. It also includes 8 assignable faders, 8 assignable knobs, and 16 pads to both bang out and use as clip triggers within Abelton Live. Its sleek design and fly weight status is a bonus too for mobility as it only weights less than 8 lbs. Midi connectivity and power for the unit is exclusively with USB power only and completely it eliminates the standard Midi In and Out ports.  It also has a quarter inch sustain pedal input in the back as well. In conclusion, this controller has many fascinating features, including the ability to trigger clips and even comes with downloadable versions of Novation's flagship V-Station and Bass-Station synths. On the Con side though I do I wish the keys were at least weighted especially in the bigger versions. Also an 88 keys option would have been nice as well. All in all though, with its lightweight feature and instant compatibility, this controller is perfect for any user in any DAW especially on the go.  And for the iPad composers, this is one of the best controllers on the market and integrates seamlessly with the release of the Novation Launchpad App.
PRICE: $1,099.00
Although it's clearly expensive, I wanted to shed some light on this product. If you have the dough to shell out for this controller, it may be well worth it. ROLI, a startup London based company has been creating quite the ruckus in the keyboard technology circle as of late. Their flagship product the Seaboard RISE, has innovated the keyboard controller industry with its use of silicone moving "keywaves" instead of compressing traditional keys. This ideally gives the users the ability to more accurately play non-traditional keyboard instruments like guitars and bass with a more realistic and natural sounding feel. The finger driven controls allow you to create your own slides, vibratos, and modulations of sound in any way you want. It still however has the traditional keyboard layout of sharps and flats so all keyboard players will still feel right at home. To the left the device contains an X Y axis pad that enhances the expression scope even further while playing. On the side of the device it contains a quarter inch pedal input, and USB A and B port, and an optional power adaptor. The RISE can also run exclusively off USB power as well as having Bluetooth MIDI capability. It also contains a small LCD screen (Top Left) for displaying different modes, 3 assignable touch strips, an octave switch button and preset switch control. Creating realistic expressions is as easy as pushing and pulling on the troughs all the way up to the edge to get smooth slide effects, as well as full range pitch bends and glissandos. This is great for the creation of traditional expression on instruments like Cello, Viola, Violin, Bass, and Guitar. All of these parameters are also completing independent from each other. So you can be creating a glissando with one finger while doing a vibrato swell with another. The RISE also comes with its own software, which must be installed for use. On the Con side, the multidimensional polyphonic Midi standard it so proudly boasts hasn't yet been adopted by many of the major plugin manufacturers like Arturia and Native Instruments. The proprietary software is also very CPU intensive. To wrap things up, if you have the money and are looking for something to create extreme articulation expressions in your patches with ease, this may be the controller for you. And with yet another seal of approval from Jordan Rudess who can say no.
PRICE: $169.00
Another affordable solution, this keyboard controller has some formidable features. Containing, 8 pad sensors, 8 assignable knobs, and 9 assignable faders. It contains both Mod and Pitch bend wheels and is USB powered and supports IOS compatibility via Apple iPad Camera Connection Kit which allows you to compose using audio apps like Garageband on your IOS devices. Included with the Oxygen is Ableton Live Lite and SONiVOX TWIST, which is a spectral morphing synthesis virtual instrument. It also comes with AIR Music Tech Xpand!2. The Directlink proprietary software also allows seamless integration into your favorite DAW of choice as well. The only Con I could really see with this controller would maybe be the lack of actual physical Midi ports. Other than that, for the price point this would be an excellent option especially for those just starting out.
3. AKAI MPK2 49 
PRICE: $399.00
If you are a diehard user of the Akai MPC series back in the day like me, then I promise you this is the keyboard controller for you. Most of the features, if not all are absolutely reminiscent of the MPC. Unlike the previous models, Akai has made upgrades with things like lights under the pads lifted from the ever-popular MPC Renaissance, and other technical tweaks. Most notably are actual genuine MPC drum pads. The MPK also has semi-weighted keys. The LCD screen is also new from its predecessor, giving you higher resolution and speed. It also includes the standard Sustain and Expression quarter inch inputs, Midi In and Out 5 pins, USB Power, and 8 assignable knobs, faders, and buttons as well. Even more notable are the classic MPC features like 16 levels, Full Level, and Note Repeat functions, that if you are an MPC user, you will feel right at home with. To add insult to injury, the controller also comes bundled with Hybrid 3.0 virtual synth, Abelton Live Lite, SONiVOX Twist 2.0, and MPC Essentials, the MPC Element software. All in all I feel this controller is worth the price even without the software, but with it I feel it is more than worth the price point. Here is solid gear, with a classic hardware feel and new software integration.
PRICE: $599.00
If you are a Maschine or Komplete user like me, or even a Native Instruments user period, this product will be right up your alley. This controller seamlessly integrates with every bit of that software and more. Imagine if you want say and piano sound, instead of having to locate all of your random piano plugins, Komplete Kontrol will find them all for you and group them to where you can just scroll and find your favorites and presets. Using Native Instruments NKS standard, more and more of your favorite plugins are now adapting this standard to be able to be incorporated in this powerhouse controller. On the outside the hardware has a power supply (not USB powered), Midi In and Out ports, 2 pedal inputs, two touch strips for Modulation and Pitch bend (Instead of Wheels), and backlit keys that you can set to specific parameters. For example, say you wanted to only play something in a respective key, say E flat, only those keys will be illuminated. This is especially important when say creating things in exotic scales like Middle Eastern or Japanese scales. The new key bed also has play action unprecedented to anything in recent time. Thanks to the NKS standard, all the parameters of the plugins are also auto mapped to the knobs and buttons on the hardware unit as well, saving hours of time physically mapping the controls yourself. As far as workflow goes this has almost every Midi controller beat, especially if you already use Native Instruments line of products like, Maschine, Kontakt 5, Battery 4, or Massive. The only Cons I would say for this piece of gear is for the price point I would maybe have liked to see some Maschine Pads or faders on the device. Also the ability to self-tag patches would have been cool too. The power supply and no USB powering capabilities is limiting as well. All in all this is one of the Ultimate if not the Ultimate Midi controllers on the market, depending on your workflow. 
PRICE: $449
This device to me is one of the ultimates in Midi keyboards. An absolute hybrid, this controller is part virtual instrument controller, part keyboard controller, and part DAW controller. The unit contains semi-weighted keys, 8 backlit drum pads, 8 assignable faders, knobs, and buttons, as well as Mod and Pitch bend wheels. There is a Color LCD screen in the middle and Midi In and Out ports in the back. One of the biggest selling points is the proprietary VSTi software called VIP (VST, AU, AAX, and Standalone), which can host up to 8 VST plugins held inside the mixer as well as 4 insert effects slots and 4 aux slots for sends and returns. This means it's able to support not only the VSTs, but also the effects you want to apply to them. Another notable feature is with the VIP software it does a full plugin scan of your computer via its own plugin manager and when in Control mode it auto maps all plugin parameters to your keyboard across the 4 banks of rotary knobs and buttons automatically. Using the color display you can also scroll through presets of your plugins and edit what they are assigned to. What M-Audio has done with this controller is almost second to none. With such innovative features and mapping parameters this is absolutely one of the best Midi controllers on the market period.
Written for SoundOracle.net  by Mitchell "The Innovator" Tillotson, Producer
....Guest blogger...  
Mitchell "The Innovator" Tillotson is a Music Producer, Musician, Songwriter, and Sound Designer hailing from the greater Baltimore area. Growing up as a Military Brat in the early 90's and 2000's and listening to producers like Teddy Riley, Rodney Jerkins, The Neptunes, and Timbaland, he fell in love with music at an early age. The recent Fullsail Music Production Grad and Navy Veteran grew up deejaying the local scenes in the Baltimore/DC areas and is now starting to take the music world by storm. Follow @iamtheinnovator on Twitter.
MORE ARTICLES BY MITCHELL "THE INNOVATOR" TILLOTSON:
{"one"=>"{{ count }} comment", "other"=>"{{ count }} comments"}