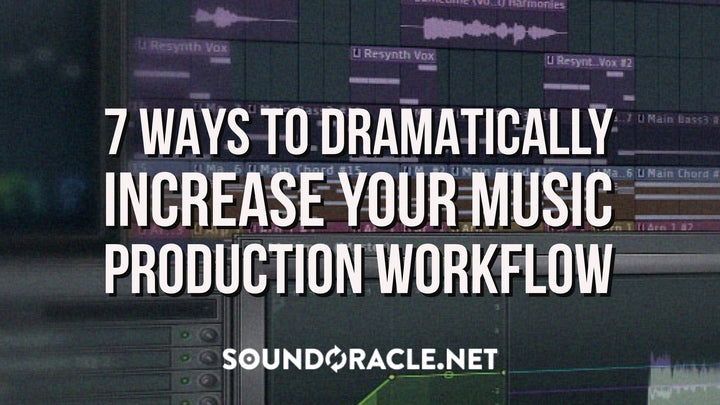 7 Ways To Dramatically Increase Your Music Production Workflow
Time and Deadlines are everything in our industry. The ability to pump out tracks quickly and efficiently is just about as important as or even more important than actually making the tracks themselves in some aspects. When inspiration hits, it is critical to capitalize on it immediately especially when creating with the artist right in front of you. I wanted to shed some light on these topics as I feel like some people are underestimating the value of being prepared and organized in the world of beat making, recording, and mixing. With this, I present to you guys my Top 7 Tips for an Efficient Music Production Workflow.
1. Creating an Efficient Template
I must admit, early in my producing days I would spend easily 30 minutes to an hour scouring for sounds, plugins, and drums that I would end up using pretty frequently in my music. I ended up realizing that it was quickly taking away from not only my creativity, but my inspiration as well. In that moment, I asked myself why don't I have all this set up ahead of time since I already use these often as it is? It was at this moment I created my template.
2. Have Drums Preloaded in Whatever DAW You Use
Nothing benefited me more than having a couple drum racks in Abelton or Maschine Groups preloaded with drum kits that I not only use often, but work well together. This way when I am inspired, I don't have to scramble through folders looking for kits to load up. I simply hit the drum pads and go to work. This is also a secret to creating your own sound universally across many different records as you are figuring out what drum sounds work well together and creating kits from these to use flawlessly every time you load up your DAW. This will maximize your workflow tenfold.
3. Have All Sounds Preloaded in Whichever DAW You Use
This follows along the same premise as the topic stated before. Just like you have your drums organized, it is important to have all your random sounds and sound effects organized as well. Have all your transition risers organized together so you don't have to looking for that one riser to see if it fits in the song. They are all right there at your disposal pre-loaded. Looking for that one chant to set things off? Then have it preloaded as well with the other chants.
4. Organize Kits by Genre or Type
It may also be a good idea to have your drums, percussion, sounds and effects, organized by genre and type as well. This way when a client comes to you for a specific genre of music to produce, you aren't scrambling through folders looking for that one jazz brush sound or banjo riff sound that may be perfect for that specific genre you're doing at the moment. Arrangement by type is dire as well. For example, organize your percussion (i.e. Bongos, Congas, Cowbells, Clave) with kits that work well together. That way all you have to do it pull it up and bang out a percussive groove that fits, auditioning it right there in the track to make sure it works. This will optimize your workflow and ultimately make you look better not only to your clients, but your peers as well.
5. Have Your Trusted Plugins with Specific Presets Preloaded
Again the name of the game is to be able to capitalize on your ideas as soon as they hit you, like a fluid motion or extension of the brain. Anything less than this, detracts from your creativity and can lead to instant demoralization, trying to locate specific plugins and presets. That being said, it is also a good idea to have your favorite plugins loaded up with specific presets you may need. For example, if you use Trillian for a lot of your bass sounds, have a couple instances loaded up with your favorite presets. Now I know what some of you may be thinking. Won't this take up a lot of DSP computer power. Well yes, but simply deactivate the tracks once you create them and only make them active when needed. That way once you need them you can call upon them immediately.
6. Have Your Recording Tracks Created and Ready to Go
If you are like me, and record and rough mix your artists as well as produce them, then having record tracks ready to go is a must. Once your artist hears the track and likes it, he is going to want to record it immediately. You should be ready to switch gears and start recording them instantly, because inspiration and ideas can be lost at the drop of a hat. For this process, I personally use Pro Tools. Have your tracks already created for typical takes in your specific genre. For example, in Hip Hop, rappers usually have their lead, emphasis or "In and Outs", ad libs, and whatever doubles may be needed. Have a few playlists already created on each of these tracks so you can switch between the different takes on the fly. This will be important later on when it comes to the comping process. Also have whatever effects you use on that vocal, for instance maybe Autotune already loaded. Again, time is what you are in search of controlling through this process and efficiency will get you noticed, admired, and missed, which is what you want.
7. Create A Mix Template
It will also be important to create a good mix template with the same guidelines as I have been stating before. Do you have a parallel compression technique you know works for your kick and snares? Have it ready to go with the plugins on the tracks and presets already loaded as well, so you're already in the ballpark of the sound you want to create. To save on DSP (Computer Processing Power) again just simply make the tracks inactive until you need them. You will lose countless hours starting every mix session from scratch creating tracks and loading plugins, as well as lose clients and momentum. Ask any top-level mix engineer, their mixing template is their bread and butter, point blank period.
CONCLUSION
In conclusion guys, these are things that I feel like may be obvious to some, but I don't see too many people are actually implementing these to see its benefits. Give it a shot, and implement this correctly and I promise you will see an immediate and significant increase in your overall production output. Trust me when I say the greats are great by no accident. They are for sure implementing these techniques. You ever wonder how Producers like Zaytoven, Timbaland, and The Neptunes are able to just pump out tracks flawlessly and quickly and it never seems like they are stumbling around looking for that right sound. This is how. Trust ME.
Written for

 

SoundOracle.net

 

by Mitchell "The Innovator" Tillotson, Producer
....Guest blogger...
Mitchell "The Innovator" Tillotson is a Music Producer, Musician, Songwriter, and Sound Designer hailing from the greater Baltimore area. Growing up as a Military Brat in the early 90's and 2000's and listening to producers like Teddy Riley, Rodney Jerkins, The Neptunes, and Timbaland, he fell in love with music at an early age. The recent Fullsail Music Production Grad and Navy Veteran grew up deejaying the local scenes in the Baltimore/DC areas and is now starting to take the music world by storm. Follow @iamtheinnovator on Twitter.
MORE ARTICLES BY MITCHELL "THE INNOVATOR" TILLOTSON:
CHECK OUT SOUND ORACLE'S NEWEST SOUND LIBRARIES:
Been Trappin 2 - Your go-to for Radio/Club Trap Sounds
The Voice is the most important instrument - Vocal Loops, Articul8
The Ultimate Oracle Total Bundle Now Includes Aticulate8 (With Stems) + Cassette Drums
Subscribe to get Sound Oracle's exclusive offers and to be notified of updates
{"one"=>"{{ count }} comment", "other"=>"{{ count }} comments"}