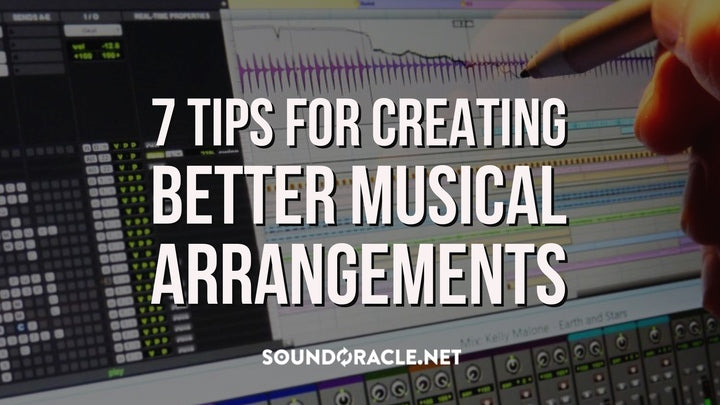 7 Tips For Creating Better Musical Arrangements
Like myself, I'm sure many of you have had your fair share of moments where you struggled a bit when it came to the arrangement part of your beats. Knowing when and where to add or take away certain elements can be critical in keeping the interest of your audience. Furthermore, the techniques I'm about to talk about can take a simplistic beat and make it have more interest just by using these skills alone. That being said, I present to you 7 Tips to a Better Arrangement.
1. Create a Build

Nothing hits our hearts and minds better as humans than an anticipation and build to a climax. In this day and age where DAWs are king, most of us have been accustom to working in a linear approach i.e. staring with the intro then working on the verse, then the chorus. In the early days of sequencing however, this wasn't always the case. Because there was no visual representation, often producers were encouraged to start on the different sections separately then piece them together later. This naturally helped create variation and movement as well as a build since they weren't necessarily using the same sounds from section to section. They were just creating what they thought in their minds sounded like a "Chorus" or "Verse". Try this approach and see how your arrangement skills improve.
2. Use References ­
Using references is probably one of the most powerful tools out there that I see a lot of people don't utilize. If you are trying to create a "Pop" song, listen to "Pop" songs you love and analyze their structure. You should then ask yourself things like, "What is the Instrumentation being used?" "How long is the Track?" "What chords are being used to transition between the different sections? "From there, take bits and pieces from those and decide which ideas you want to use. The whole point here is to not reinvent the wheel, but also try and add something new with your own flare.
3. Keep it Varied ­
Variation is probably one of the most powerful things you could implement in your music productions. As humans, our ear will immediately tell our brains to tune out when things get too predictable. Once our brain has cracked the code or can figure out a pattern we then begin to lose interest. Be that as it may, it is dire to implement this technique. Remember attention to detail is everything and it is all too easy to get trapped in just copying and pasting the same drum loop over and over. Listen to a real drummer and see how he naturally varies a track in his drumming. Listen especially to his drum fills at the end of each segment. Implement these variations you hear in your own music.
4. Create Unpredictability
Sometimes in arranging your music it may call for you to be a little unorthodox. Follow what's typical but then switch it up and do something innovative. For example, maybe instead of doing just once bridge, implement two after the second chorus. This will help give your track more excitement and lift. Another concept would be to do a Key change in your track. This is a classic technique that in this day and age is definitely underutilized. This will also give your tracks a since of excitement and lift.
5. Walk Away
Often times one of the hardest yet most impactful things you can do is simply walk away and take a break. Often times I find when I'm working on a composition I can't get a certain section out of my head and I can't necessarily hear what I need to in my head to start creating counter melodies to add to the track. I find taking a brief break away from music period, maybe an hour or two, just to clear my head does wonders. I might play Xbox or run some errands, but the key is to give your ears and mind a rest. This can be just as important if not more important than just pushing through trying and hoping inspiration will hit. We are all human so embrace it don't try to be a perfectionist. Sometimes you just have to let things happen.
6. Layering Parts ­
Sometimes to help give your track more interest and movement it may be a good idea to layer your lead vocal with instruments playing in unison or within an octave of each other. This helps thicken up parts in the song and also makes it feel fuller. Layering the same instrument in octaves of each other is also an underrated technique as well. Also try layering sounds in the same family. For example, Strings and Pads or Drum and Percussion elements. This will help give things more interest for sure.
7. Using Automation
Throughout this topic we have mostly talked about editing or audio clips to help your arrangement. However, there is another way to create these buildups without the use of editing, and that is the use of Automation. I know what many professional mixers do to help give the chorus a build of more excitement is to automate the volume of the chorus 1 or 2 dB louder than the rest of the song. Try this method and you will be surprised at the results. Another Automation tip would be to try filtering out certain elements over a period a time. This is a pretty popular technique in music today and for good reason. It helps add movement, anticipation, and variation to you overall arrangement.
Written for

SoundOracle.net

 by Mitchell "The Innovator" Tillotson, Producer


....Guest blogger...
Mitchell "The Innovator" Tillotson is a Music Producer, Musician, Songwriter, and Sound Designer hailing from the greater Baltimore area. Growing up as a Military Brat in the early 90's and 2000's and listening to producers like Teddy Riley, Rodney Jerkins, The Neptunes, and Timbaland, he fell in love with music at an early age. The recent Fullsail Music Production Grad and Navy Veteran grew up deejaying the local scenes in the Baltimore/DC areas and is now starting to take the music world by storm. Follow @iamtheinnovator on Twitter.
MORE ARTICLES BY MITCHELL "THE INNOVATOR" TILLOTSON:
CHECK OUT SOUND ORACLE'S NEWEST SOUND LIBRARIES:
{"one"=>"{{ count }} comment", "other"=>"{{ count }} comments"}