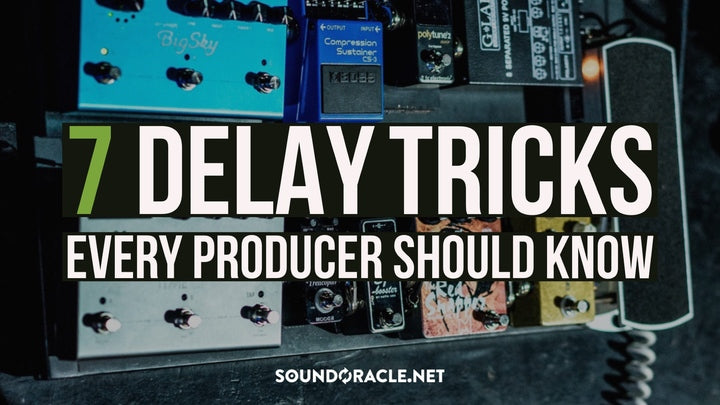 7 Delay Tricks Every Producer Should Know
Delay throws are nothing new under the sun, but have been a staple in Pop Music for quite some time. While we aren't exactly going to reinvent the wheel per se in this article, I definitely want to shed some light on ways to approach your delay throws and spice them up. Hopefully, in ways you may, or may not have never particularly thought of before. For those who don't know, a delay throw is a repeat designed to only affect a particular word or phrase in a song. You can find examples of this in almost all popular music, spanning just about all genres.
1. Duplicate Every Word or Phrase to be Thrown and Effect it on its Own Separate Track Differently
Typically, a Delay Throw is conceived by automating the send level to a specifically timed delay at certain points where the desired word or phrase comes up in the song. With this new method, you gain a lot more control and freedom, as opposed to using the same ¼ note delay on every word. What you will end up doing is editing out each desired word to be repeated and place it on its own separate track. Since each word or phrase is on its own track now, you can add a different delay to each one and personalize each word specifically to your liking, adding things like distortion and reverb as well.
2. Flip One Side of the Delay Out of Phase
Phase can be a tricky subject for most in the beginning, but essentially this will give our delay the illusion that it is coming from way outside of the speakers. This can be ideal for adding another interesting dimension to your music. While not all delays have this feature, some do, like the stock Mod-Delay III in Pro Tools and Waves H-Delay. Simply hit either the left or right phase flip button (Either Left or Right Not Both), designated by the character "Ø" on your delay plugin. You will notice right away your delay has now gone from just coming out your speakers, to now giving off the illusion its coming from the other side of the room. Huge!!
3. Add Reverb After Your Delay
This is a pretty popular effect in Pop music currently, especially in Trap music. This simply involves taking the delay plugin you are using for your delay throw and placing a reverb right after it. The key however, is to mix it to taste using the delay plugin's mix parameter, since the reverb is being added directly to the insert of the track. 50 to 30 percent I personally feel is ideal, but it can be adjusted to your own personal liking of course. This helps to give your delay throws more depth and separation from the lead in the middle and will create great interest and contrast for your listeners.
4. Add Telephone EQ Effect After Your Delay
This is yet another popular technique in Popular modern music. The telephone EQ effect has been around for a few decades now. Simply place an EQ before your favorite delay plugin (Could be done after as well, Experiment!) and use a Low-Cut Filter to cut out everything below 520 Hz. Then use a High-Cut Filter and take out everything above 3500 Hz. Lastly, Boost the remaining frequencies a bit at maybe 2 db and Voilà, a telephone effect EQ. This will also serve to give your delay throws extra contrast and interest from the lead vocal in which it originated, which is ideal for your listeners.
5. Pitch Your Delay Throws Up or Down an Octave with Your Favorite Pitch Plugin
Using this particular method has got to be a favorite of mine, specifically on delay throws. For this you can use any pitch shifting plugin. A few of my favorites are Waves SoundShifter and SoundToys Little Alterboy. Place this again either before or after your delay plugin (Experiment to see which sounds best!). From here, for a low-pitched delay throw simply shift it down an octave (-12 Semitones). This effect has more recently been made popular by the A$AP Mob amongst others. For a high-pitched delay throw simply shift the plugin up an octave (+12 Semitones). This will give you the infamous "Chipmunk" effect on your delay throws. Using this technique will absolutely give your delay throws extra added character and will also serve as ear candy for your listeners as well.
6. Add Reverb Before Your Delay
In this case, placement of the reverb is very important as this effect is drastically different from Tip 3 of placing the reverb after the delay. In this instance, we want the reverb to be between 75- 95% wet on the mix parameter before the delay plugin. When the specific word or phrase is then sent to the delay throw it will hit the reverb first. Then we will make reverberated vocal repeat with the delay. This effect gives the delay throw an eerie and odd feel, perfect in genres like Trap. Reverb times are also going to be important in this type of delay throw, so experiment and see what works. Ideally though, you want your reverb time to be the same length as your delay time. For example, if your delay plugin throw time was an 1/8th note, then your reverb decay time in milliseconds should equal that same value. This is so the reverb tail doesn't muddy up and wash away subsequent delay repeats.
7. Automate Your Delay Repeats with an EQ
To give your delays much more added control on how the repeated vocal fades out, an automated EQ LPF roll off may be in order. This is as simple as placing your favorite EQ after the delay plugin and automating each repeat so more of the high frequencies are rolled off with each pass. This gives you extra added control, as sometimes the roll offs within the delay plugins themselves can be finicky and not always give you the results you want. Using this technique will give you the effect you are looking for every time without question.
Written for SoundOracle.net by Mitchell "The Innovator" Tillotson, Producer


....Guest blogger...
Mitchell "The Innovator" Tillotson is a Music Producer, Musician, Songwriter, and Sound Designer hailing from the greater Baltimore area. Growing up as a Military Brat in the early 90's and 2000's and listening to producers like Teddy Riley, Rodney Jerkins, The Neptunes, and Timbaland, he fell in love with music at an early age. The recent Fullsail Music Production Grad and Navy Veteran grew up deejaying the local scenes in the Baltimore/DC areas and is now starting to take the music world by storm. Follow @iamtheinnovator on Twitter.
MORE ARTICLES BY MITCHELL "THE INNOVATOR" TILLOTSON:
CHECK OUT SOUND ORACLE'S NEWEST SOUND LIBRARIES:
{"one"=>"{{ count }} comment", "other"=>"{{ count }} comments"}