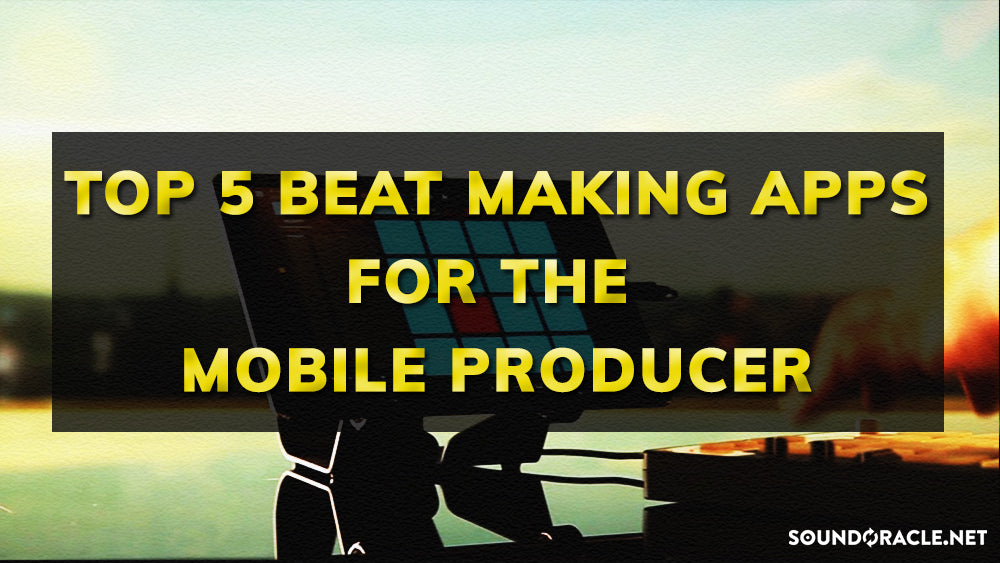 In this day and age, it isn't too far fetched to see actual records coming out that were produced and created in an App. Yes an App! We have definitely entered a new era in music production where you can make hit records from your tablet or your phone if need be. With these devices getting evermore popular, we are going to shed some light on just what tools you can use to make hot tracks from your phone or tablet device. Welcome, 5 Top Beatmaking Apps for Music Production.
iMaschine2
This is Native Instruments little brother software that works clearly without having the hardware device. The App software itself though has basically all the same pad, bank, pattern, and scene workflows from the original software. Need keys to play a melody? There is also a Smart Play Keyboard that helps you by staying in key. You can also add vocals through their dedicated microphone and sample right from your iTunes library. Maschine users will feel right at home with this one.
GarageBand
Since Apple hasn't released a Logic App for the iPhone or iPad, the GarageBand App bears the burden of doing it all. GarageBand is capable of multitrack recording and MIDI editing and also contains instruments that automate different melodies and stay in key. With the new update, instruments are now intelligently grouped together and the infamous synth, Alchemy is now bundled with that App as well. Last but not least, the effects section has been overhauled and you can now use things like Eq, Chorus, and Overdrive on your tracks. As much as 4 effects per track now; Logic users, as well as most other DAW users will love the already familiar workflow.
iMPC 
If you are a MPC user, especially back in the day, then this App may be just up your alley. The layout of the App itself is definitely reminiscent of the classic MPC 2000 series. Even the functionality is almost spot on. It has built-in sampling capability as well as loop slicing, time stretching, and on-board effects. There is also an InterApp Audio mode that lets you record straight into Apps like GarageBand from the iMPC App. You can also export your audio though, straight from your iPad to your computer. This is an absolute go to App, especially if you are a strictly MPC guy.
BeatMaker 3
BeatMaker 3 has a built-in Drum Machine, Keyboard Sampler, and 11 on-board effects. With a famous and classic design, it contains the usual 16 pad layout, with 8 banks and a loop slicer. It also records multiple audio tracks simultaneously and does all of this from RAM as to save processing power. The wave editor is ideal for precise editing of samples and cue points as well. If you're looking for an easy way to get ideas down on the fly, this is a great tool for the job.
Caustic 3
This is an underrated beat making App for sure. It can be compared to Reason with its rackmount style, but just a stripped-down version. It has a song sequencer as well as 14 machines, 20 effect types, a mixer, and a master section. The number of tools in its arsenal is insane and although it may not be as popular as the rest, it still packs quite the punch.
Written for SoundOracle.net by Mitchell "The Innovator" Tillotson, Producer
....Guest blogger...
Mitchell "The Innovator" Tillotson is a Music Producer, Musician, Songwriter, and Sound Designer hailing from the greater Baltimore area. Growing up as a Military Brat in the early 90's and 2000's and listening to producers like Teddy Riley, Rodney Jerkins, The Neptunes, and Timbaland, he fell in love with music at an early age. The recent Fullsail Music Production Grad and Navy Veteran grew up deejaying the local scenes in the Baltimore/DC areas and is now starting to take the music world by storm. Follow @iamtheinnovator on Twitter.
MORE ARTICLES BY MITCHELL "THE INNOVATOR" TILLOTSON:
CHECK OUT SOUND ORACLE'S NEWEST SOUND LIBRARIES:
{"one"=>"{{ count }} comment", "other"=>"{{ count }} comments"}