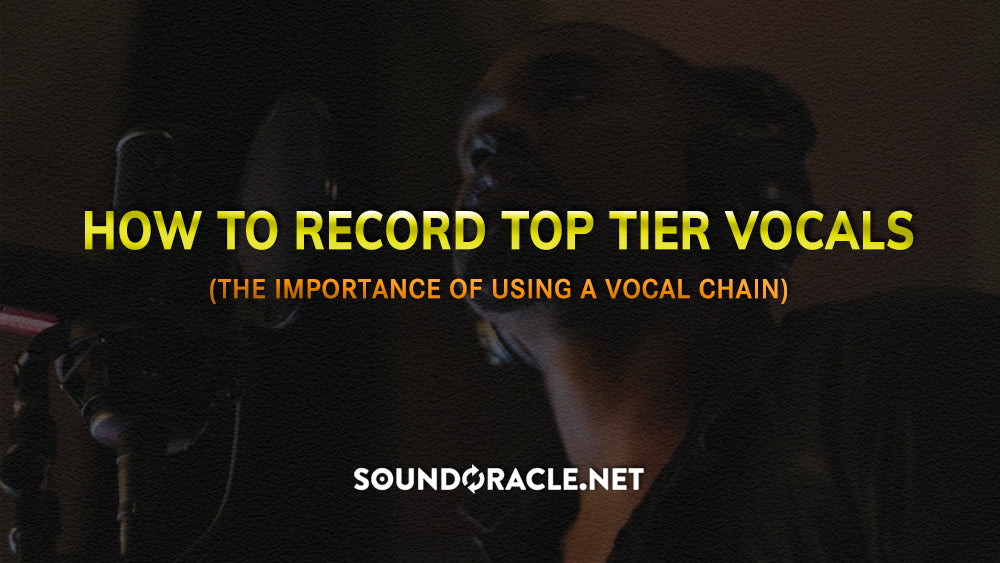 Whether you are aware or not, capturing a great vocal performance sonically has a lot more moving parts than you think. Besides the obvious points of being in front of the microphone and the right distance away, the Microphone, Preamp, Compressor and Eq you have in the chain serve a great purpose as well. In this blog I will shed some light on this topic and show you How to Record Top Tier Vocals.
The first topic we are going to discuss is the microphone you should be using when recording. This will all be dependent on the type of vocalist you are going to be recording. Remember to always use your ears, but here are some basic guidelines to go by. If your vocalist is very loud and forceful, almost screaming into the microphone, then a dynamic microphone would probably suit you best in this situation. One of the more famous dynamic microphones to fill this void would be a Shure SM57 or SM7B. If your vocalist is more dynamic and more melodic, than a condenser or tube condenser microphone may be in order. Some of my favorites for these types of vocalist are the Sony C800G (Pictured below) and the AKG C12 for tube condenser mics, and the Neumann U87 and AKG C414 for regular condenser mics. For a warmer sound you can also try ribbon microphones as well, though expensive they can be ideal for certain vocalists. Remember these are just guidelines, use your ears and see what microphone sounds best but remember these principles.
The next link in the chain will be the preamplifier you use for your microphone. A lot of people make this mistake, but it is so vital in the process to have a dedicated preamp for your microphone and not just the standard one that comes with your audio interface. This will help ensure you are not losing any of the frequencies you are capturing with your microphone through the conversion process from a mic line signal to a line level signal. It will also add a bit of positive coloration, enhancing the vocal depending on which preamp you use. Remember you can have the world's best mic, but if your preamp is subpar, you won't get all the benefits the mic has to offer. However, if you have a mic that isn't the greatest, having a great preamp will make it sound amazing. Some of my personal favorites are the Neve 1073, Vintech 273, Chandler Limited TG2, and Avalon 737. As always again, experiment to see which sound fits your vocalist best.
Next in the chain will be your compressor. This isn't necessarily being used for actual compression as it is for just more coloration and analog warmth. Though you can compress on the way in, you must be mindful not to do too much or you will ruin the dynamics of the actual vocal performance. This also cannot be undone since we are recording on the way in. I personally just have this in the chain not actually doing much compression at all but just giving the vocal added analog warmth. Some of my favorite compressors for this task are the Tube-Tech CL1B, the Universal Audio LA-2A, and the Universal Audio 1176LN. Experiment to find which you like for your vocalist.
The last link in the chain will be my Eq. This is following along the same premise as the compressor. I am not necessarily Eqing anything, it is more for the sound and analog warmth. However, if you are going to Eq on the way in, I would maybe low cut up to 60 Hz at the most. Anything more will detract from the vocal performance and remember this cannot be undone. Some of my favorites include the API 550 A and B, the API 560 Graphic, and the SSL 611EQ. Remember you don't have to use these exact ones, though the ones I have mentioned throughout this blog have been battle tested through the industry, experiment and research your own.
All in all, following these ideals as a guideline, you will be set to have industry standard top tier vocals. This methodology is something that your favorite artists employ to give them that vocal sound we know and love from them. I also want to mention although some of the gear I have mentioned above is quite pricey, it doesn't mean you can't substitute for cheaper gear and get a great result. What is important though is the following the chain as a whole. I leave you guys with a clip from Pensado's Place (A Grammy Award Winning Engineer), where he has some A-List recording engineers explaining this whole process a bit more further in detail.
Written for SoundOracle.net by Mitchell "The Innovator" Tillotson, Producer
....Guest blogger...
Mitchell "The Innovator" Tillotson is a Music Producer, Musician, Songwriter, and Sound Designer hailing from the greater Baltimore area. Growing up as a Military Brat in the early 90's and 2000's and listening to producers like Teddy Riley, Rodney Jerkins, The Neptunes, and Timbaland, he fell in love with music at an early age. The recent Fullsail Music Production Grad and Navy Veteran grew up deejaying the local scenes in the Baltimore/DC areas and is now starting to take the music world by storm. Follow @iamtheinnovator on Twitter.
MORE ARTICLES BY MITCHELL "THE INNOVATOR" TILLOTSON:
CHECK OUT SOUND ORACLE'S NEWEST SOUND LIBRARIES:
{"one"=>"{{ count }} comment", "other"=>"{{ count }} comments"}