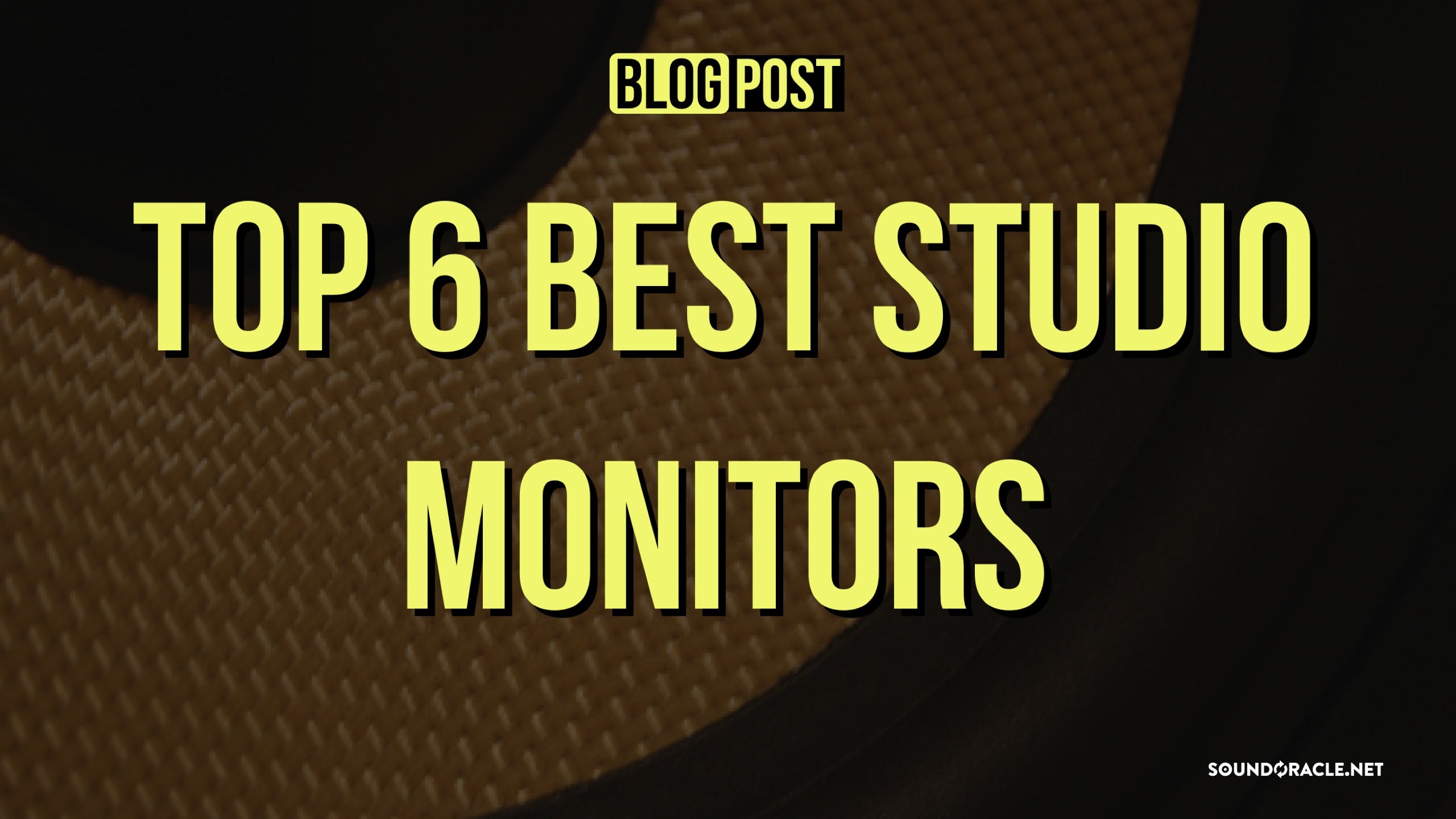 So, like many of you when I first started out I thought a speaker was a speaker, and a monitor was a monitor. I remember watching my favorite producers back in the day with so many different monitors, it never dawned on me why?
It wasn't until I actually worked in commercial studios and actually heard the difference that I realized there are really two categories of monitors, hence why the prices can range so much. This would be flat response monitors and your enhanced response monitors.
In other words, you have your monitors for mixing (flat response) and your monitors for beat making (enhanced response) and today we will cover the top ones in each specific category. Enter Top Studio Monitors 2018.
Top Enhanced Response Monitors
When it comes to getting great low end and punch in your speakers KRK Rokit series has always delivered. In fact, the first pair of monitors I ever bought were the KRK Rokit 5's. These Rokit 8's deliver the same power with a bigger size. It contains an 8" Kevlar Woofer and a soft dome tweeter with high and low frequency controls. This is a favorite amongst many of your favorite producers you know and love.
The Yamaha HS8's are another favorite of mine for beat making and these I actually currently own. The have heavy low end with a crisp high-end sizzle that I love. When I am in the zone making tracks, I need something I know is going to respond heavy to enhance my ideas while I'm creating before mixing. It contains 8" woofers with a 1" tweeter with a frequency response of 38 Hz to 30 kHz.
JBL is yet another company who has a huge reputation in the audio industry and their studio monitors are just as incredible. The LSR305 have quite the low end even though it only contains 5" subwoofers and also has very crisp and clear highs. Also, at just under $300, this is budget friendly and a great bang for your buck.
Top Flat Response Monitors

The Adams A7X's were my first introduction into high level flat response studio monitors. I remember the first time I compared them to my Yamaha HS8's I was shocked at just how much it revealed where things were truly sitting in the mix and the stereo field. All of a sudden, I could clearly make important mixing decisions because the information I needed was being accurately displayed. The A7X's have incredible frequency response due to its "Accelerating Ribbon Technology", that helps it reproduce sound that is distortion free.
Another great option for high quality flat response speakers are the Focal Solo6's. These are speakers I've seen in almost every high-end studio I go to. I also know that some of the most prominent mixing engineers in the world call this monitor their go to for mixing. It contains a "W" composite cone which helps to give some of the best frequency response out there. The tweeter itself is also inverted to help it provide high energy efficiency.
It is a well-known secret in this industry that Yamaha NS-10's are the go to for flat response speakers in the industry and deliver some of the best transparency out there. The premise is they display information so accurately that it translates well just about anywhere. The Avantone Mixcubes follow this premise to the T. These are also monitors I've seen in top level studios in addition to other referencing monitors. They help deliver extreme clarity especially in your midrange that the other even high end flat response monitors can't reveal. While the NS-10's can be expensive being a passive speaker and requiring an amp, you have both options being active and passive for the Mixcubes.
 The name of the game is to have many different references when mixing. Some monitors only display certain information accurately and not others no matter the price point. This isn't one size fits all but a collection of things to be used to get what you need. This is why you look at your favorite producer or mix engineer and see so many different kinds of monitors in their arsenal. They each serve a specific purpose and some do certain tasks better than others. The key is to try them out and see what works best for you to get the tasks you need done.
Written for SoundOracle.net by Mitchell "The Innovator" Tillotson, Producer 
....Guest blogger...
Mitchell "The Innovator" Tillotson is a Music Producer, Musician, Songwriter, and Sound Designer hailing from the greater Baltimore area. Growing up as a Military Brat in the early 90's and 2000's and listening to producers like Teddy Riley, Rodney Jerkins, The Neptunes, and Timbaland, he fell in love with music at an early age. The recent Fullsail Music Production Grad and Navy Veteran grew up deejaying the local scenes in the Baltimore/DC areas and is now starting to take the music world by storm. Follow @iamtheinnovator on Twitter.
MORE ARTICLES BY MITCHELL "THE INNOVATOR" TILLOTSON:
{"one"=>"{{ count }} comment", "other"=>"{{ count }} comments"}